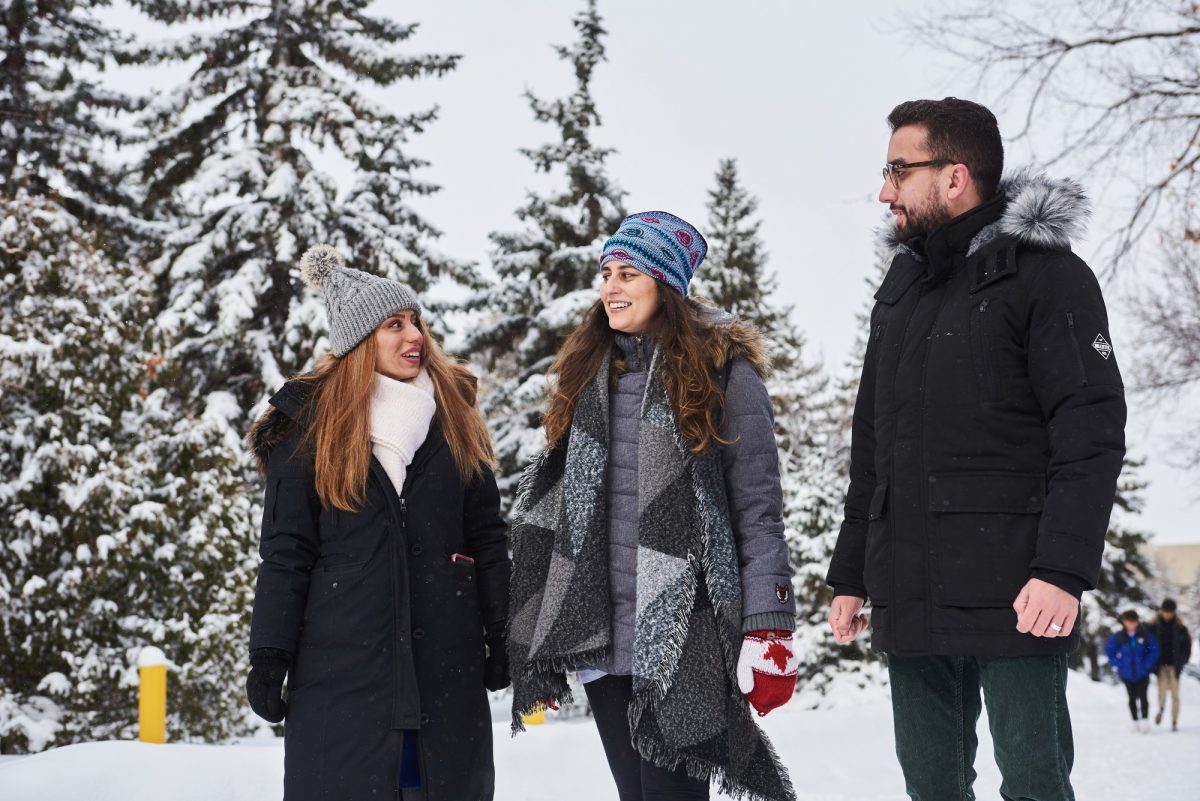 Info sessions help international students adjust to life in Canada
January 17, 2022 —
International students looking for information on adapting to life in Canada should check out the resources at UM's International Centre. The International Centre is committed to international student success and offers a number of programs and services year-round to help international students adapt to and experience Canadian culture.
"We have several programs that provide an opportunity for international students to make new friends and ensure their experience at UM is enjoyable and successful," says Gitan Armour, acting director of the International Centre. "We are also offering a number of upcoming info sessions that are facilitated by a regulated Canadian immigration consultant on topics such as studying and working in Canada, including study permit extensions and the post-graduation work permit program."
The info sessions are offered each term and require advance registration. Details can be found on the International Centre website.
Upcoming info sessions
Manitoba International Student Health Plan
Learn about the Manitoba International Student Health plan including what it covers and how to claim expenses.
Choose from one of two sessions, either on January 20 or January 25 at 10:30 a.m. The same content is delivered in each session.
Study Permit Extension Information Session
This session will focus on the process of extending your study permit, including how to submit an application to Immigration, Refugees and Citizenship Canada, required documents, creating an online MyCIC account and more.
February 8 at 10 a.m.
Permanent Residency Information Session
A representative from Immigration, Refugees and Citizenship Canada (IRCC) will explain the process of obtaining permanent residence in Canada. After registering for the session, participants will receive an e-mail one week prior to the session which will include a link to a recording which participants must watch before the session on Feb. 22 as well as a link to pre-submit any questions to IRCC.
Feb 22 at 1 p.m.
Post-Graduation Work Permit Information Session
Learn about the post-graduation work permit eligibility requirements and program criteria. Topics will include how to submit an application to Immigration, Refugees and Citizenship Canada, required documents, creating an online MyCIC account and the potential benefits of obtaining Canadian work experience as the holder of a post-graduation work permit.
There are two sessions, one on Feb. 24 at 10 a.m. and another on May 6 at 10 a.m.
Canadian Revenue Agency (CRA) Information Session: Doing your taxes and protecting yourself against fraud
As an international student, you may benefit from filing a tax return. You may also be eligible for benefits and credits from the Canadian government to help support you while you live in Canada. Representatives from the CRA will share general information about the different ways you can file your tax return and how to apply for benefits and credits. The CRA representatives will also share information on how to recognize a scam, how to protect yourself from identity theft and examples of fraudulent communications.
March 2 at 1 p.m.
The International Centre also offers the Culture and Connection Series for new international students. These hour-long interactive advising sessions, hosted by International Centre advisors, help new international students make sense of life as an international student in Winnipeg. To register, check your @myumanitoba.ca email inbox or email international [at] umanitoba [dot] ca to request registration details.
Session 1: Adjusting to Life in Canada –Tuesday, January 18th at 9:00 am
Session 2: Academics in Canada – Thursday, February 10th at 9:00 am
Session 3: Making the Most of Summer in Winnipeg – Thursday, March 10th at 9:00 am
Session 4: Lessons Learned and Future Goals – Thursday, April 7th at 9:00 am