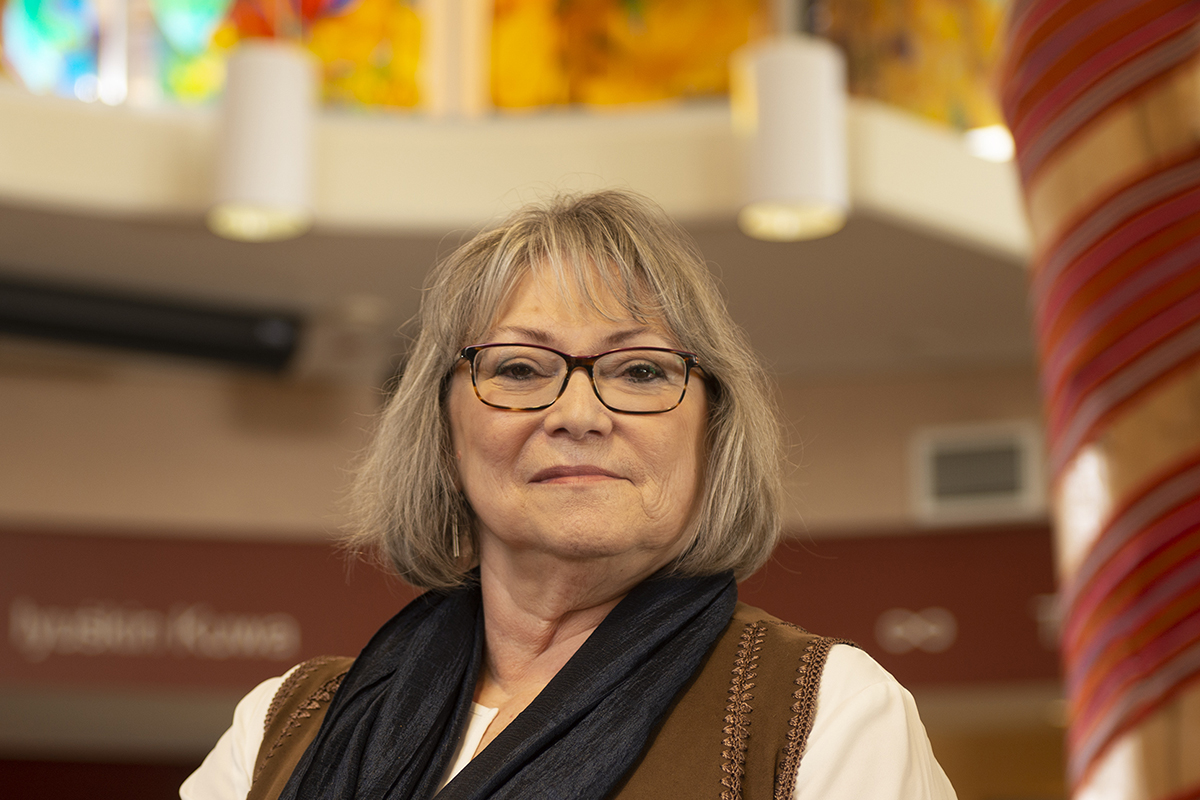 UM community members honoured with Indspire Awards
National charity recognizes three members of Indigenous UM community, including vice-president (Indigenous)
May 20, 2021 —
Congratulations to vice-president (Indigenous) Dr. Catherine Cook [MD/87, MSc/03], Faculty of Arts student Justin Langan and alumna Nahanni Fontaine [MA/01], who have received 2021 Indspire Awards – the highest honour the Indigenous community bestows upon its own people.
For decades, the Indspire Awards have honoured First Nations, Inuit and Métis individuals who demonstrate outstanding achievement and whose stories inspire, uplift and educate Canadians about the tremendous contributions Indigenous people make.
Dr. Catherine Cook: Health
"I am so humbled to receive this prestigious award granted by our community," says Dr. Cook, who began her role as the inaugural vice-president (Indigenous) at the University of Manitoba in 2020 after spending decades in various roles in the Rady Faculty of Health Sciences, including as head of Ongomiizwin – Indigenous Institute of Health and Healing and vice-dean of Indigenous health.
Born and raised on Matheson Island, Man., Dr. Cook, who is Métis, practiced as a family physician in remote northern nursing stations for several years before focusing on public health practice and more recently, on health administration and management.
Through the years, she has taken a leadership and operational role in the development and implementation of Indigenous health programs and services that focus on addressing the gaps and barriers to equitable access of quality health care for Indigenous Peoples in Manitoba.
"I entered a career in medicine to try to make a difference in our communities – especially those that are remote and have challenges in accessing culturally safe health services. Concerns about the systemic racism that results in inequity of access have been the impetus to do this work," she says.
Justin Langan: Youth Recipient
Justin Langan, from Swan River, Man, is a first-year Faculty of Arts student, mental health advocate and activist, leading numerous initiatives to heighten the political and community engagement of Métis youth.
In addition to his community work with the Manitoba Metis Federation and Manitoba friendship centres, he has been recognized as one of Canada's top 25 environmentalists under 25, with a CBC Manitoba Future 40 award for his social activism and volunteerism, and with a Manitoba Indigenous Youth Achievement Award.
"I cannot fully express how proud and honoured I am to be the recipient of this [Indspire] award," he says. "To be honoured by an organization I hold in such high regard is very special to me. I am proud to be Métis and a youth, and I work hard every day to enhance the voices of Indigenous youth. Creating positive change anywhere I can is the only reward I ever wanted."
Nahanni Fontaine: Public Service
An Ojibway woman from Sagkeeng First Nation, Nahanni Fontaine has been the member of the Legislative Assembly (MLA) for Manitoba's St. Johns constituency since 2016 and is a recognized voice on matters of social justice for Indigenous Peoples.
A UM alumna with a master of art's in Native studies, women's studies and critical theory, Fontaine is an advocate for Missing and Murdered Indigenous Women, Girls and Two-Spirit (MMIWG2S) across Canada and continues to champion the rights of Manitoba's most marginalized and vulnerable peoples.
She has received many awards, including the YMCA Women of Distinction Award for Community Voluntarism and a Governor General Award in Commemoration of the Persons Case.
This year's recipients join other influential members of the UM community who have received Indspire Awards, including alumni Alana Roberts [BA(Hons)/16) and Dr. Marlyn Cook [MD/87].
The Indspire Awards recipients will be honoured during a special broadcast on June 22, 2021. For more information about the virtual celebration, please visit the Indspire website.