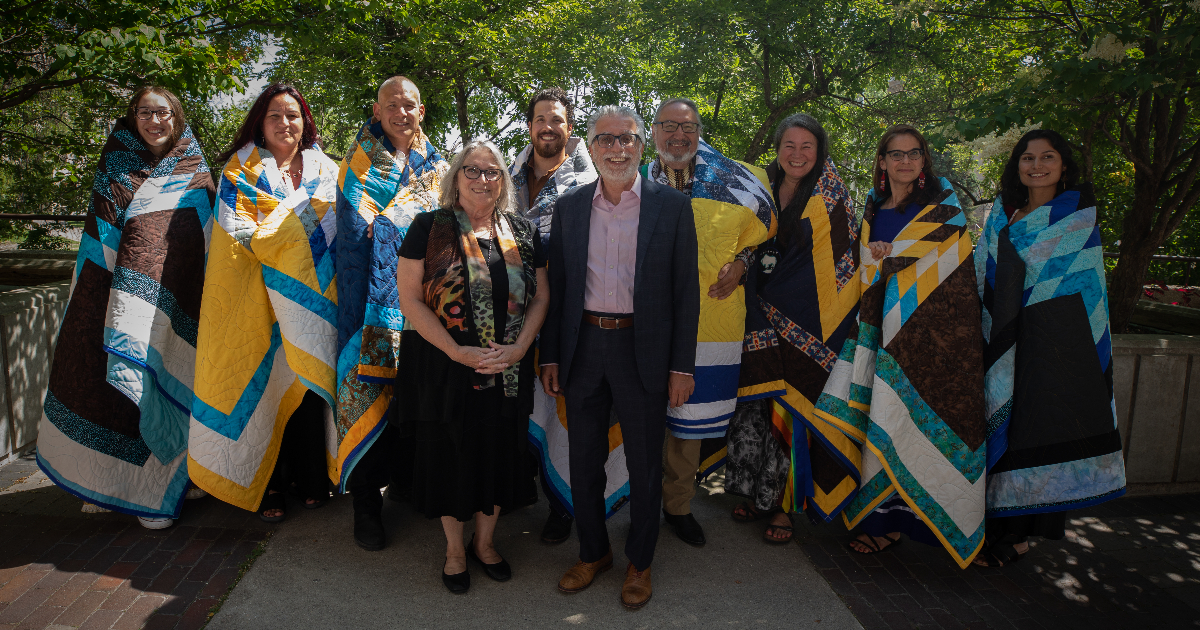 Indigenous students, staff and faculty are celebrated at the 2023 Honouring Our Indigenous Campus Community recognition ceremony
June 20, 2023 —
Members and allies of the Indigenous campus community at the University of Manitoba gathered today to celebrate 10 outstanding students, staff and faculty at the 2023 Honouring Our Indigenous Campus Community recognition ceremony.
Each year, Indigenous Engagement and Communications and the Office of the Vice-President (Indigenous) recognize the efforts and achievements of the inspiring people that are working to make the University a better place.
Formerly the Indigenous Awards of Excellence, Honouring Our Indigenous Campus Community strives to reflect the diverse gifts of the Indigenous community. This year, the following people were recognized for their contributions:
Student Honourees
Darlene Keeper, Faculty of Social Work
Ishkode Catcheway, Rady Faculty of Health Sciences
Jordan Cantafio, Faculty of Architecture, Landscape Architecture
Lydia Gork, Faculty of Arts
Winter Traverse, Rady Faculty of Health Sciences, College of Nursing
Staff Honourees
Elder Carl Stone, Indigenous Student Centre
Vanessa Lillie, Office of the Vice-President (Indigenous)
Christine Cyr, Office of the Vice-President (Indigenous)
Faculty Honourees
Dr. Sara Goulet, Max Rady College of Medicine, Ongomiizwin Health
Shawn Bailey, Faculty of Architecture, Price Faculty of Engineering
Vice-President (Indigenous) Dr. Catherine Cook took to the stage at the event to share a few words: "The people in this room today motivate me to keep doing this work as well. The extraordinary students who are courageously affecting change both on campus and beyond give me hope for the future. Thank you to the honourees here today. Thank you all for not only being a part of this community, but for investing your time and energy into making it better. The work you're doing is making the University better. And that is a big deal."
President and Vice-Chancellor Dr. Michael Benarroch attended the event in support of the Indigenous community and also shared some thoughts with attendees: "It is a privilege to work alongside and learn from Indigenous faculty, staff and students who go above and beyond to make this university an inclusive learning environment. This is hard work, which is why events like today are so meaningful. It is the University of Manitoba's opportunity to formally show appreciation for all you have done and are doing."
The 10 honourees were presented with Star Blankets, led by Elder Charlotte Nolin with Knowledge Keepers Leslie Spillett and Kim Guimond and Isca Spillett. Being wrapped in a Star Blanket is an honouring experience and a showing of gratitude from the community.
Congratulations and miigwech to the 2023 honourees of Honouring Our Indigenous Campus Community!