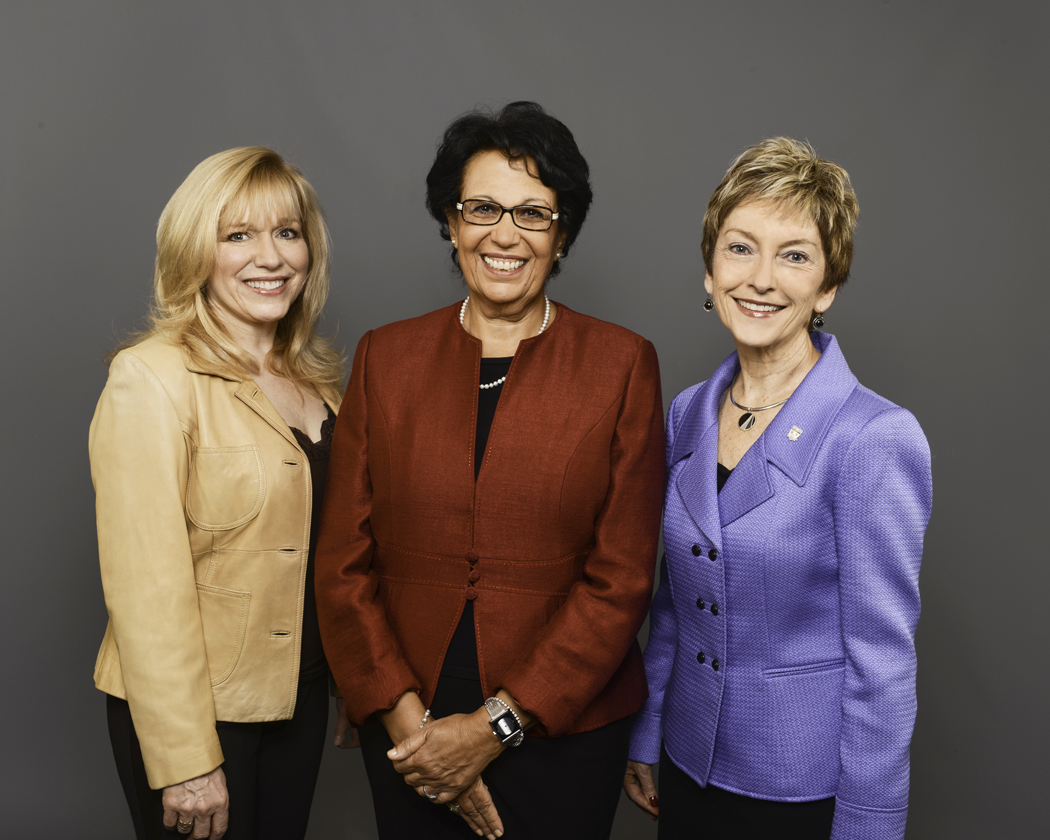 Impressive women
Meet 16 of Canada's 'most powerful women'
March 7, 2019 —
Did you know that the University of Manitoba has more of Canada's Most Powerful Women than any other university in the country?
In celebration of International Women's Day on March 8, let's take a look at the 16 amazing U of M women who have won the prestigious award as selected annually by the Women's Executive Network (WXN).
Most recently, in November 2018, Dr. Marcia Anderson was named one of the Mercedes-Benz Emerging Leaders for her role in bolstering Indigenous medical education and health care delivery in Northern Manitoba. A Cree-Saulteaux women with roots in Norway House Cree Nation and Peguis First Nation, Anderson is the executive director of Indigenous academic affairs in the Ongomiizwin Indigenous Institute of Health and Healing at the U of M, a professor of community health sciences, Max Rady College of Medicine, Rady Faculty of Health Sciences and medical officer of health with the Winnipeg Heath Region.
Past winners of the award include current Provost and Vice-President (Academic) Dr. Janice Ristock in 2012 and President Emeritus Dr. Emőke Szathmáry in 2004 — president from 1996 to 2008 and the first female president of the U of M. Ristock, a professor of women's and gender studies, Faculty of Arts, was recognized for her ground-breaking work on gender, sexuality and domestic abuse; and Szathmáry, now a professor emeritus and senior scholar, was recognized for her innovative research in her field of anthropology and as the first woman to be named editor of the American Journal of Physical Anthropology. Vice-President Emeritus Dr. Joanne Keselman was awarded the honour in 2013 for her academic leadership and research. A psychology professor in the Faculty of Arts, she was recognized for her long administrative service in 2018 with the Manitoba Lieutenant Governor's Award for Excellence in Public Administration.
Dr. Catherine Cook and Dr. Samar Safi-Harb took honours in the CIBC Trailblazers & Trendsetters category in 2017. Born and raised on Matheson Island, located at the narrows of Lake Winnipeg, Cook plays an important role in shaping the nature and scope of Indigenous health care and research in Manitoba. She currently serves in a joint role with the U of M as vice-dean Indigenous at the Rady Faulty of Health Sciences and with the WRHA as vice-president of population and Indigenous health. In addition to her position as associate professor of community health sciences, she is also associate dean, First Nations, Metis and Inuit Health at the Max Rady College of Medicine.
Safi-Harb is one of three Canadian astronomers whose research teams are part of an international science working group that launched a satellite into space in 2016. She is a professor in the department of physics and astronomy, Faculty of Science, and a former Canada Research Chair in Supernova (Remnants) Astrophysics.
Another impressive duo was awarded the previous year. The U of M's Dr. Annemieke Farenhorst and Dr. Ruth Ann Marrie were Sun Life Financial Trailblazers & Trendsetters in 2016. Farenhorst is one of North America's leading experts in the environmental fate of organic chemicals in soil and water and holds the Natural Sciences and Engineering Research Council (NSERC) Chair for Women in Science and Engineering (CWSE) Prairie region. She is a professor of soil science and associate dean (research), Faculty of Agricultural and Food Sciences.
Marrie is internationally known for her innovative work in epidemiology and her pioneering discoveries in about multiple sclerosis (MS). She is a professor in the departments of internal medicine (neurology) and community health sciences at the Max Rady College of Medicine where she holds the Waugh Family Chair in Multiple Sclerosis, in addition to being a Don Paty career scientist and director of the MS Clinic at Winnipeg's Health Sciences Centre.
Other previous winners were:
Launched in 2003, the WXN awards celebrate and honour women who are proven achievers in the private, public and not-for-profit sectors. To date, over 1000 women across Canada have received the Top 100 Most Powerful Women Award.
The network advocates for the advancement and recognition of professional women based on the principle that equity and inclusion make industry stronger and society better