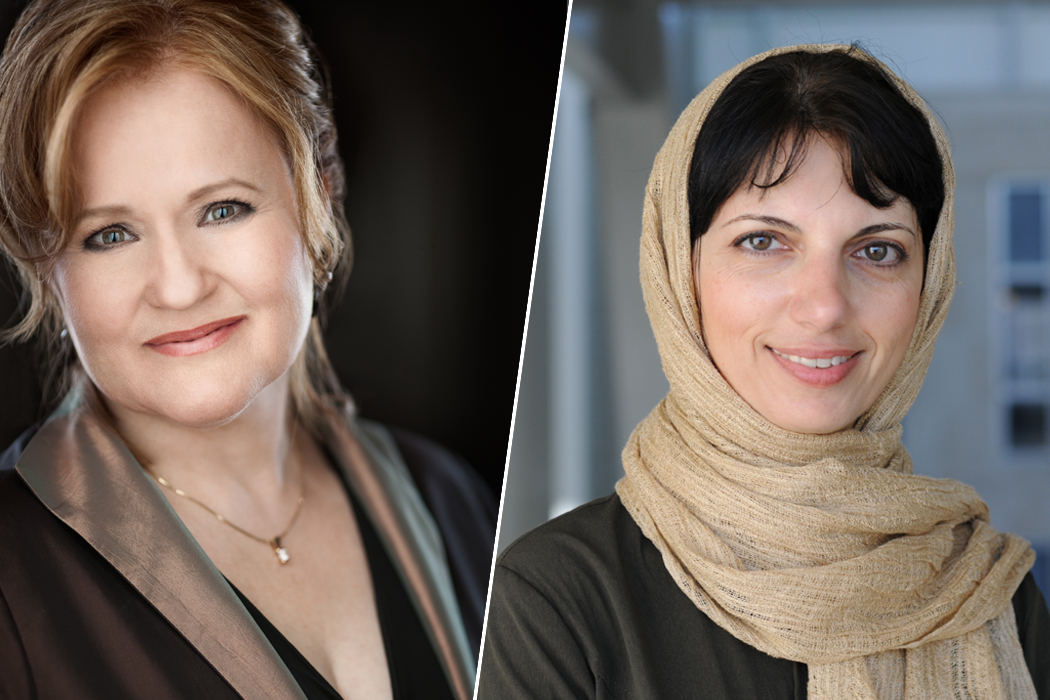 Two U of M women named among top 100 most powerful in Canada
November 28, 2014 —
Tracy Dahl of the Desautels Faculty of Music and Zahra Moussavi of the Faculty of Engineering have been named as Women's Executive Network's (WXN) 2014 Canada's Most Powerful Women: Top 100 Award Winners.
The Top 100 Awards recognize Canada's strong, fearless female leaders who have become agents of change in reshaping Canadian organizations at the highest levels.
Dahl and Moussavi join an elite group of Top 100 Award Winners that includes some of Canada's most iconic women trailblazers, including astronaut Roberta Bondar, Arlene Dickinson, chief executive officer of Venture Communications, Christine Magee, president of Sleep Country Canada, Kathleen Taylor, chair of the board at the Royal Bank of Canada and former Governor General of Canada Michaëlle Jean.
Co-presented by Scotiabank and KPMG, the Top 100 Awards celebrate and highlight professional achievements of women across the country in the private, public and not-for-profit sectors at a time when corporate Canada is undergoing pressure to promote more female leaders into board and executive office positions.
Canada's premiere coloratura soprano Tracy Dahl has appeared throughout her career with the Metropolitan Opera, Canadian Opera Company, Teatro alla Scala (Milan) and the Théâtre du Châtelet (Paris), among many others. On the concert stage, she has appeared as a featured artist with the New York Philharmonic at Avery Fisher Hall, with symphony orchestras from Prague to Melbourne and with every major Canadian symphony orchestra, including the TSO. In 2009, Dahl was honoured with the Ruby Award by Opera Canada for outstanding achievements on stage. She has received two Juno nominations for Glitter and Be Gay with the Calgary Philharmonic and Rhymes and Reveries, both for the CBC label. Her discography also includes A Gilbert and Sullivan Gala with the Winnipeg Symphony Orchestra (CBC) and Love Walked In, a Gershwin collection with the Bramwell Tovey Trio. Dahl has also developed as one of Canada's finest voice teachers, producing some of Canada's best young talent. She is currently an instructor at the Desautels Faculty of Music. Her students' successes have taken them to stages in Canada, Holland, Italy, Germany, China and the United States, including the Metropolitan Opera, where this past year where her student Andriana Chuchman made her debut. Dahl's ability to bring out the very best in her students has proven to be among the finest of her many accomplishments.
Zahra Moussavi is known for her research in two major diseases: Obstructive sleep apnea (OSA) and Alzheimer's. Her work has not only resulted in novel technologies, but are also directly applied and practiced for diagnosis and treatment. As a full professor at the U of M, as well as a Canada Research Chair in Biomedical Engineering, she has served as a role model, particularly for her female students. Since her time there, she has created the Biomedical Engineering Graduate Program, now serving as its director, and started research that has led to the establishment of three major laboratories. Moussavi is a recipient of the Women of Distinction Award in Science and Technology (2014) from the YMCA-YWCA and Manitoba Government. She has also received the title of IEEE Engineering in Medicine & Biology Society (EMBS) distinguished lecturer.
Read the full list of WXN's 2014 Canada's Most Powerful Women: Top 100 Award Winners.