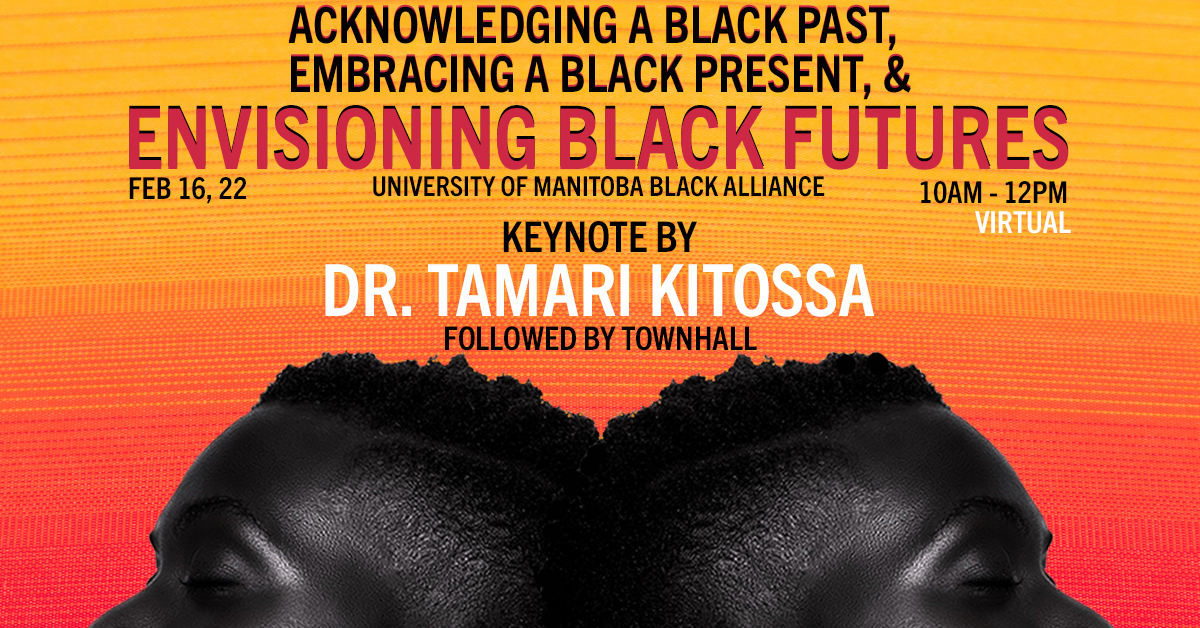 Honouring Black History and creating meaningful change
Dr. Tamari Kitossa is featured as keynote speaker for Feb. 16 event
Post-secondary institutions have a unique role in the ongoing process of creating meaningful change. Educating ourselves on our responsibilities and empowering our community to do the work together is important to building a just society.
February is Black History Month. During this time, we honour the richness and diversity of the achievements and contributions of Black people in Canada and around the world. We also reflect on the issues and difficulties that were faced, and continue to be faced, by the Black community.
UM Black Alliance (UMBA) invites all members of the UM community to attend the upcoming virtual event, Acknowledging a Black Past, Embracing a Black Present, and Envisioning Black Futures. On Feb. 16, UMBA will feature a keynote speaker, Dr. Tamari Kitossa, as well as town hall panelists expressing the complexity of Blackness.
Dr. Kitossa is Associate Professor of Sociology at Brock University since 2006. His work encompasses a number of topics including Blackness and anti-Blackness; Black masculinities; African Canadian leadership and more. As an esteemed scholar, he has written, edited and contributed to multiple publications tackling discourse around Blackness in academia.
This event provides a platform for celebration, but it also reveals that we're only scratching the surface of reflecting, planning, and shaping a better future. The work goes beyond Black History Month.
"Celebrating and honouring Black History doesn't start and end in February," says Wilfred Sam-King, Chair of UMBA. "Providing spaces, support, equal opportunities and understanding the complexities of Black people is the first step to making meaningful change."
As Sam-King eloquently puts it, "Black students, staff, faculty, and alumni bring transformational change to UM every day. Their impacts are immeasurable and we thank them all. UM is the heart of the province; this is where we develop leaders and change-makers. Their contributions not only better our communities but the entire globe."
Register for and find more information on Acknowledging a Black Past, Embracing a Black Present, and Envisioning Black Futures today.
About UMBA
UM Black Alliance (UMBA), affiliated with the University of Manitoba, consists of Black students, alumni, staff and faculty. UMBA coordinates and promotes Black History Month events; address challenges, and continues to honour and remember the important history, people and experiences of Black communities in February and throughout the year.