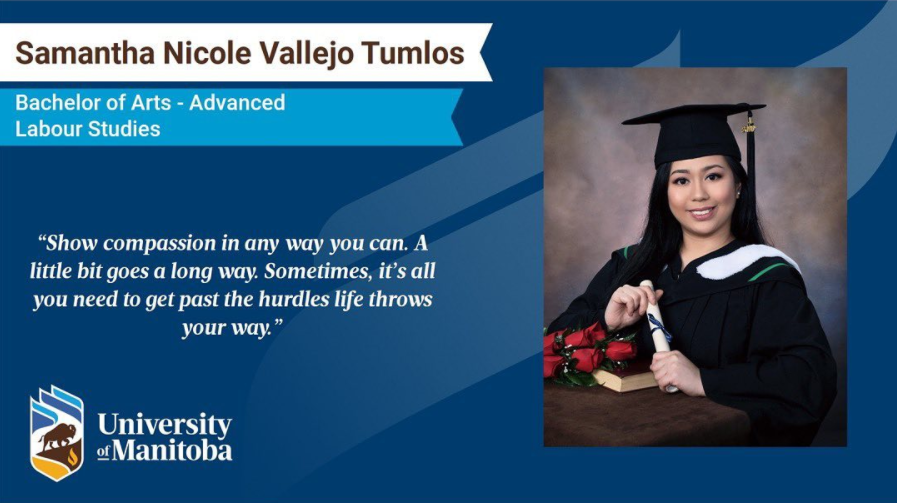 Hey Grads – get the full virtual convocation experience and fill out your slide!
September 22, 2020 —
Fall Convocation will be held virtually on October 22. During the live-streamed virtual event, you will be able to remotely share this moment with your family and friends, engage with your graduating class on social media, and download your slide as a memento.

To get started, please read carefully and follow the steps below. Please note: the deadlines below cannot be changed so please mark them down and ensure you complete your slide customization on time to ensure its included in the ceremony. If you don't complete your personalized slide, you will not have a slide with your name on it during the procession, however, you will be included in the scrolling list of graduates at the end of the ceremony. You have worked hard to achieve this milestone and we encourage you to complete the process below and take your place in your graduation event.
You will have received an email to your UM email address, that's where you start.
Step 1:
Check your UM email, click the link and create your password.
Step 2:
Log in and formally register to participate in the Convocation ceremony.
Step 3: (includes the following 3 tasks)
Upload your photo
Type in your personal message (Max. 150 character celebratory message – about your future, what your degree means to you, or thank someone who helped make this day possible for you. Avoid acronyms or any derogatory statements towards another person, people, or place – which will be removed.)
Record the pronunciation of your name, to be read aloud during the ceremony
Key Deadline:
Sunday, October 11 – 11:59 pm CST: Final deadline to upload your photo and message to be included in the ceremony procession
Don't forget, your login information is unique to you, so you'll have to check your email. If you have any questions about this process, please contact convocation2020 [at] umanitoba [dot] ca.