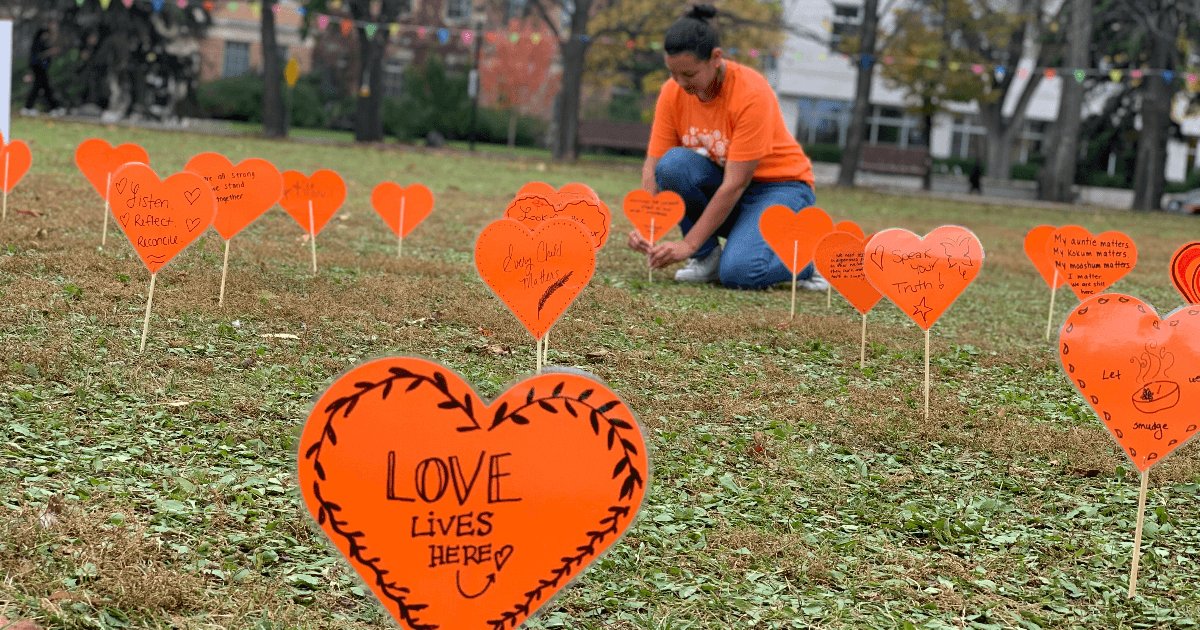 Heart Garden takes over UM Quad for third annual National Day for Truth and Reconciliation 
September 28, 2023 —
310. That's the number of orange hearts that make up the commemorative heart garden planted in the quad at the University of Manitoba's Fort Garry campus. Each one represents the memory of a child lost to the residential school system, while also honouring Survivors and offering a commitment to reconciliation.
"The intention of the heart garden on campus is to spark conversation amongst the greater UM community," says Kayla Lariviere, who chairs a National Day for Truth and Reconciliation Committee at UM. "If we can get peoples' attention and get people talking, that's an important step."
Canada's inaugural heart garden initiative took place at Rideau Hall in Ottawa as part of the Truth and Reconciliation Commission of Canada's closing ceremonies on June 3, 2015. Since then, organizations, institutions and individuals have planted heart gardens across the country to join in reconciliation.
When asked what people can do as individuals to show reconciliation, Indigenous Student Centre Elder-in-Residence Carl Stone offers two ways.
"The first thing you have to do as an individual is personalize it," says Stone. "It's not just about being sorry this happened and saying sorry all the time. You need to make it something that's your own. Something that means something to you. And secondly, you need to tell yourself the truth."
Margaret Lavallee, an Elder in residence at UM's Bannatyne campus says it's important for the rest of Canada to learn how Indigenous people in Canada were treated.
"We were not treated as part of society for many years," says Lavallee. "So many years of investigations to find the truth was very hard on Survivors and families. History is important to learn – how we were ruled and controlled, put on reserves. It was apartheid introduced to Canada – a way to control people. And many issues have been created due to residential schools."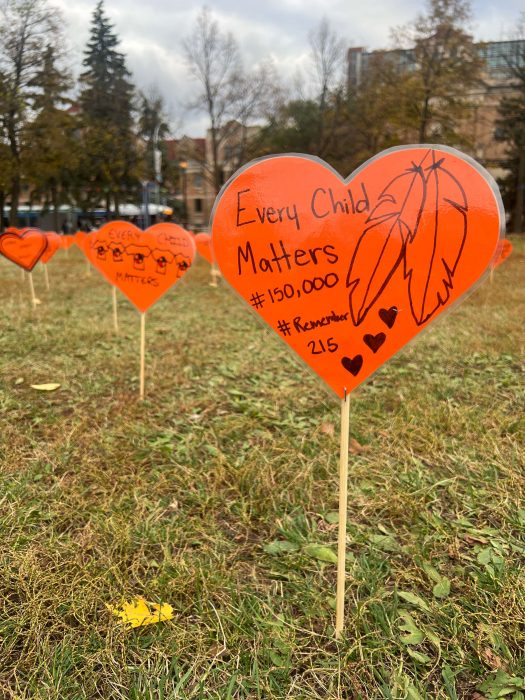 On each heart is a special message of memorial or an act of reconciliation.
"When we distributed the hearts, we encouraged people to write or draw messages of remembrance, or of personal and/or professional commitments to reconciliation. We wanted people to be creative and think from their hearts," says Lariviere.
The National Day for Truth and Reconciliation committee distributed the orange hearts to faculties, programs and units across all three UM campuses and reached out to the broader UM community to include the Campus Children's Centre. Outside UM, students from Southeast Collegiate – a school that serves as a campus to First Nations youth from communities outside of Winnipeg – also participated.
Looking forward, Lavallee and Stone each consider what reconciliation at UM should look like at an institutional level.
"Education of the history to students, faculty and staff needs to be ongoing," says Lavallee. "They need to take part in the teachings shared by us with the University so they can start to think in our view of the world – not just an academic view."
"The University needs to look at things like Indigenous staff, the Indigenous courses taught here outside of Indigenous Studies," says Stone. "Ask yourself how you're valuing and celebrating the contributions and knowledge of Indigenous people. Ask yourself how you're working toward eliminating racism. Look at all these things… and do better."
Events in honour of National Day for Truth and Reconciliation are taking place throughout the UM campuses and greater community and a compiled list can be found here.
For support:
The Indigenous Student Centre (ISC) offers support such as meetings with the ISC Elders or Knowledge Keeper in residence and student counselling services that can be accessed by contacting ISC directly at 204-474-8850 or by email at isc [at] umanitoba [dot] ca.


The National Indian Residential School Crisis Line provides 24-hour crisis support to former Indian Residential School students and their families toll-free at

1-866-925-4419

.




First Nations, Inuit and Métis seeking immediate emotional support can contact the Hope for Wellness Help Line toll-free at

1-855-

242-3310

or by online chat at

hopeforwellness.ca

.
To learn: