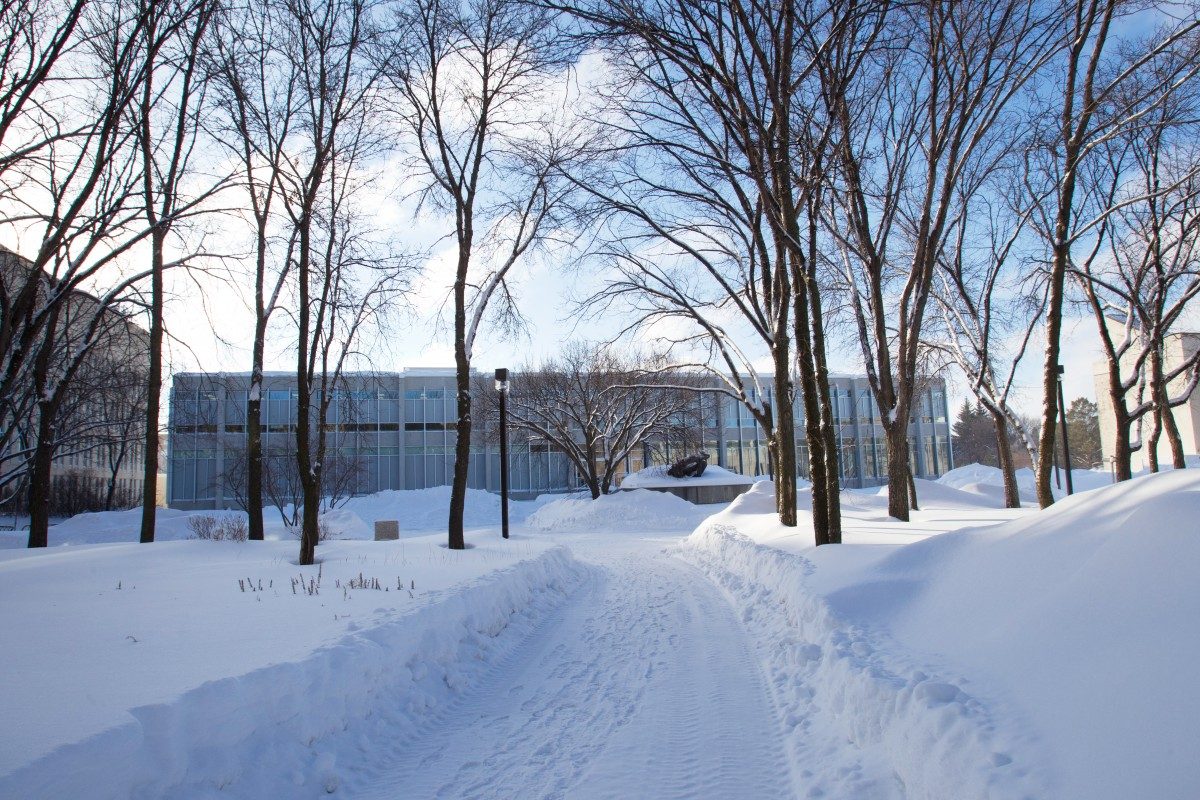 Have a holistic holiday
Consider the meaning of Winter Solstice and the spirit of rest and rejuvenation
December 15, 2017 —
The following article is published as part of a series of articles on academic advising and features the writing of two University of Manitoba Indigenous student advisors.
Wherever you are in your studies, fall term can be the most exciting and stressful part of the year. Each September brings new classes, new instructors, new experiences and new goals. As the term moves on, the initial feeling of excitement can turn into stress as you learn, or remember, that time management is important and that cramming for a test or writing an essay the night before a due date rarely works out well. With each task completed and grade revealed, you may begin to feel a subtle, metamorphic change from carefree to contemplative, from optimistic to alarmed.
After many years of experience as both students and advisors, we have observed that even the most organized and talented student will feel moments of stress no matter how many times they are offered assurances. We have also observed that, at some point, many students will recognize that changes need to be made in order to achieve their version of success. The beginning of winter term is a chance to make these changes.
As you approach the holiday break and begin to wind down from the fall term, we encourage you to consider the meaning of the Winter Solstice and the spirit of rest and rejuvenation. The Winter Solstice is celebrated on Dec. 21 and signifies a shift in focus, activities and seasons. Winter gives us a time to reflect on the life lived since Summer Solstice and offers the opportunity to rest, to laugh, to tell stories and to spend time with loved ones.
Also consider your spiritual, physical, emotional and mental well-being (SPEM). As described in the 2006 article by Loiselle and McKenzie, SPEM is viewed as "…four cardinal directions existing in harmony, balance, complementarity and unity: east, south, west and north. Each of these directions corresponds to one component of a person's being as identified in the Medicine Wheel: the physical/material, the emotional/relational, the mental/intellectual and the spiritual/cultural"
A holistic approach is what the Indigenous Student Centre strives to incorporate into all of our work on campus. With this approach in mind, we offer the following advice for your holiday break:
Reflection: reflect on where you have been in the past year and how far you have come. Acknowledge your learning and growth in each quadrant of the Medicine Wheel.
Reality: be truthful with yourself about your successes and challenges. Evaluate which strategies worked best for you when studying or managing your time management, and understand your learning style. Which skills do you need to improve on? Be specific.
Re-evaluating: review your priorities and goals. Does how you spend your time and focus reflect these? Re-adjust based on realizations to bring balance. Create goals and a plan for how to improve specific academic skills.
Renewal: take some time from the business of papers and assignments to rest, be still, enjoy your life, spend time doing the things you enjoy and be with the people you love.
Thinking about your life in holistic terms will allow you to take care of yourself while you ease any feelings of stress and bring you back to a place of balance and renewed excitement for January.
Carla Loewen is a student advisor at the Indigenous Student Centre and Vanessa Lillie is the Indigenous academic advisor at the Faculty of Arts. Both are Cree from Pukatawagan and Peguis (St. Peter's), respectively.