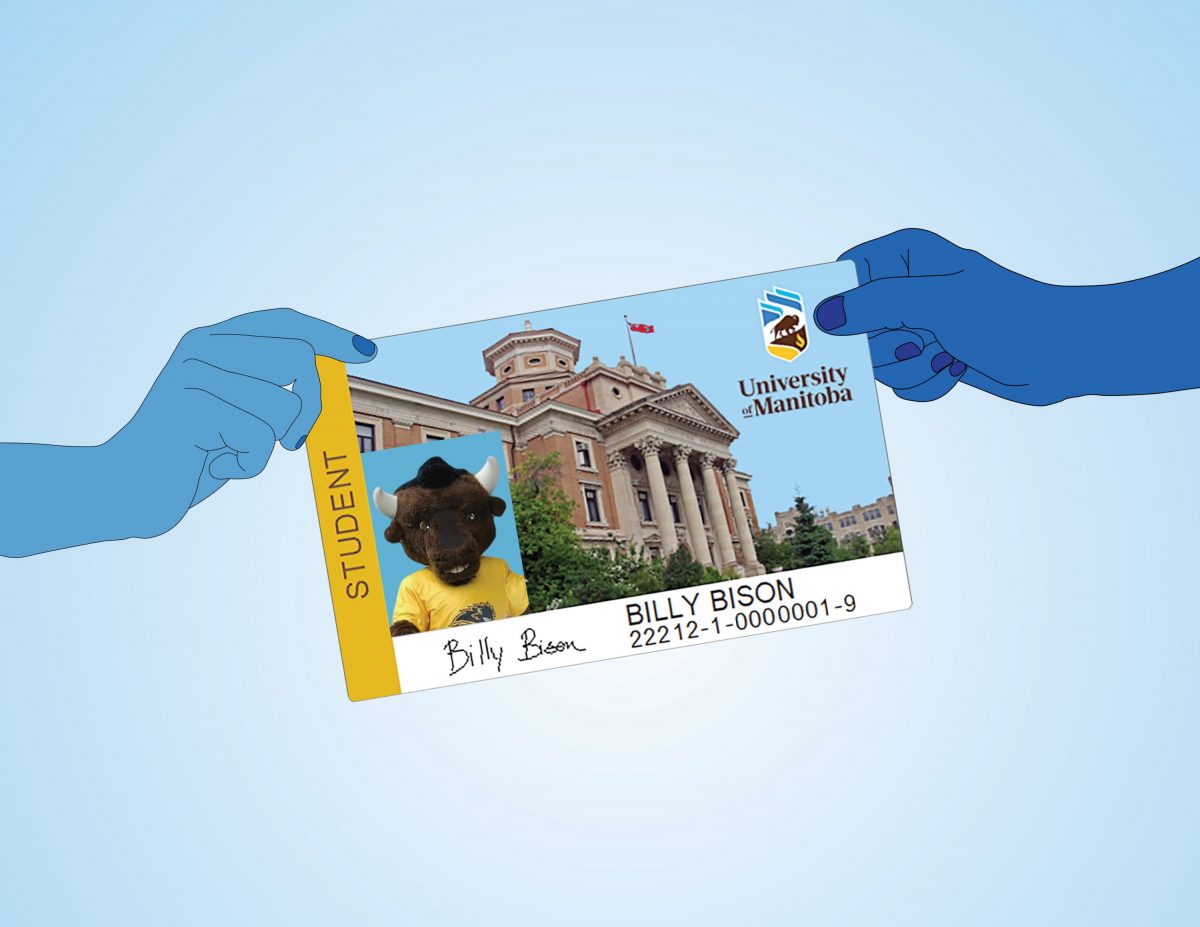 Get your Student ID at the Pop-Up ID Centre!
August 25, 2023 —
Your Student ID card is issued when you first attend UM and is permanent throughout your stay here.
Your Student ID Card has several uses on campus:
The UM Student ID card is your library card.
It works as Photo ID for on-campus services.
It works as a form of ID during examinations.

You do not need your ID Card to study remotely or for midterm/final exams. If you have not retrieved your ID Card before your exam, present an alternate, government-issued ID that has your name and photo on it.

Recreation Services ask for it to use the athletic facility.
It is needed to purchase a food service meal plan.
The ID card is required to validate your Winnipeg Transit U-Pass or your Post-Secondary Student Peggo Card.
It works as a swipe card on certain doors
How to get your ID Card
Photo ID cards can be retrieved from the Pop-up ID Centre in Room 102B, UMSU University Centre.
You can get your card after you have registered for courses and you are encouraged to get your card before classes start to avoid long wait times!
To avoid spending time standing in a physical line, you will need to check in online to get your spot in the queue. You will receive text messages when it is your turn to come to the Pop up ID Centre.
More information about ID cards can be found on our website.
What to Bring
A copy of your government-issued Photo ID.
A copy of your Study Permit (if applicable).
Your old ID card (replacement cards only).
Payment method (Credit only) (replacement cards only).

There is a $24.25 Fee for a replacement Student ID card.
Where to get your ID Card
The fastest way to get your ID card is through the Pop-up ID Centre, located in UMSU University Centre. The Pop-up ID centre will run from Monday, August 28th, until Thursday, September 7th.
Room 102B UMSU University Centre
Fort Garry Campus
66 Chancellors Circle
MB R3T 2N2
Pop-up ID Centre Hours
| | |
| --- | --- |
| Date | Hours |
| Monday, August 28th | 12:00 AM – 4:00 PM |
| Tuesday, August 29th | 9:00 AM – 4:00 PM |
| Wednesday, August 30th | 9:00 AM – 4:00 PM |
| Thursday, August 31st | 9:00 AM – 4:00 PM |
| Friday, September 1st | 9:00 AM – 4:00 PM |
| Tuesday, September 5th | 9:00 AM – 4:00 PM |
| Wednesday, September 6th | 9:00 AM – 6:00 PM |
| Thursday, September 7th | 9:00 AM – 6:00 PM |
| Friday, September 8th | 9:00 AM – 4:00 PM |