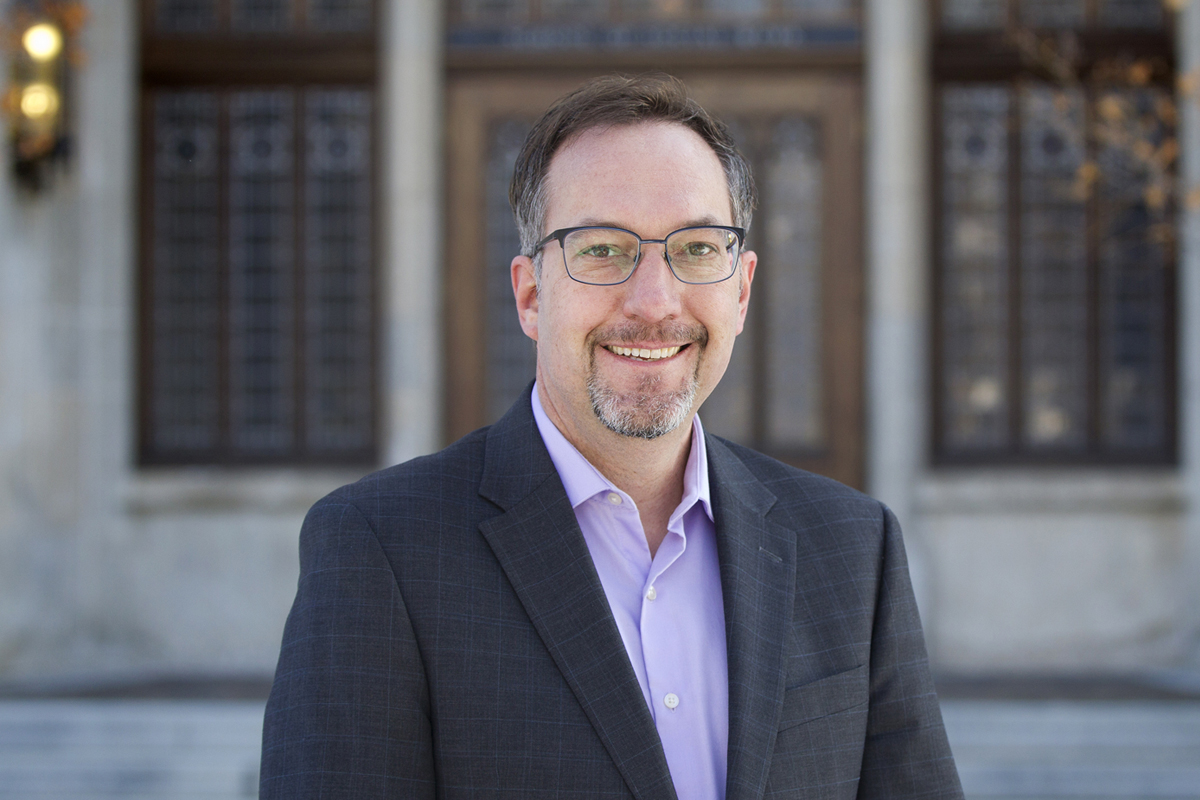 Get to know UM's new Vice-Provost (Academic Planning and Programs)
May 27, 2022 —
Dr. Greg Smith began in this new role in April. Previously a professor in the Faculty of Arts' Department of History, and Associate Dean (Graduate Studies, Curriculum, Space, Internationalization). We chatted with him about his academic path, and his Netflix binge list.
What do you hope to achieve in this new role at UM?
I hope to play a role in the successful transformation of the university to its new and better version after a few years of adversity. The pandemic has shaken the post-secondary education field and along with the hardships for students and staff it has brought, it has revealed our remarkable resilience, our ability to endure and adapt. It also revealed the opportunities that may come from abandoning practices and processes that were tied to previous social and cultural norms which we are now better understanding as limiting, marginalizing or oppressive for various members of our community.
What is your background, and how did you get to your position?
I grew up in the Vancouver suburb of Richmond and attended UBC as an undergrad. I was the first person in my immediate and extended family to go to university so everything about academic life was new and thrilling and a bit intimidating all at once. I was intent on going to law school and chose a mix of history, politics and economics as my undergrad subjects. Sage mentorship by a few history professors got me interested in early modern European and British history, and then criminal justice history. I was encouraged to do an MA, and then go to law school so I applied to UK universities thinking Britain was the right place to study British history. A wise tutor directed me to Toronto where the leading scholar in my field was teaching and so I went to the University of Toronto, allegedly just for the MA. After a year, I was somehow in the doctoral program and fortuitously, the tutor from Cambridge ended up a visiting professor at Toronto during my PhD! After the PhD I took a postdoc at the University of Guelph and was offered the job at UM during that time. I taught various History courses and contributed later to departmental administration before joining the Dean's Office in Arts in 2012. I served two terms as associate dean before accepting my new position in the Provost's office.
What advice do you have for students?
Be flexible! I followed my interests and found myself on a path that I love. I had to let go of my original idea of law school, which is a great path for some, in order to find my calling.
Secondly, reach out to your professors and instructors. Go to at least one office hour per term, per instructor. Most faculty have a lot going on beyond the class or seminar or lab that we know you from, and we love to hear what students find interesting. We also have networks and connections on and off campus that might lead to potential opportunities to enhance your university experience.
What do you do in your role?
Academic Programs are what we do as a university. While graduate students or postdoctoral fellows may come to UM rather than another university because of a stellar research project or renowned professor, the majority of our 30,000 students are pursuing an undergraduate degree program. Part of my role is to ensure that those programs are running at a world class standard, and that they are adapting to meet disciplinary innovations and the needs and interests of today's students. I also work with other members of the Provost's team and the Deans and Directors to ensure that the programs are properly supported and that the Universities shared strategic priorities–as they relate to undergraduate and graduate programs–are meeting their marks.
What was your favorite subject when you were in school?
I liked chemistry and geology but also was fortunate to cross paths with teachers in social science, law, and literature who were inspiring because they just exuded a passion for their subject matter. Their enthusiasm for the material was what made the learning easy and fun.
What's one place you'd like to visit (or have visited) and why?
After my undergraduate degree I took a year off to go backpacking around Europe and to visit family there. I've been back to England many times for research and travel, and recently took a vacation in Scotland, but I've yet to visit Ireland so that is a must do.
What do you like to do in your down time?
When I'm at home I like to putter around my house and garden. I like cooking and look forward to going out with friends for meals, especially as we resume a more social life. I love a wide range of music and have made some modest progress on the guitar.
What is on your Netflix binge list?
British crime dramas are high on the list, like Shetland, Line of Duty, Vera, Unforgotten. Super dark American dramas like Ozark and Better Call Saul are also exceptional for their writing, acting and cinematography. And Ted Lasso. Everyone should watch Ted Lasso.
What do you like to read?
As an historian, I have no shortage of works to keep up on. My 'to read' pile is shockingly high. A good friend from my graduate school days has just published a book that he's been working on for many years, entitled The Culture of Male Beauty in Britain: From the First Photographs to David Beckham which I've just started. For fun, I try to read fiction or autobiographies. I'm currently reading A Gentleman in Moscow, by Amor Towles, and I always read the annual Booker Prize winner or others from the shortlist each year (Shuggie Bain, by Douglas Stuart was excellent, though raw and depressing). Nordic crime mysteries such as those by Jo Nesbo are great, and autobiographies especially by musicians. I've got Patti Smith's Just Kids in the on-deck circle. It's her memoir of her relationship with the artist Robert Mapplethorpe, the early punk music scene, and the squalor and promise of New York City in the 1970s.
Learn more about the Office of the Vice-Provost (Academic Planning and Programs) here.