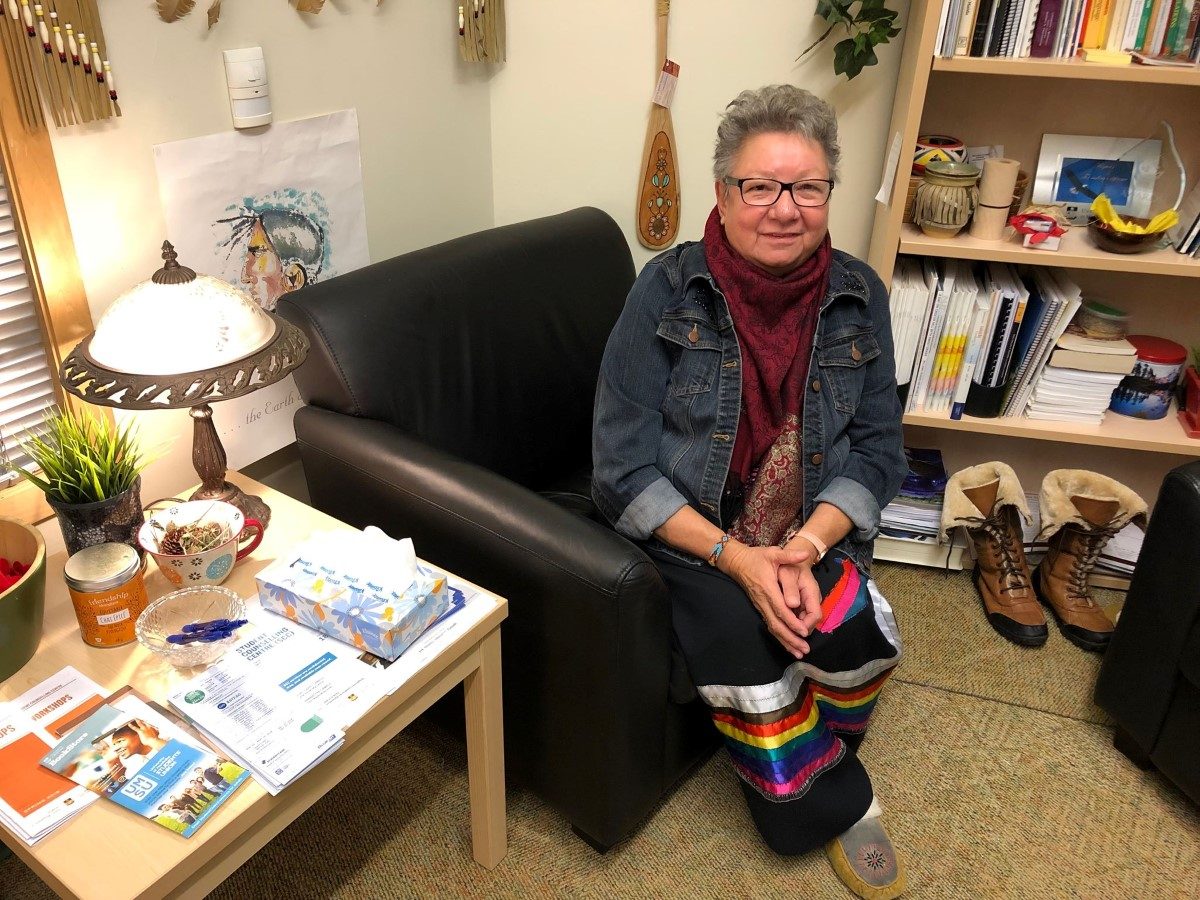 Get to know the new Elder-in-Residence at the Indigenous Student Centre
Wanda Joy Murdock joins the Indigenous Student Centre as an Elder-in-Residence
November 7, 2019 —
The Indigenous Student Centre is pleased to introduce Wanda Joy Murdock, the new Elder-in-Residence alongside Elder Norman Meade, to the UM community. Murdock brings an extensive background in community work and traditional teachings to her role. UM Today sat down with Murdock to learn more about what brought her to campus.
UM Today: Tell us where you and your family are from.
Wanda Joy Murdock: Wha-chi-ayi. I was born in Fisher River Cree Nation (Ochekwi-sipi). I grew up there in a family of ten. I attended school at Fisher River. I got married at a very young age. My husband and I have six children of our own, and ten grandchildren.
UM Today: What was your experience with post-secondary education?
I decided to go back to school in 1992 and upgraded my adult education in Winnipeg. Education is very important in the Murdock family, as well as past generations. I then entered the health-care field. I worked as a health-care aide. I became a diabetic educator through Interlake Regional Health Authority (IRHA) and a community wellness worker. I worked in the health-care field for about 21 years until I retired in 2014. After a break, I decided to go back into the workforce as a Residence Support worker at Fisher River Healing Centre, and worked alongside women who experienced domestic violence. After a couple years there, I started working as an Elder over the years. I started by doing opening prayers, drumming, and singing.
I then began work as an Elder alongside my sister-in-law at the health centre that was built in the Fisher River community. The name of the lodge was given the name Mino Maskiki Waskahikan, which means 'Good Medicine Lodge' in Cree. Part of this position was through Jordan's Principle programming.
UM Today: What has your experience been like in learning traditional knowledge?
Way back when I was young, Grandmothers and Grandfathers shared their knowledge with me. I did not have an understanding at the time what they were showing me, being at the young age of five years old. However, I have come to understand my purpose which consists of spirituality, aside from going to church. My spiritual path became very strong, and my desire to further my spiritual journey will continue.
I started receiving visits from the Grandmothers and Grandfathers once again in 1989, and I wanted to gain a better understanding of what I was being shown. I received my ceremonial name, Ni Kan Aski Iskum Iskwew, which means Leading Earth Woman, and I was called to learn more about what it meant. I have always been a good listener, so I started focusing on that, as well as providing my teachings and knowledge to all people.
I attend ceremonies regularly, which helped me to understand Sun Dancing and working in the lounge Scabe-iskwew. I finished my Sun Dancing after a four-year commitment, and I've come to learn about sweat lodges and about praying. I have a spiritual responsibility to share with people. My journey is about the seven teachings and its animal spirits. Spiritual healing, ceremonial songs, what are ceremonies and their purpose, moon lodge teachings, understanding Scabe-Iskwew work, fasting, sharing circles and working in the Sun Dance lodge are some of the things I am still learning about.
The power of ceremony is important. What really made me understand this was experiencing cancer. My healing from cancer was done in the sweat lodge over a year-and-a-half. My faith progressed, as hard as it was, through guidance from Grandfathers, Grandmothers, but most of all, Creator.
Creator had given me a chance to live and help people and share what I had to go through. When we go through teachings in life, they are not ours to keep. Teachings are meant to be shared and help others who are on their own path.
UM Today: How has your journey brought you here today?
Building relationships with our people really got me to where I am today. What I really see is a lot of our people lacking their spiritual journey. I want to help with that to give them hope.
Christine Cyr, director of the Indigenous Student Centre, reached out to me. We have known each other for over 25 years. I knew it was time to bring my knowledge here. Again, it was time to follow my spiritual path that Creator has chosen for me.
UM Today: What message do you want to share with students?
I work spiritually with my visions and dreams. I dreamed about students graduating, and that is another reason why I came here. Working with our young people is something I knew I had to do. I want to share what I can with them on their journey. We are not here by coincidence; we are here by faith and what the Creator has in store for us.
Classroom teachings will provide you with the Western knowledge, but it's up to students to look into the spiritual teachings. I want to be here for that journey. I want to share with them and listen to them. If I don't have all the answers, I want to help them find it, as well as being mindful towards all Creation stories and testimonies.
I am very open-minded with a holistic approach that addresses spiritual, physical, mental and emotional needs. Students and staff are welcome to come knock on my door any time. I am available whenever they need me. I look forward to meeting you and sitting with you. Ekosi.
Wanda Murdock is available for support Monday to Friday from 8:30 a.m. – 4:30 p.m. You can schedule an appointment with her by emailing wanda [dot] murdock [at] umanitoba [dot] ca or by calling the Indigenous Student Centre at 204-474-8850.