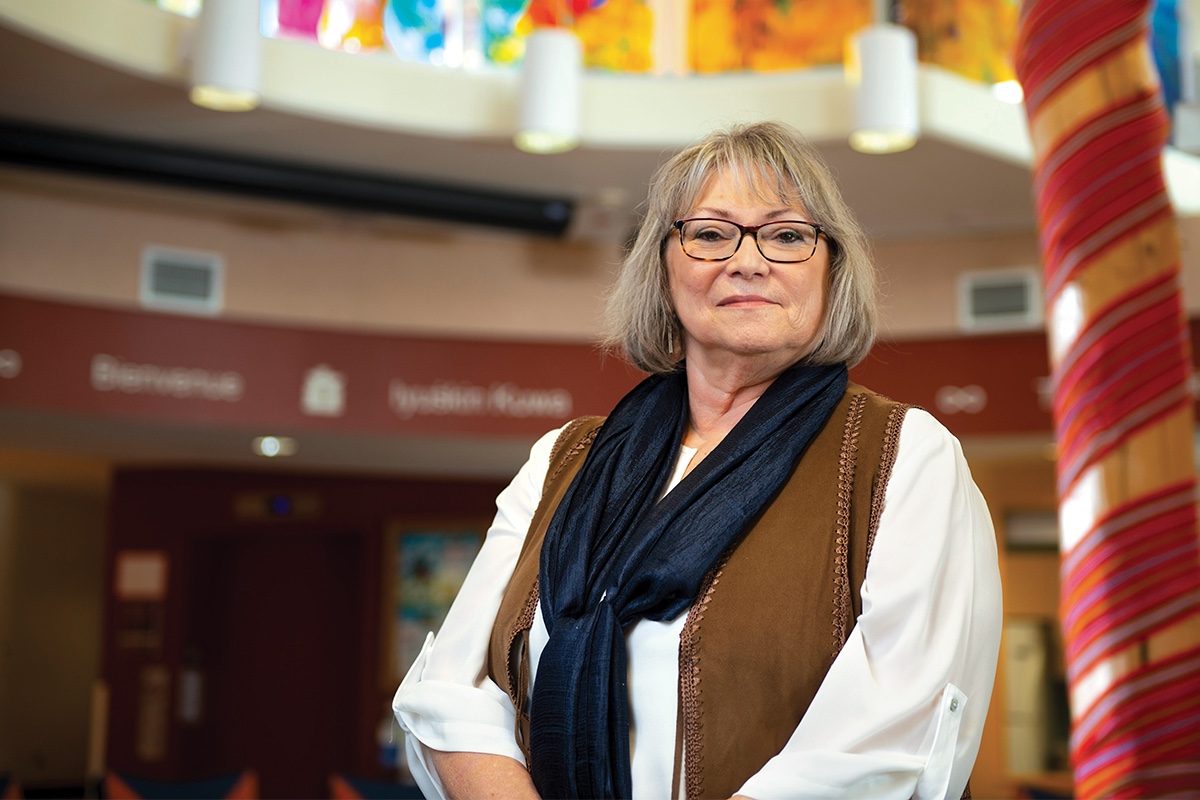 Get to know Dr. Catherine Cook
Inaugural vice-president (Indigenous) brings community into all aspects of her role
October 13, 2020 —
Physician. Educator. Mentor. Leader.
Over her 30-year career, Dr. Catherine Cook (MD/87, MSc/03) has worn many hats, most recently as the newly appointed vice-president (Indigenous) at the University of Manitoba (UM). UM Today sat down with the Métis powerhouse to learn what she hopes to accomplish in her pivotal role.
UM Today: Your role is the first of its kind at UM, as well as among Canada's U15 universities. What is your vision for the role?
COOK: As you know, it's a two-year term. There are two visions that I see.
One is very practical – setting up the infrastructure for the role of a vice-president (Indigenous) and ensuring the appropriate resources and communication pathways are in place so the role, and authority of the role, are very clear – not only within the office but within the university overall. And then, to be able to articulate that role to the university and the community at large.
The more visionary vision, if you will, is to have the [appropriate] structures and support for Indigenous students. We know there are gaps in access to service or barriers to education for Indigenous peoples. My goal is to ensure we have an entity that really understands what those gaps and barriers are, and that is set up to meet the needs of Indigenous students. And in doing that, also looks at the needs of Indigenous staff and faculty.
One of the biggest mistakes we make is expecting Indigenous people to know everything and be everything Indigenous. So what would my vision be? UM becomes a place where Indigenous students, staff and faculty feel fully supported and have the ability to achieve their goals and successes as individuals.
Who inspires you, and why?
It's mostly been young people and listening to their dreams. People who inspired me throughout the years were my grandparents, my in-laws, my parents – always real people that I know and the qualities that shine out of them.
What's the best advice that you were ever given, and why was it so compelling?
Doing a job and doing it well was something that I learned at a very young age. That's stuck with me my whole life – I've always enjoyed hard work, whether it's studying or working or physical, mental or intellectual work. But I think the addendum to that is, "Work hard and seize your opportunities."
That leads to my next question – what's the most important lesson you've learned in your career to date?
My most important lesson is the ability to acknowledge when you've failed at something, and to take responsibility for it. There are two components to that – one is accepting failure and taking responsibility when it's your failure. The other is learning to say, "I'm sorry, I was wrong" – acknowledging you've made a mistake, saying you're sorry and meaning it.
And what's the quality you admire most in a leader?
Working with integrity. There are leaders who are charismatic. There are leaders who are brilliant. There are leaders who are just really mesmerizing in either their tone or their message or whatever it is. But unless they work with integrity, it's meaningless.
And what drives you every day?
I like what I do. I think I'm one of the most fortunate people ever because I have rarely had a leader or a boss who I haven't felt worked with integrity, so I've always enjoyed the work. I feel like I've always been treated well and given the opportunity to reach goals, to expand ideas, to work with wonderful teams. I feel privileged that I landed in a field that captures my mind and my energy every day. I know how lucky that is.
And for me, going into medicine – which wasn't something I had initially thought of doing – opened this whole new world because you can shift and change. You can do clinical medicine, policy work, public/population health, health administration. It's being able to see how the work impacts everything you do and almost everybody you meet, and to work with people who have the same vision to make the world a better place for that little bit of time.
I think it's important people advocate for a better system for people who are marginalized, but also for people who don't have access to the things they need or the voice to get to the place where they can have the things they need. It's not that you think you know what people need – that would be too presumptuous – but to know there are challenges; there are deficiencies, inequity and disparities.
How do you see your position supporting UM's commitment to Indigenous achievement and reconciliation?
The position, in and of itself, is foundational in that it will be able to bring Indigenous community engagement to a new level. That's a critical piece of what we have to do.
We've worked hard to try to meet the needs of students, staff and faculty at multiple levels in different ways, but there hasn't been that outreach to community. For example, you can have an education strategy where you want to make sure everybody has the same opportunities at the university. But we know many Indigenous students come from a place where their high school or secondary education was limited in some areas. [It's important to] recognize those disparities exist and work with community to make sure these young people have the kind of systems that support their needs when they're young. I think our responsibility is to work with whoever we need to, to support them.
Part of what we can do [at UM] is to set up the structure. When I'm working with the vice-president (research), for example, our goal is to make sure there's meaningful engagement with Indigenous communities for that kind of research and the ethics approval has recognized the sovereignty of Indigenous communities. Or working with the vice-president (administration) to look at policies and procedures that may create barriers for Indigenous students.
It won't be me as an individual doing this, but rather, looking at the kinds of resources we need to support the work. There's some amazing work people are doing that could be applied across the board.
You may have the vision, but if you don't know who to reach out to, it's kind of a little light burning slowly, waiting for someone to come along and help fan it. Having an office that provides the resources – not only for Indigenous faculty, staff and students, but also for the university administration and operational structures – [can help everyone] achieve the goals they've set for Indigenous achievement.
What are the some of the biggest challenges that you foresee with this position?
One of the biggest challenges will be the approach to change management that is absolutely necessary. It will mean substantive change for some areas.
I've broken up the recommendations in the [Indigenous senior leadership] report into six categories…and we have people who are very committed to working through this. [We have developed] a project team that will begin to address those recommendations. Some will be very easy, and some will be very difficult.
Where would you like to see this position in two years?
In two years, I'm hoping we'll have a brand new incumbent coming in after a successful search.
Part of what we'll be doing collectively, as we go through building the office infrastructure, will be further defining the role of the vice-president (Indigenous) and what needs to be part of that office…In two years, I hope we have a fully functioning university where the vice-president (Indigenous) is integral to the working of the executive team and the daily workings of the university, and the person coming in has everything they need to be successful.
Did you have a favourite book that you read this year?
I like mystery writers who write about the quirks of human nature, good and bad. I read voraciously; I usually have two or three books going. My kids and grandkids laugh at me like, "Why do you read? You can watch any movie you want!" And I say, "But when I read, I can be anywhere. When I watch a movie, I have to be there."
Is reading your favourite way to unwind or do you have any other pastimes?
I always enjoyed computer games when I was in medical school. That was my way of switching from one topic to the next when I was studying.
If I let myself, I can be totally absorbed in whatever I'm doing – reading, computer games, YouTubing. I'm kind of a lose-yourself-in-the-moment person. But reading is my favourite – and cooking.
Is there anything else that you'd like the UM community to know about you?
I'd love to hear people's ideas and thoughts about where this [position] should go. If there's anything that has been a burning issue for people – Indigenous or non-Indigenous, faculty, staff or students – I'd love to hear it.