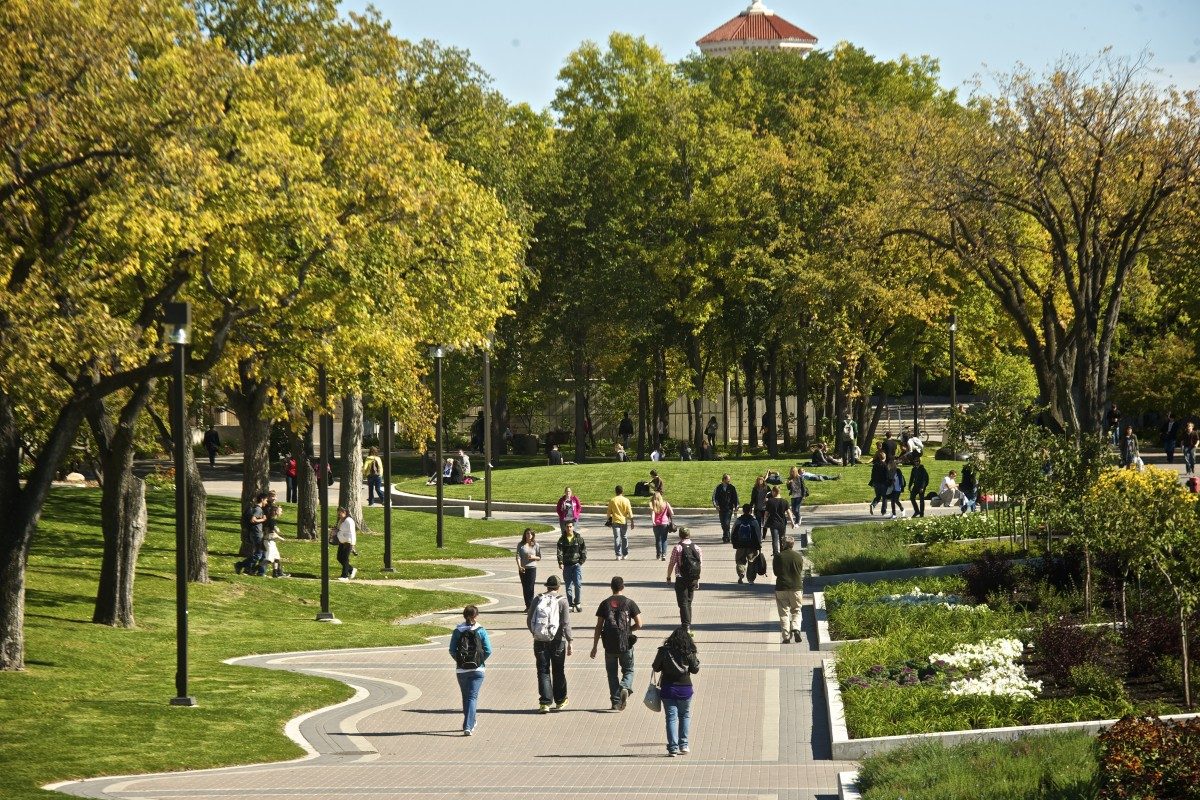 Get hired on campus: Six of 57 jobs you can apply for this year
August 13, 2018 —
Working on campus can be the perfect way to jumpstart your career, learn new skills and make friends – all in a convenient location. If you are a full time student in good academic standing who is currently receiving band sponsorship, government student-aid or disability funding, the Work-Study Program has a variety of positions that you can apply for. This year, there are 57 student positions across all sectors, including social service, science, business, sport and art.
Whatever your career goals, Work-Study has a position that can help you take steps in the right direction. Here's just a taste of the variety of positions Work-Study has to offer. You can also check out our website for more information on job postings and application instructions.
Waste Analyst: Campus is a big and bustling place, and with that comes waste. That's why we have a work-study position in place to help make change. The Waste Analyst will work with the Office of Sustainability to research on-campus waste and put sustainable solutions into action. If you care about the planet and are considering a career in sustainability, this could be the perfect position for you.
Student Career Services Advisors: Figuring out the future is a complicated mission for every university student –if you work at Career Services, you'll be part of the team that helps students find their direction. Shifts in this position will include orienting students to the career centre, facilitating resumé critiques and assessing student needs to make appropriate referrals. This is an excellent position for students considering counselling, social services or human resources.
Indigenous Mentor-Helper: Take on a leadership role in the Land and Water Mentoring Program, which provides mentorship to local high school students. Not only will you mentor youth, you'll also have the opportunity to recruit and train program volunteers. This is a great position for Indigenous students who are interested in working with youth, program coordination or building their leadership skills.
Maintenance Data Analyst: The science of keeping the U of M's buildings safe and effective is a complex and high tech undertaking. The Maintenance Data Analyst will crunch numbers for Physical Plant, making recommendations about best and most efficient practices for the department. If you have a knack for computers and a head for statistics, this is a great job for you.
International Marketing Coordinator: Use your creative flair to help market the Asper Exchange Program. In this position, you'll create and enact a strategic marketing plan – from creating social media posts to writing website content to developing contests and events. This is an ideal starting point for a career in creative arts, writing or business.
Research Assistant (Athletic Therapy): If you're fascinated by the human body, apply for this position in the Faculty of Kinesiology and Recreation Management. The incumbent will investigate muscles' force production and movement control – a great opportunity to apply all of the hard work you put into your anatomy and physiology classes. Give research a try and apply your passion for human health to real world problems.
If you have questions about the program and to learn more about eligibility, check out our website, stop by the Career Services office at 474 UMSU University Centre or contact the Work-Study Coordinator. We are here to help you figure out your career plans so you can select a meaningful position, write your resumé and nail your interview. The deadline for applications is September 10, 2018, so get started today. Good luck!