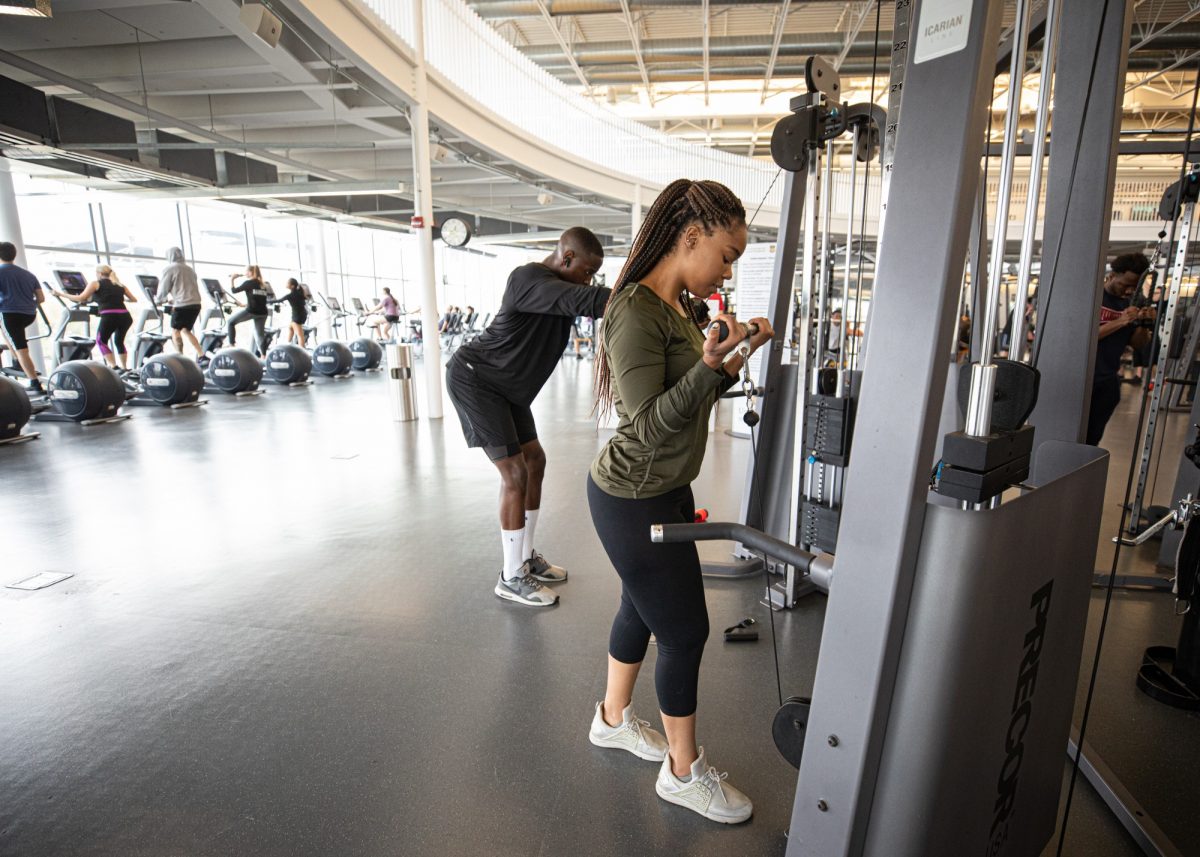 Get back to active with UM Recreation Services
November 30, 2021 —
UM Recreation Services has been gradually returning to its full complement of services over the past few months, and with the recent return-to-campus announcement for Winter Term, the Recreation Services team is excited to see more of the UM community being active in the Sport and Recreation facilities.
As you make your way back to the gym, either at the Fort Garry or Bannatyne campus, remember that a few changes have been made due to COVID-19, and there are a few things to note about booking workouts and pricing [for UM staff].
UM students
UM students who wish to book a workout:
Must complete a gym waiver that outlines the assumption of risk (including risk due to COVID-19), the release of liability, waiver of claims and indemnity agreement.

If you are 18 years of age or older, you can do this online by logging into your Aurora account and following the pathway outlined below:
Enrollment and Academic Records > Declarations > Gym waiver/agreement
If you are under 18 years of age, a parent or legal guardian must sign your Gym Waiver/Agreement. Please visit our website to download and print the form. After you have fully completed the form, you must email it to rec_services [at] umanitoba [dot] cato be processed.
Your completed Gym Waiver/Agreement will take 48 hours to be processed, and we will notify you once your account is active.
Once your account is active, you can start booking your workouts online.
UM staff
Recreation Services is pleased to offer UM staff, alumni and on-campus staff (UM staff rate) a variety of membership options with consideration being given to budget and schedule.
As part of this membership group, you can access discounted rates for membership with no enrollment fees, along with the option to pay your membership through payroll deduction.
Further, your partner/spouse can receive the same UM staff rate as the primary membership holder as long as proof of address can be provided (must be the same as the primary membership holder). Partner memberships can be added when applying for membership online.
Note that UM staff must also book time slots for their desired workout times.
Visit the membership page for more information.
COVID-19 vaccination requirements
Following public health restrictions, proof of COVID-19 vaccination status and government-issued identification is required to access all UM sport and recreation facilities.
As of December 6, we will only accept Manitoba Immunization Cards, Manitoba Digital QR codes, Pan-Canadian PVC QR codes, ArriveCAN and National Defence Canada Covid-19 Vaccine Record/Cards as immunization proof for entry into our facilities for individuals 18+. We will not accept any immunization records from out-of-country or other provinces or territories outside Manitoba, except Alberta. Any printouts of immunization records that do not contain scannable QR codes will not be accepted.
Masks
Participants using indoor UM sport and recreation facilities can remove their face masks when engaging in physical activity and while in their individual workout spaces (i.e., at equipment). Movement in and between equipment/activities will always require masking.
Facility Capacity
All sport and recreation facilities are now open at 75 percent capacity.
Showers and lockers are available
Member towel service has resumed
Visit the UM sport and recreation facilities and COVID-19 page for more information.
Whether you are looking for a new challenge or want to return to an activity you love, UM Recreation Services offers something for everyone, students, staff and alumni alike.
With the official start of the winter season on the horizon, there's never a better time to enjoy the benefits of being active, such as stress relief, improved mental and physical health, and challenging or developing your skills in a safe and welcoming space. Welcome back.