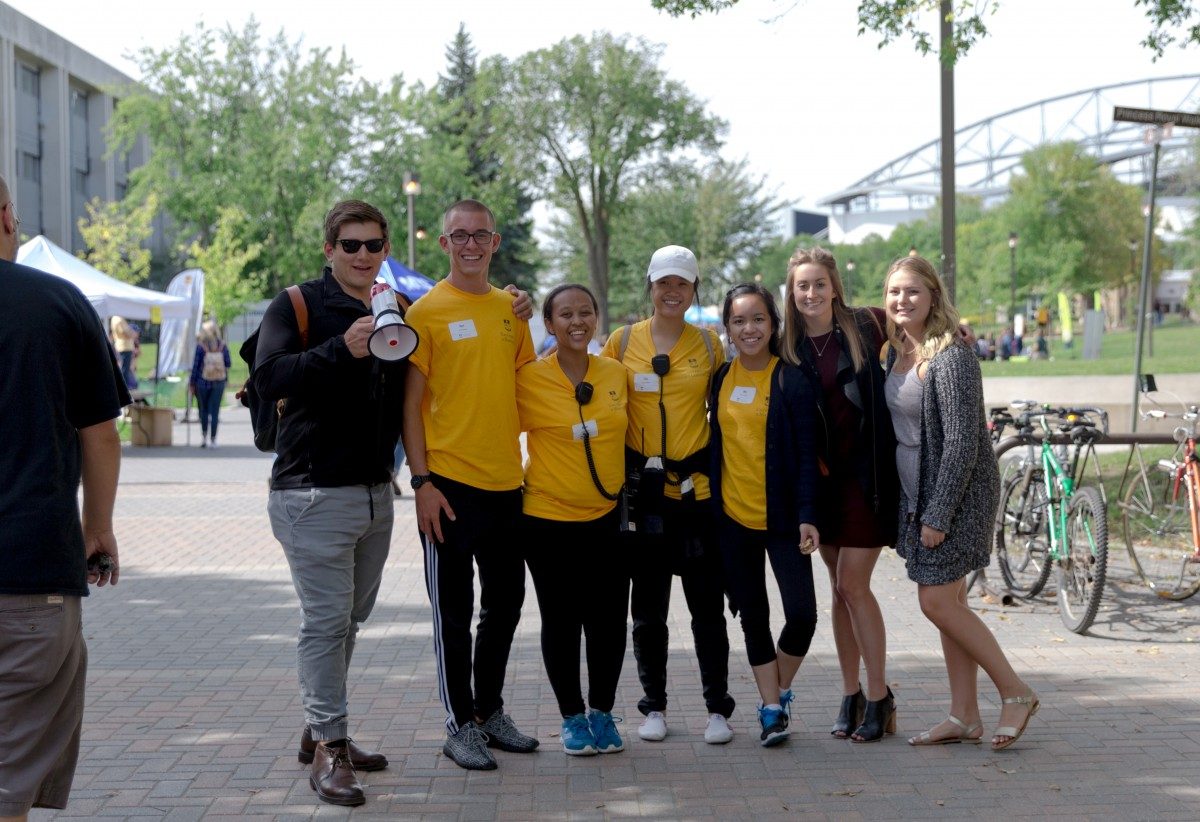 Gain leadership experience at New Student Orientation
Student volunteers needed to welcome new students to campus
January 16, 2018 —
Are you looking for an exciting volunteer opportunity on campus? New Student Orientation is one of the largest events at the U of M, involving over 6,000 students, staff and volunteers. The event introduces students to the U of M campus and prepares them for university life with academic sessions, workshops, an information fair and an opportunity to meet fellow new students.
Current U of M students are encouraged to lend a helping hand this Fall when new students arrive on campus.
"Volunteering at New Student Orientation is one of the most rewarding personal experiences a student can have," says Ali Wood-Warren, First Year Centre Coordinator. "It offers the chance to meet other students and make new friends and is an excellent opportunity to develop the skills that employers are looking for in new employees."
Training is provided to all volunteers to develop or enhance communication, leadership and organizational skills and to discuss responsibilities during New Student Orientation. Volunteering at New Student Orientation also works towards building a student's co-curricular record, so there is formal recognition of the time and energy volunteers contribute to this event.
New Student Orientation goes beyond helping students find their way around campus. Wood-Warren says friendships are formed and important experiences are had, for both new students and volunteers.
"At no other time in the school year can you feel such excitement in the air. Being able to contribute to making a new student feel welcome is incredibly meaningful," said Wood-Warren. "The ability to make someone feel more comfortable in a new and overwhelming environment is something that you will take with you for the rest of your life. I know that I did and now, being able to oversee New Student Orientation as an employee of the university brings it all back."
Lisa Huang volunteered at New Student Orientation for the first time in 2013 and has also volunteered as a team captain. She says she took part because she wanted to become a role model for new students.
"I feel like an older sister. Someone that new students can trust and get guidance from, but someone they can also share a good laugh with," said Huang. "The first year of university is always the hardest and just being able to be someone's friend helps make the high school to university transition much smoother. Volunteering and becoming friends with new students is a way to give them comfort. It also decreases drop out rates and stress for many students. This is why volunteering at orientation is important to me."
Visit the New Student Orientation volunteer page for more information on how to volunteer. Sign up for the UMVP program by July 26 to take part.