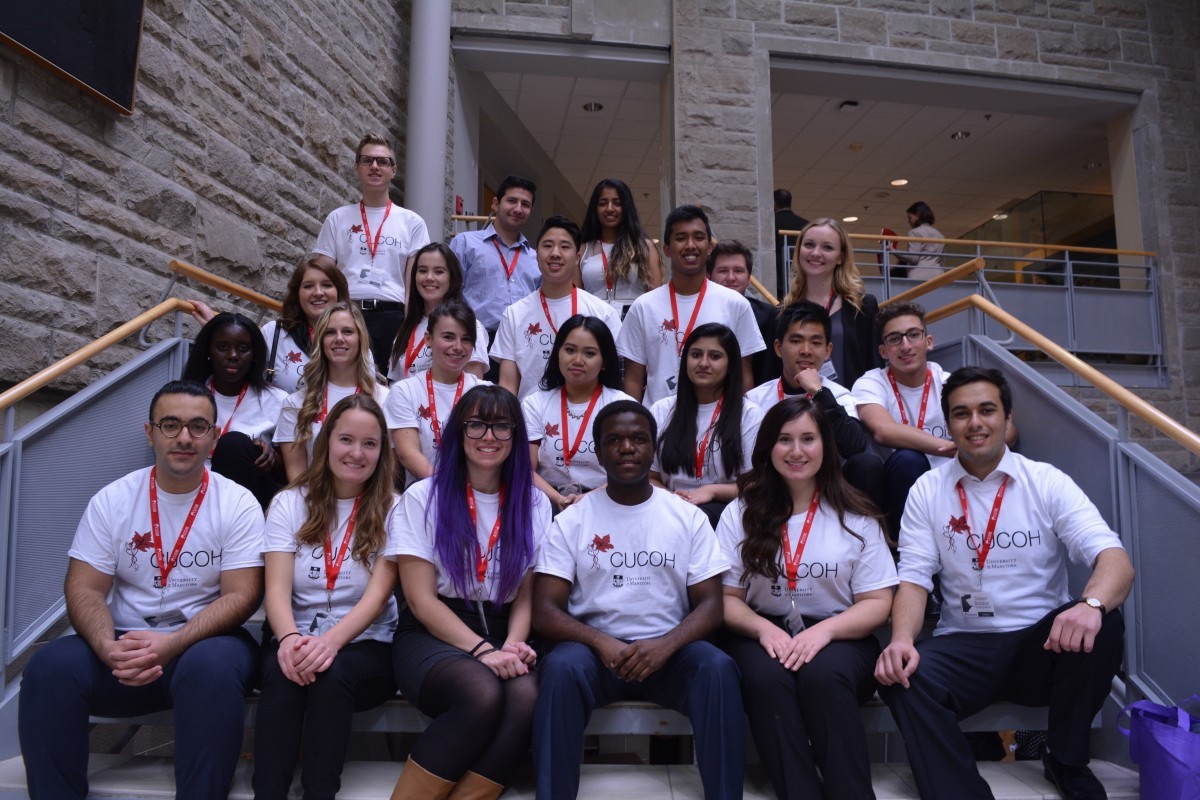 First-ever Manitoba Undergraduate Healthcare Symposium
April 13, 2016 —
The Manitoba Chapter of CUCOH (Canadian Undergraduate Conference on Healthcare) is an UMSU student group that aims to unite students from various disciplines interested in healthcare in Canada. Through a generous donation made by Emergent Bio Solutions, a world leader in the development, manufacture, and commercialization of specialty hyperimmune plasma and biotechnology products, CUCOH Manitoba was able to send 22 delegates to Kingston, Ontario for the national conference this past November. This was the largest delegation to attend from outside Ontario and the first U of M presence since the inception of the conference in 2005.
"After attending the annual CUCOH conference, we were so inspired by the opportunity we experienced that we decided to begin planning our own conference here at home, in Winnipeg, Manitoba." – Andrew Samuel, second year science student and head of the marketing committee for the Manitoba Undergraduate Healthcare Symposium.
Combining new ideas with what they learned in November, the CUCOH Manitoba team will host the first ever, Manitoba Undergraduate Healthcare Symposium from May 6–8, 2016. Open to all undergraduates, the symposium will offer a wide variety of hands-on workshops such as dentistry carving, medical suturing, nursing vital signs, pharmaceutical compounding, and athletic taping, to name a few. In addition, students will have an opportunity to engage with seminars and participate in case challenges from a wide area of healthcare topics. Highlighting the symposium are the three keynote speakers that you'll hear from throughout the weekend:
Opening keynote: Bridging the gap between Indigenous and non-Indigenous health
Dr. Barry Lavallee
MD, CCFP, FCFP, MCISc
Banquet keynote: Living with paediatric leukaemia
Morgan Pisni-Ray
Closing Keynote: Current and emerging work on plans for a global strategy on health and aging
Jim Hamilton
MSc, MPA
Not sure if the Manitoba Undergraduate Healthcare Symposium is for you? Andrew Samuel encourages you to ask yourself: "do I really want to miss the chance to try out hands-on workshops like dental carving, suturing and compounding? Do I really want to miss the chance to take part in discussions around topics like physician assisted death, safe injection sites and senior health?"
Registration is $110.