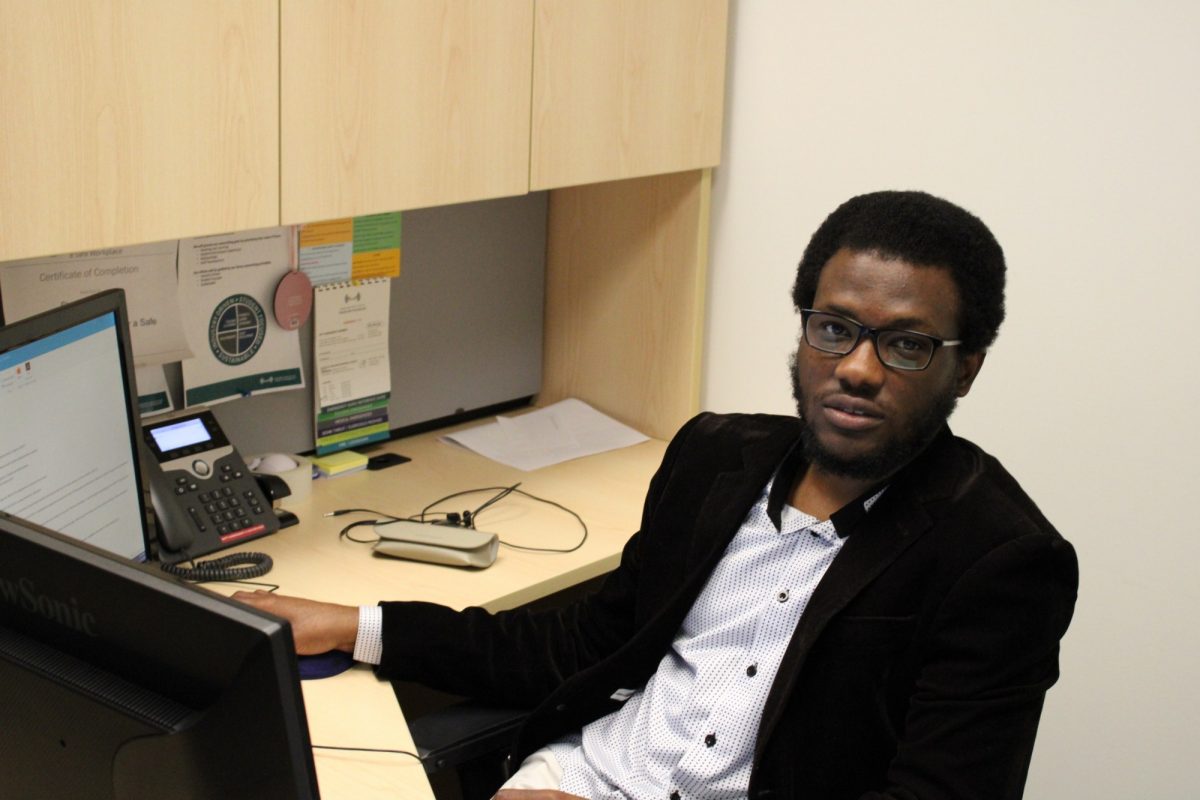 Find an opportunity to learn and grow
Arts alumnus builds career, shares advice
November 17, 2020 —
You have many career options with an Arts degree! Stephen Alalade's [BA Adv/2015] story showcases how an Arts degree can quickly connect you to the world of full-time work. Stephen began as an international student on campus and gained many marketable skills during his studies. Stephen followed his dream of working with post-secondary students and is already advancing in the workplace. Through Stephen's story, it is easy to see that his degree, along with his various experiences, has led to his current success!
Stephen graduated from the Faculty of Arts in 2015 with a Bachelor of Arts Advanced degree with a major in Psychology and a minor in Sociology. We caught up with him to learn about how he got to where he is today.
Tell us about your first job and the work path you've taken up to today.
Upon graduating, I worked as part of the Alumni and Donor Relations Team at the University of Manitoba where my main focus was on tracking past, present and potential donors. I've always dreamed of working with students at a post-secondary level, and this position provided me with an entry point into the post-secondary world.
I then joined the Manitoba Institute of Trades and Technology (MITT) as an Enrollment Officer, which has given me generous opportunities to interact with students and help play a role in their successes! I help to ensure the integrity of MITT's admissions process by minimizing fraudulent records and confirming applicants have the required prerequisites. It is quite expensive for International students to come to Canada to study, therefore, it is important to make sure that their foreign credentials are equivalent to the Canadian standards in order for them to succeed once at MITT. As a former international student, I understand how important it is to have a support network available to consult with, and having this insight and knowledge base has proven to be very useful in offering support and guidance to other international students.
I have recently moved into an International Recruitment Officer role at MITT. With this new position, one of my key duties is to know the MITT programs and the admission requirements for prospective students to submit a completed application. I now participate in recruitment events (in-person and virtually), webinars and fairs and I provide one-on-one program consultation.
What do you feel were the most valuable skills that you learned in the Faculty of Arts?
Through my course work, I feel that I developed an understanding of people, varying personality types and research method processes and practices. Throughout my studies, I interacted with students, professors and university staff in group projects, completing research assignments and presenting information, both individually, and as part of a group. Collaborating with others has contributed to my personal and professional growth including public speaking. I am much more confident in my ability to convey information effectively during work meetings because of this. I also utilize my research skills daily evaluating international credentials, accreditation, course equivalents and prerequisites and comparing grading scales.
How did your experience and education play a role in obtaining your promotion?
Education has played a significant part in my transition to and within the education sector. My education and experience while I was a student are the foundation that opened the doors for these opportunities. Becoming an Admissions Officer has led to my substantial knowledge of MITT programs and policies making this a suitable transition for professional growth.
What non-academic activities did you participate in while a student?
I am very grateful for the Career Consultants and Academic Advisors who offered me ongoing support and encouragement over the years. They suggested that I expand my volunteer experiences, which has been most helpful in developing a skill set that I use every day. Spending time at Career Services working on my resume and cover letter was very useful. While at university, I volunteered at the International Centre for Students, where I met weekly with students to discuss current topics related to intercultural relations. As a member of the Intercultural Development and Leadership Program, I interacted with students to promote cultural awareness and diversity. These opportunities strengthened my communication skills and improved my ability to empathize with students with a variety of cultural backgrounds.
What career advice would you give to current Arts students?
I suggest that students meet with Career Consultants and Academic Advisors to gather the important information needed to map out your plan. Making sure that your major is well aligned with your future career plan is an important step in this process. Getting involved on campus with related associations, student groups and clubs can help make your experience at university a very positive one. Meet with Career Services to help you make informed decisions about your future and talk with Academic Advisors about your degree program. Gather different perspectives from different people, since we are only limited by what we know.
We want to thank Stephen Alalade for sharing his story.
This article is a part of the November 2020 Career Month series. To view all of the Career Month initiatives including events including the Arts Career Round Table on November 25, 2020, articles, and tips click here.