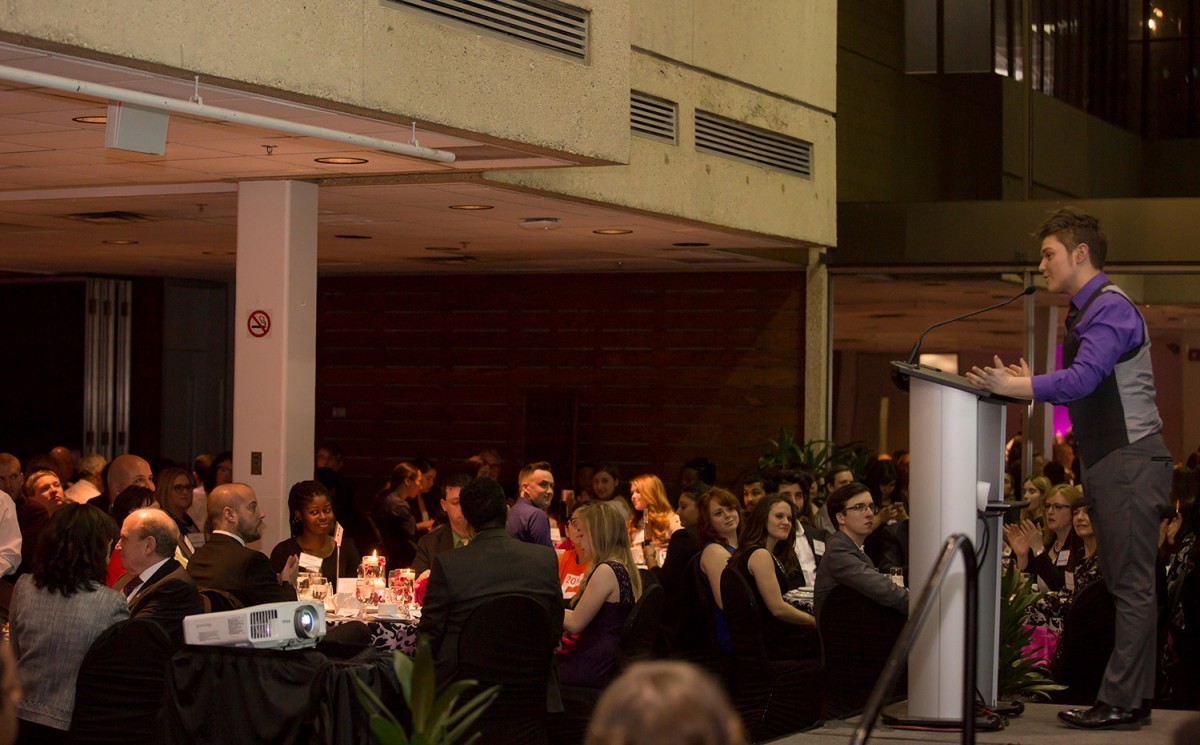 Emerging leaders celebrated
March 16, 2017 —
Forty outstanding undergraduate and graduate student leaders from all corners of our campuses were recognized at the annual Emerging Leaders Dinner on Thursday, March 16.
The Emerging Leader Award (ELA) recognizes students who are committed to furthering the university's educational mission by contributing to the social, cultural or economic well-being of communities on and off campus, while encouraging cross-cultural understanding and demonstrating sustained leadership and initiative.
UM Today wanted to meet some of them. So, we did.
Karissa Kirkup
Fourth-year student in the Faculty of Kinesiology and Recreation Management
Leadership roles, partial list: Chair Person for the World University Service of Canada (WUSC) local committee at the University of Manitoba since January 2015; U10 head coach for the Junior Bisons hockey team in 2017; UMSU Representative for the University of Manitoba Athletic Council since 2015; anti-bullying advocate for Bisons Against Bullying since 2015.
UM Today: Who originally inspired you to become a leader?
Kirkup: My mom and dad are the people who inspired me to get involved in the community and become a better person. Growing up, I always saw them willing to volunteer their time and efforts to causes within the community and coaching sports. I remember the message they consistently told me was that time is the most valuable gift that you can give somebody, and I wanted to be exactly like my role models when I grew up.
What inspires you to continue?
This might sound cliché, but I have really developed a love for helping people since I have started volunteering.
Do you have a motto or philosophy you live by?
Always do more of what makes you happy. My mom has preached this to me, especially since I have left high school. I would say this is a big reason for why I volunteer so much is because I really do enjoy it.
Favourite course?
My favourite class is Principles of Fitness Training taught by Kimberly Keats. I am currently in this class, and I love it because I am learning so much about general and athletic population physical activity habits and how to apply the concepts into real life. I have one year left to play for the Bison Women's Hockey team, so I will soon need this information to continue an active lifestyle.
Favourite campus location?
Since I am on the women's hockey team, my favourite location is easily the Max Bell Centre. Throughout the year, I spend a ton of hours here with my teammates at practice or working out.
Anjali Yadav
Graduate student, College of Dentistry
Leadership roles, partial list: Created the Oral biology student's group (OBSG) and represented the Oral biology consort at the health sciences graduate student's association (HSGSA) until 2015. As an HSGSA counsellor, she served on several committees such as Internal development and review committee (IDRC), mentorship award committee and research days' committee. Since 2014, she has been a member of the University of Manitoba's Volunteer program.
UM Today: WHO ORIGINALLY INSPIRED YOU TO BECOME A LEADER?
Yadav: I have everyone in my life to thank for the person I am today but one person who really defined it, has been my mum. I'm fortunate to have such an extraordinary woman as my mother! She struggled through the norms to give me and my siblings the education we've received and encouraged us to find our calling in this world. She's a philanthropist, who worked for women empowerment in the community, teaching them to be self-sufficient, educated under-privileged children, devoted time and her savings at animal shelters and still always had time for all four of us and papa. Growing up with her by my side, I developed many of her enthusiasms (and the stubbornness). I have understood that learning simply for the sake of knowing something new is not good enough, but giving back to the community is the true sense of life, love, and spirit. While the experiences and acquaintances throughout my journey so far have been spectacular, I have come to truly appreciate them by watching my mum. In her devotion and passion for learning and endless love of everything and everyone she is has ever been touched by, I have seen hope and life that is truly exceptional.
WHAT INSPIRES YOU TO CONTINUE?
My professional inspiration is driven by my personal experiences. I am surrounded by people who love and believe in each other and will stop at nothing until the goal in picture is achieved. This inspires me to keep going and go even harder when the path is rocky. I know, I will either make it or pave a way.
DO YOU HAVE A MOTTO OR PHILOSOPHY YOU LIVE BY, IF SO, WHAT IS IT?
Charles Lauer said, "A leader does not force people to follow but invites them on a journey." This truly defines the essence of leadership for me.
FAVOURITE CAMPUS LOCATION?
Honestly…Bannatyne campus, dentistry building, my lab in the basement…. Sorry, I don't have a better place in mind… I'm a PhD student.
Mario Solis Nepote
Master's student, Faculty of Graduate Studies
Leadership roles, partial list: Participant in the Intercultural Development & Leadership Program; executive member of Latin Rhythms, UMSU student group; Chair of the Internal Development and Review Sub-Committee (UMGSA-IDRSC); Counsellor on the University of Manitoba Graduate Student Association; President of the Biomedical Engineering Graduate Student Association (BMEGSA); President of the Philosophy Club at the Monterrey Institute of Technology and Higher Education, Campus Chihuahua.
UM Today: WHO ORIGINALLY INSPIRED YOU TO BECOME A LEADER?
Solis Nepote: My father, the first and most important reference of leadership in my life.
WHAT INSPIRES YOU TO CONTINUE?
That I'm already halfway through. It's going to end eventually. Gotta make the most out of it.
DO YOU HAVE A MOTTO OR PHILOSOPHY YOU LIVE BY, IF SO, WHAT IS IT?
Don't ask for a lighter load, ask for a stronger back. Do deadlifts.
FAVOURITE COURSE?
Philosophy, but I never took it at U of M. The best course I took at U of M was Behavioural Ecology and Cognitive Ethology, with Dr. James Hare. Anisogamy is the name of the game.
FAVOURITE CAMPUS LOCATION?
My favourite place must be the GSA Office. It's a welcoming place for all graduate students, it has a nice view during summer and it is home to some of the most important debates and decisions that shape the future of the graduate student body.
Charlene Hallett
Second-year, College of Medicine
Leadership roles, partial list: Participant in the Indigenous Circle of Empowerment (I.C.E.) Leadership Program; Mentor in the Neechiwaken Indigenous Peer Mentorship Program; student representative for the university and member of the steering committee for the Manitoba Indigenous Education Blueprint.
UM Today: WHO ORIGINALLY INSPIRED YOU TO BECOME A LEADER?
Hallett: Throughout my forty years, there have been numerous people who have inspired me, nurtured me, and supported me; people who saw something in me that looked like leadership long before I ever saw it. But as I ponder the question now, one woman's name and face popped into my head and she is someone who for twelve years has continually and gently pushed me to be the best version of me possible – my former supervisor, Florence Quan. She encouraged me to take on various leadership roles at our local community center, and watched me go from attending the local Healthy Baby group, to eventually running it for four years, to then spreading my wings and heading to university. Throughout that time, she became not only my friend and mentor but also one of my biggest champions. Through her words but more so her actions, I watched how she made every single person who came through our center's doors feel special and welcome and wanted. Flo is leadership in motion.
WHAT INSPIRES YOU TO CONTINUE?
It's not what…it's who. And the answer is easily my three kiddos. I love watching them grow and ask questions and use their voices and make their own mark in the world. Each one is a leader in their own way. In fact, it was becoming a mother thirteen years ago that solidified, for me, the importance of learning everything I could about my culture and the world around me – to challenge myself, to strive for excellence, to think critically, to make informed decisions – in order to pass along everything I could to them so they in turn, would feel empowered to do the same. My children see the good in the world, they care about people, and they keep it real. What could be more inspiring than that?
DO YOU HAVE A MOTTO OR PHILOSOPHY YOU LIVE BY, IF SO, WHAT IS IT?
The Seven Teachings, given to us by the Anishinabeg people, are what I focus on daily as a way to center myself. I carry a Bear name so am often reminded of courage. I know that Wolf spirit has been walking with me a lot these last few months, providing me gentle but clear teachings surrounding humility. And I try to wake each day and go to sleep each night with a grateful heart. This does not always work, but I'm a work in progress.
FAVOURITE COURSE?
Tough question, as I haven't met a course I didn't like. I LOVE LEARNING! But if I must choose, then I'm going to pick one in each term I have finished so far: Intro to Sociology with Mary-Anne Kandrack; The Native Peoples of Canada Part 1 with Tasha Spillett; Intro to Social Development with Rumel Halder; and Intro to Cree with Ken Paupanekis.
FAVOURITE CAMPUS LOCATION?
Easy question: Migizii Agamik. The building is home for a lot of us but more importantly, the people inside are like family. I am so grateful to situate myself there, first and foremost. It is within that space that culture and leaders are found in abundance.