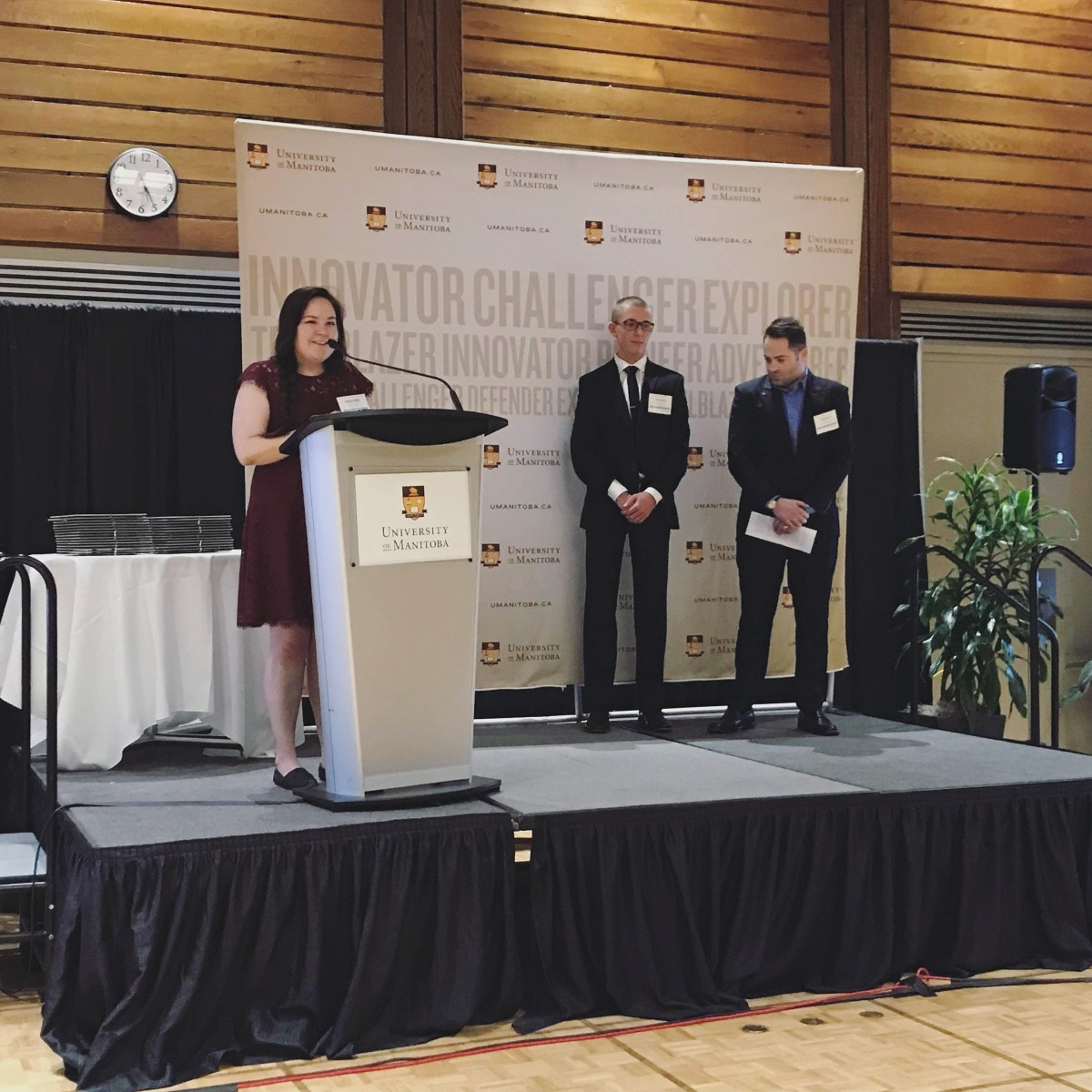 Emerging Leaders 2018
April 9, 2018 —
On Wednesday, March 28, the university hosted the annual Emerging Leaders Award event. The Emerging Leader Award recognizes the contributions that students make to their community and the university. Twenty-four undergraduate students and 19 graduate students received the honour. These students all demonstrate outstanding leadership and a commitment to their communities.
Three of the recipients were selected to speak at the event. Amanda Fredlund, fourth year Arts student, is getting her BA in native studies and anthropology. Amanda spoke about how her background has shaped who she has become, and how she hopes to bring positivity to the world. She said, "as an Indigenous Woman, I know it is my responsibility to do whatever I can to help make change happen, to be a support for others who need it. I can offer a helping hand, I can try my best to be a good role model, but above all I work hard every day to honour the sacrifices and hard work of my ancestors."
Adam Nepon is a fourth year MBA student in the Asper School of Business. Adam spoke about his leadership philosophy. "Leaders are individuals who are not focused on what's in it for them but what's in it for the group," said Nepon. "There's a mental shift going from a 'me' leader to a 'we' leader. I've come to understand that leadership is about collaboration and forging a communal effort. Great leadership creates an environment where every team member feels their opinions and ideas are valued, and are given their own opportunities to lead."
Ryan Churchill, fourth year student from the Faculty of Science and president of the Science Students' Association, spoke about his desire to initiate positive change for his peers. He said, "Last year I was told that running for the position of president was the worst decision because I was never going to accomplish anything that I wanted to change. I can now say that running for president has been one of the best decisions of my life and the support I have received from the Faculty of Science has been incredible."
Ryan also spoke about his gratitude for the Emerging Leaders Award. To the group of forty-three other recipients, he said, "I think I can speak on behalf of all of the students who are receipts of the Emerging Leader Award by saying that none of us applied for this award to gain recognition, but rather validation that our leadership involvement has made a noticeable difference. I am so grateful for Student Life for putting together such an amazing event that celebrates student leadership. Simply being noticed for making a positive impact means the world to us as student leaders."
For more information on the Emerging Leader Award, click here.
UNDERGRADUATE STUDENT RECIPIENTS
Indigo Adam-Grant, 4th year, I. H. Asper School of Business
Hannah Chan, 4th year, Faculty of Agricultural and Food Sciences
Ryan Churchill, 4th year, Faculty of Science
Andrew Fenwick, 5th year, Faculty of Arts
Kristin Flattery, 5th year, Faculty of Education
Amanda Fredlund, 4th year, Faculty of Arts
Morgan Hanson-Oliveira, 3rd year, Faculty of Arts
Aser Hailu, 4th year, I. H. Asper School of Business
Darius Hunter, 4th year, Faculty of Arts
Nina Lam, 2nd year, Faculty of Arts
Joseph McKellep, 2nd year, Faculty of Arts
Aaron Menon, 5th year, I. H. Asper School of Business
Julia Minarik, 4th year, Faculty of Arts
Taylor Nimchonok, 4th year, Faculty of Science
Sochimaobi Nweze, 3rd year, College of Nursing
Kristen Pot, 4th year, College of Nursing
Alysa Raposo, 5th year, Faculty of Arts
Kailee Rutherford, 4th year, Faculty of Science
Zaenab Saeed, 5th year, Faculty of Arts
Karan Saxena, 3rd year, Faculty of Arts
Morgan Taverner, 4th year, Faculty of Science
Victoria Truong, 5th year, Faculty of Law
Langshi Wang, 5th year, I. H. Asper School of Business
Celyna Yu, 3rd year, I. H. Asper School of Business
GRADUATE STUDENT RECIPIENTS
Naomi Armah, 3rd year Master's, College of Nursing
Krystyl Bergen, 3rd year Master's, Faculty of Graduate Studies
Rajib Biswal, 2nd year PhD, Clayton H. Riddell Faculty of Environment, Earth, and Resources
Jaden Brandt, 5th year Master's, College of Pharmacy
Luis A. Castro, 1st year Master's, College of Rehabilitation Sciences
Elise Couillard, 3rd year Master's, Faculty of Science
Nour Eissa, 3rd year PhD, Max Rady College of Medicine
Chimezie Eleme, 2nd year Master's, I. H. Asper School of Business
Mohammed El-Gendy, 5th year PhD, Faculty of Engineering
Ley Fraser, 2nd year Master's, Faculty of Arts
Colin Graydon, 4th year PhD, Faculty of Graduate Studies
Ashley Hayward, 1st year Master's, Faculty of Graduate Studies
Danielle Lee, 5th year PhD, College of Pharmacy
Karmen McDivitt, 2nd year PhD, Faculty of Graduate Studies
Hewa Madihe Annakkage Ruchira Nandasiri, 2nd year PhD, Faculty of Agricultural and Food Sciences
Adam Nepon, 4th year Master's, I. H. Asper School of Business
Obiajulu Nnaemeka, 2nd year Master's, Faculty of Engineering
Kyla Smith, 2nd year Master's, Faculty of Science
Amanda Woods, 5th year PhD, Max Rady College of Medicine