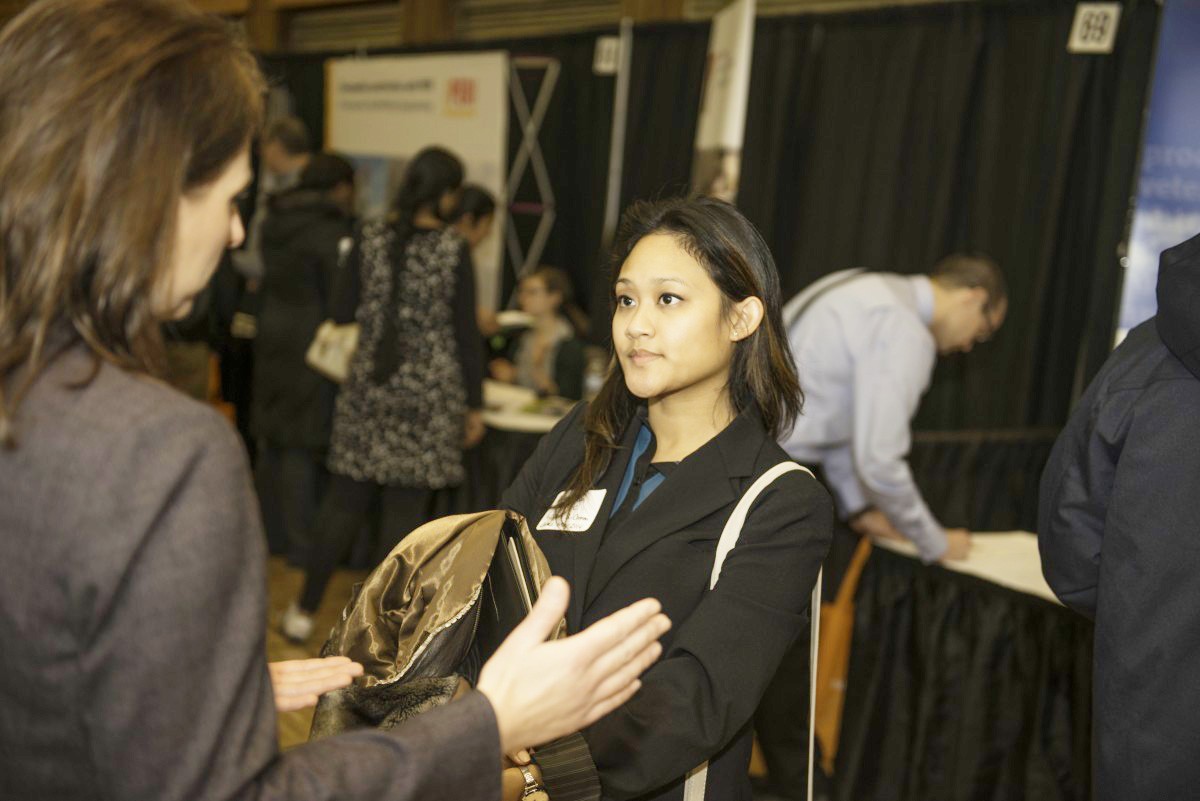 Creating career opportunities
January 11, 2016 —
January is Career Month on campus. Take charge of your future and participate in activities that will generate career opportunities. Here are three things to get you started.
Enhance your skills:
Increase your employability by developing skills that enhance and complement your degree. It's never too early to get a feel for the skills employers are seeking in your field.
Take advantage of events offered during Career Month such as the Career Fair on January 20 or one of the many employer information sessions. Sessions include Manitoba Conservation Wildfire Program, Public Health Agency of Canada, and Deloitte. If you miss these, Career Services offers additional sessions and events throughout the year.
Set up an informational interview with someone working in your area of interest. This can help you get the inside scoop on what is happening in the industry so you can take classes or engage in experiences that help build those specific skills.
Learn from industry veterans through the Career Mentor program offered by Career Services.
You can also make the most of your degree by engaging in work, co-op and volunteer opportunities that bolster and enhance the skills you are acquiring in class.
Network:
According to the experts, only 20 per cent of jobs are advertised through traditional means and 80 per cent of jobs are found through the hidden job market. Networking plays a key role in understanding the skills employers are looking for and provides access to workforce development and job opportunities.
Start to practice networking now, so that it will become second nature and you will have honed these skills by the time you graduate. Getting started is easier than you think – there are networking opportunities all around you.
To get more comfortable, join an on-campus club, volunteer through Student Life or get involved in a community group. An important rule of networking is to give before you get, so volunteering is an easy way to increase your network. Attend the Get Involved Fair from January 18 -22 to find out what opportunities are available to you on campus.
Think broadly when you are considering who is in your network – family, friends, professors, previous employers, teammates, classmates, potential employers, people working in your field, fellow bus riders– basically everyone has the potential to be included in your network!
Don't forget to take advantage of the Career Fair and start networking today.
Create a social media presence:
Having an online presence through social networks such as LinkedIn and ReasearchGate has the potential to significantly expand your network.
Join groups related to your areas of interest and participate in discussions to get to know others who could potentially connect you to career-related opportunities.
Make sure your social media presence is professional, as it can help or harm your future career opportunities. At a recent information session that RBC held on campus, Cathy Lund, senior recruiter advised students: "when I am hiring a new employee I will look on social media; a professional LinkedIn profile can give you a competitive edge."
Check out Career Services' session on LinkedIn January 12 to help you get started.
Make sure to visit the Alumni Relations booth at the Career Fair to get a free professional photo to enhance your online profiles.
For more information about Career Month and how you can participate – go to: www.umanitoba.ca/student/careerservices.