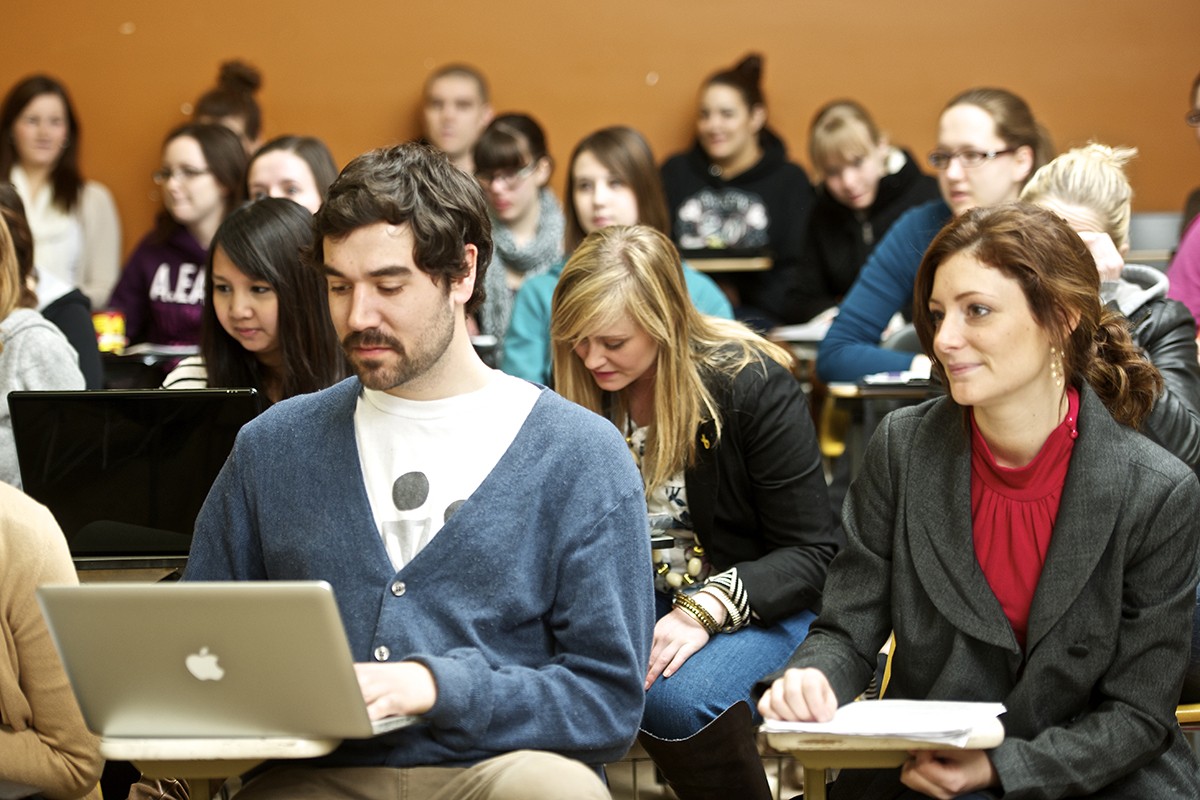 Course registration improves
Waitlists now available for classes in high-demand
July 6, 2016 —
Registering for a full class just got a little bit easier.
Starting on July 11 – when course registration starts – a new feature in Aurora allows students to add themselves to a waitlist when trying to get into a course that's full. When a spot becomes available the system will alert students of the free spot via their myumanitoba email on a first-come, first-serve basis.
"I think it's a great benefit for students," says associate registrar Gayle Gordon. "They can use Aurora to get onto the waitlist and it's done. It's an added convenience for students that they don't need to do any running around and checking up. They can even see their place on the waitlist."
When a space comes up in a course, usually because another student has withdrawn from it, that first space will go to the first person on the waitlist. Then the students on the waitlist need to log into Aurora and change their waitlist status to registered and they're in the course. It's that simple.
Students must make sure to claim their myumanitoba email address and check it regularly. The waitlist spot will only be available for a 24-hour period. If a space comes up, students must act on it within that time frame.
Currently there are over 200 courses that have waitlists activated for them. In many cases these are courses that are traditionally in high-demand.
The vast majority of courses where waitlist are activated are at the 1000-level but there are some third and fourth year courses as well. Popular courses include statistics, math, chemistry, microbiology, anatomy, physiology, economics, sociology and English.
The registrar's office started discussions for this feature in 2014 and began to implement the processes to make it happen about 10 months ago. In that time the feature went through development and testing by looking at different scenarios, ironing out the complexities in some of the lectures with lab components and various reserves, for example.
"Departments have taken a look at their high-demand courses and then discussed with their faculty whether or not a waitlist would be appropriate for their particular courses," says Gordon. "We started from a very contained pilot to quite an expanded offering and let the faculties decide what they think is appropriate."
One of the challenges in getting the feature to work was the way the U of M provisioned the myumanitoba email addresses to students. Previously these email accounts were only activated after students registered. Now, the student email addresses are provided as soon a student has been admitted.
The system is fluid as well. As registration is ongoing, departments will be able to monitor courses and see if they're filling up. If a course doesn't already have a waitlist then one can be added.
"We're very excited about having this feature. We're always looking at ways of improving the student experience and I think they'll love it," says Gordon."I think staff will love it because they'll be able to serve students in different ways and spend the time. Rather than standing in line to ask for space they'll be able to talk about other opportunities for them and what course selection means for them."