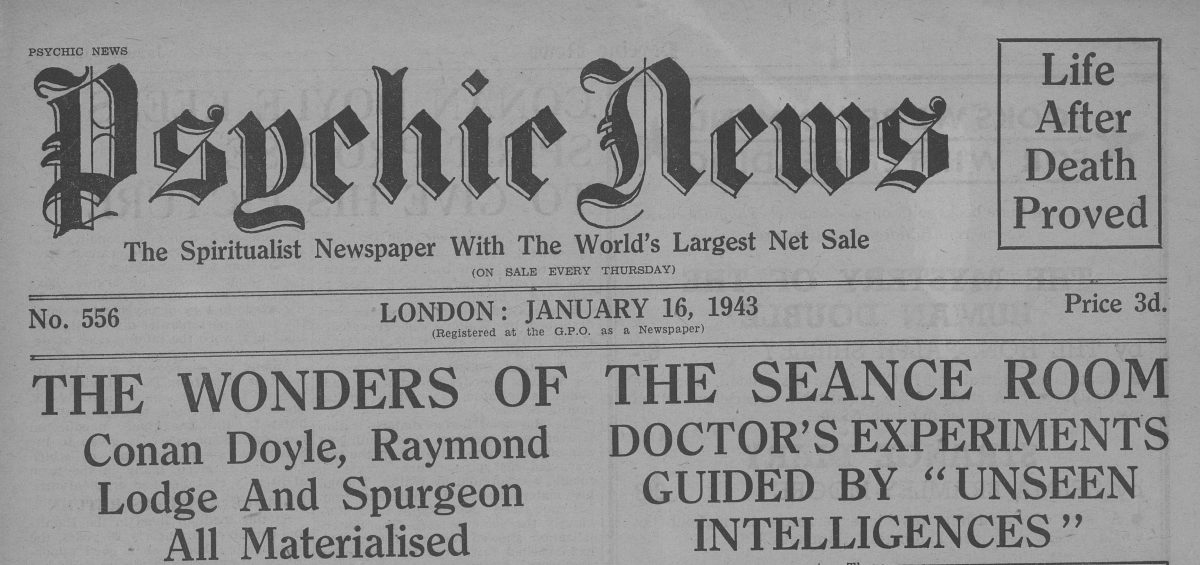 Contacting the undead
Psychic News digital archives go live
October 23, 2020 —
In 1943, Winnipeg made headlines when the British Spiritualist newspaper Psychic News (1932-2010)—now housed at UML Archives—featured "The Wonders of the Séance Room." Dr. T.G. (Thomas Glendenning) Hamilton had been conducting investigations of psychic phenomena in his home since 1918 and the death of his child from the Spanish flu. His telepathy experiments became well known in the U.K., Europe, and the U.S; following his death in 1935, his wife, Lillian carried on his experiments.
Halloween 2020 will see the release of the completed digital archives of the Spiritualism and psychical research publication. The 1932-1967 issues were released earlier; this year the remaining 1968-2010 archives will be made available online for the first time to the public on Saturday October 31, 2020 on UM Digital Collections.
About Psychic News
Founded by British journalist Maurice Barbanell in 1932 with support from Hannen Swaffer and MJ. Arthur Findlay, the British spiritualist newspaper ran until 2010 and is now a monthly magazine, which during the current pandemic, is available in digital format only.
The University of Manitoba Libraries' Archives & Special Collection's Psychic News digital archive comprises of 4,125 items, including special advertising supplements and book lists. Learn more about the history of Psychic News and the background of the digital archive project.
More on the Winnipeg Connection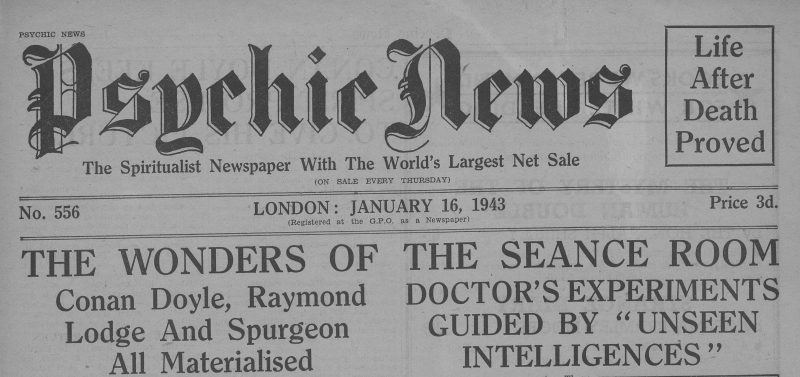 The University of Manitoba Libraries' Archives & Special Collections hold the Hamilton Family fonds which includes a variety of images from séances in the Hamilton's home on 185 Henderson Highway. Here is one example of the photographs in the collection. Pictured here are mediums (L-R) Elizabeth Poole and Mary Marshall during a séance on March 10, 1930. The man in the photo is Dr. T.G. Hamilton.
On August 17, 1963 Psychic News dedicated a full page to the passing of the Hamilton family's medium, Mary Marshall stating:
"The passing of Mrs. Mary Marshall in her 83rd year brings to a close a 30-year period of brilliant all-round mediumship made world-famous through the Canadian home circle of surgeon-psychic researcher Dr. T. Glen Hamilton of Winnipeg…"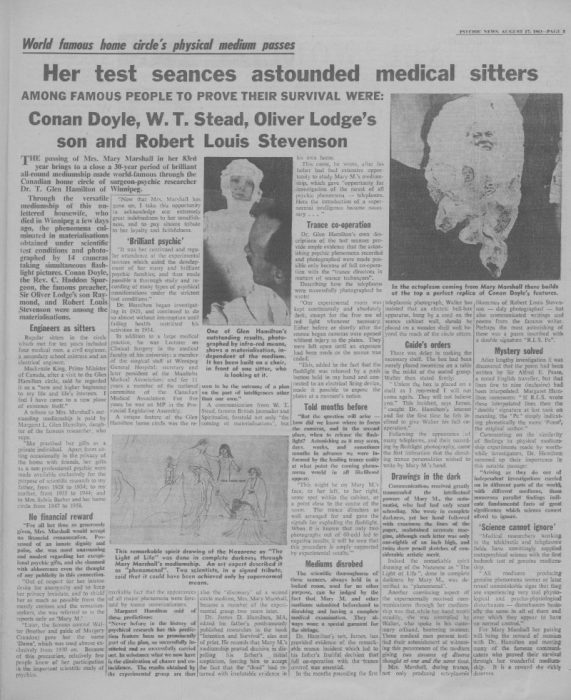 The Hamiltons and their mediums were not the only Winnipeggers to make Psychic News. On February 20, 1954, a story appeared on "the mysterious organ music" at St. John's Anglican Cathedral Winnipeg.
Interested to find out more?
Check out the University of Manitoba Libraries' Archives & Special Collections' many collections related to psychical research and spiritualism.
Comprising over 4,000 items, the Psychic News Digital Archive offers a rich source for historical study of Spiritualism and psychical research. The newspaper's pages celebrate the history of the Spiritualist movement within the UK and internationally; while also documenting the controversy and disappointment when séance-room fraud was uncovered.