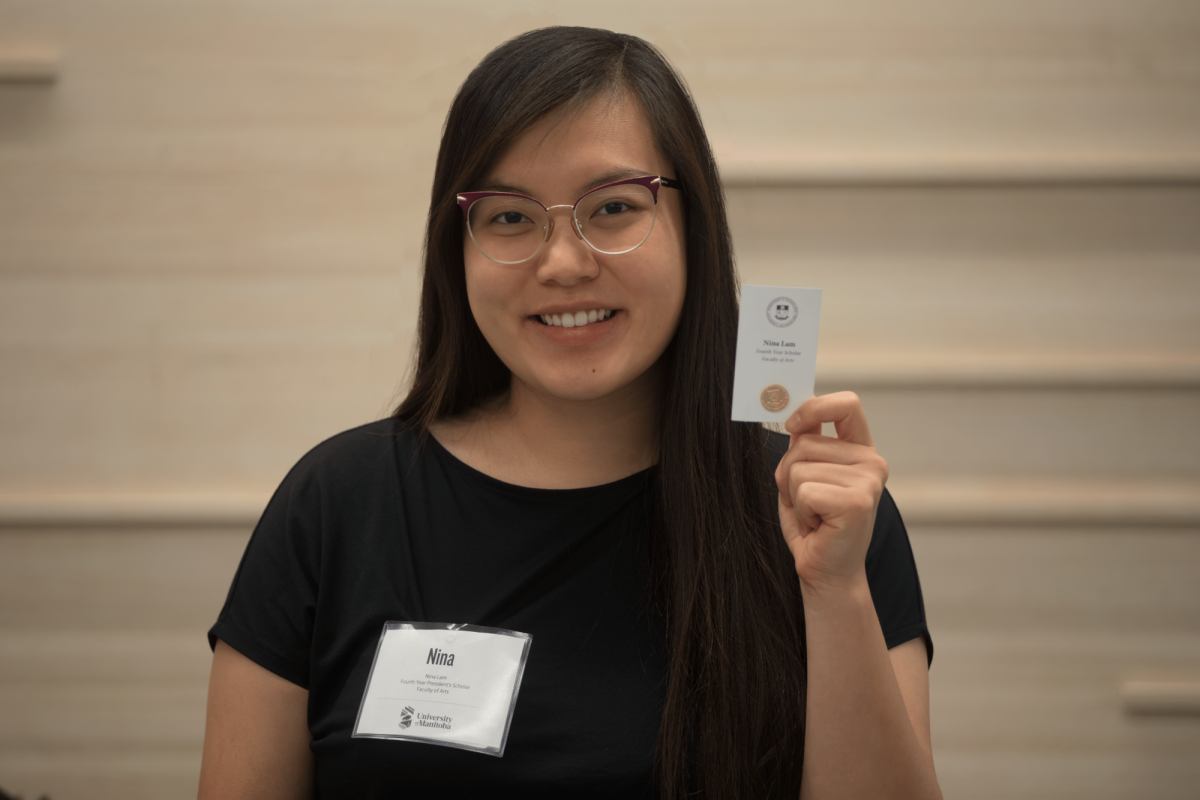 Congratulations to the 2019 President's Scholars
November 1, 2019 —
At a celebration on Monday, September 30, 2019, University of Manitoba President and Vice-Chancellor David Barnard recognized students who earned the distinction of President's Scholar at a reception held in their honour. The designation is given each year to full time students admitted to the U of M with a minimum 95 per cent high school average and who maintain a minimum grade point average of 4.0 and a full course load for the rest of their first degree.
President's Scholars who reach their fourth year maintaining their 4.0 GPA are presented with a gold pin they can wear to proudly show their commitment to their academic studies and leadership. This year, the university awarded 67 senior students with a pin. There are currently 614 President's Scholars at the University of Manitoba.
The celebration was kicked off by a current fourth year scholar, Nina Lam, who shared what it means to her, having made it to her fourth year as a President's Scholar: "For me, standing up here today… means that along the way, I've learnt so much more about myself, and what it means to face and accept hardship. Every single person in this room has had a range of pressures, a range of struggles, and yet through all of that, have found themselves here today in the same room. So, today is not just a celebration about grades, it's a celebration of being in that same room – belonging to the President's Scholars community."
The distinction of being a President's Scholar makes a student eligible for a number of benefits, such as: scholarship funding of $1000 in each second, third, and fourth years of study (providing he or she meets renewal criteria), priority registration, notation on the university transcript, access to the President's Scholars Study Lounge and special events.
President Barnard congratulated the students on their accomplishment, and said, "You will be the leaders, innovators, builders, and volunteers who will shape our society, culture, and economy and UM is proud to be a defining part of your stories."
The President's Scholars program is a collaboration between the President's Office, Financial Aid and Awards, First Year Centre and Student Life.
THE 2019 FOURTH YEAR PRESIDENT'S SCHOLARS:
Albert Chen – Desautels Faculty of Music
Angie Y. Liu – Max Rady College of Medicine, Rady Faculty of Health Sciences
Ariel S. Glikman – Faculty of Science
Avalon S. Kunzig – Faculty of Science
Benjamin F. Gibson – Faculty of Engineering
Braden Ganetsky – Faculty of Engineering
Cameron M. Lucas – Faculty of Engineering
Carly D. Gerl – College of Nursing, Rady Faculty of Health Sciences
Carly N. McFall – Faculty of Arts
Carolyn Dyck – School of Art
Chantal P. Delaquis – Faculty of Arts
Chase T. Kavanagh – School of Art
Cynthia Merlyn James – Faculty of Science
Daniel Gussakovsky – Faculty of Science
Darsh Shah – Faculty of Engineering
Delica S. Leboe-McGowan – Faculty of Science
Emma-Lee R. Gray – Faculty of Science
Eric L. Nazer – Faculty of Engineering
Eric T. Kapilik – Faculty of Engineering
Evan W. Abram – Faculty of Science
Faye Angela M. Nadres – Faculty of Engineering
Fredy H. Mansour – Max Rady College of Medicine, Rady Faculty of Health Sciences
Gurveen K. Plaha – I.H. Asper School of Business
Hannah B. Byczkowsky – Faculty of Kinesiology and Recreation Management
Hayley N. Yamamoto – I.H. Asper School of Business
Heath A. Chalmers – Faculty of Engineering
Ivory C. Jorgenson – Faculty of Science
Jadon A. Peters – Faculty of Engineering
Jennifer E. Kent – Faculty of Kinesiology and Recreation Management
Joseph K. Howarth – Faculty of Engineering
Joshua Dave S. Lingal – Faculty of Architecture
Kang Min Kim – Extended Education
Kelsey S. Tonn – College of Nursing, Rady Faculty of Health Sciences
Kyle B. Davidson – Faculty of Kinesiology and Recreation Management
Lucas M. Banting – Faculty of Engineering
Maria P. Nallim – Faculty of Arts
Matthew C. Cochrane – Faculty of Science
Morgan R. Hiebert – Faculty of Science
Navjit Singh – Max Rady College of Medicine, Rady Faculty of Health Sciences
Nicholas C. Blandford – Faculty of Science
Nicole C. Smith – I.H. Asper School of Business
Nicole D. Brekelmans – Faculty of Architecture
Nicole M. Raabe – Faculty of Science
Nina Lam – Faculty of Arts
Olivia Zhou – Max Rady College of Medicine, Rady Faculty of Health Sciences
Owen Barber-Dueck – Faculty of Science
Payam Salimi – Max Rady College of Medicine, Rady Faculty of Health Sciences
Pietro S. Cianflone – Faculty of Science
Quinn M. Wonitowy – Faculty of Science
Raquel R. Thiessen – Faculty of Science
Rayna V. Hamilton – Faculty of Science
Ronald S. Kristjanson – Faculty of Engineering
Roopkamal K. Sidhu – Faculty of Science
Rose G. Sanders – Desautels Faculty of Music
Ross F. Bugden – Desautels Faculty of Music
Ryan A. Shaski – Faculty of Science
Samuel N. Greenberg – Faculty of Engineering
Sarah C. Holtmann – I.H. Asper School of Business
Sari G. Glow – Faculty of Science
Sem R. Perez – Faculty of Science
Seth J. Cathers – Faculty of Engineering
Stefanie M. Kornberger – Clayton H. Riddell Faculty of Environment, Earth, & Resources
Tara M. Meggison – Faculty of Science
Tessa J. Reimer – Faculty of Science
Tobias C. Bajus – Desautels Faculty of Music
Tyler A. Vinet – Faculty of Kinesiology and Recreation Management
Volodymyr Shyianov – Faculty of Engineering
Yashmi N. Wijewardana – Faculty of Science
Yu Yan Li – Faculty of Engineering
Karen M. Sigurdson – Desautels Faculty of Music