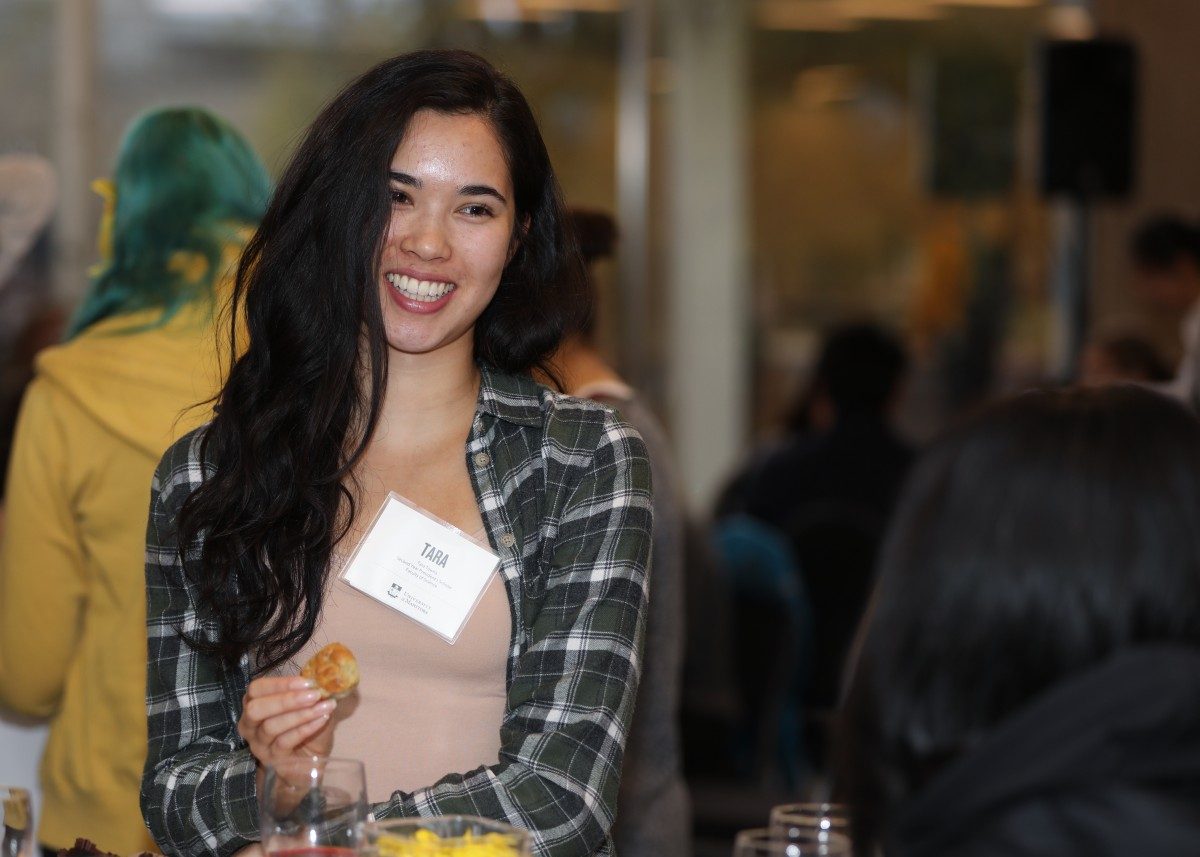 Congratulations to the 2018 President's Scholars
November 1, 2018 —
At a celebration on Friday, October 5, 2018, University of Manitoba President and Vice-Chancellor David Barnard recognized students who earned the distinction of President's Scholar at a reception held in their honour. The designation is given each year to full time students admitted to the U of M with a minimum 95 per cent high school average and who maintain a minimum grade point average of 4.0 and a full course load for the rest of their first degree.
President's Scholars who reach their fourth year maintaining their 4.0 GPA are presented with a gold pin they can wear to proudly show their commitment to their academic studies and leadership. This year, the university awarded 67 senior students with a pin. There are now almost 600 President's Scholars at the University of Manitoba.
Sarah Saunders, Student Life Coordinator, Student Life was the emcee at the event. "President's Scholars share more than an exceptional GPA, you also share the drive to pursue excellence in your academic and professional lives," said Saunders.
The distinction of being a President's Scholar makes a student eligible for a number of benefits, such as: scholarship funding of $1000 in each second, third, and fourth years of study (providing he or she meets renewal criteria), priority registration, notation on the university transcript, access to the President's Scholars Study Lounge and special events.
President Barnard congratulated the students on their accomplishment, and said, "You will be the leaders, innovators, builders, and volunteers who will shape our society, culture, and economy and UM is proud to be a defining part of your stories."
Of being chosen as a President's Scholar, 3rd year student in the Faculty of Arts, Carly McFall said, "The recognition and support I have received through the President's Scholars program has been invaluable to my success as a student. The community of Scholars has both inspired and motivated me to strive for excellence in my academic career."
The President's Scholars program is a collaboration between the President's Office, Financial Aid and Awards, First-year Centre and Student Life.
The 2018 fourth year President's Scholars:
Abby Koots – Faculty of Science
Adam Bouttell – Faculty of Science
Alexa Smith – Robson Hall, Faculty of Law
Alyssa Garrard – Faculty of Science
Annie Li – College of Pharmacy, Rady Faculty of Health Sciences
Bailey Groot – Faculty of Science
Bonnie Tang – Faculty of Science
Brieann Ivison – College of Nursing, Rady Faculty of Health Sciences
Brielle Funk – Faculty of Science
Bryanne Dewitt – College of Nursing, Rady Faculty of Health Sciences
Cami Aprosoff – Faculty of Science
Cassidy Zrobek – Faculty of Engineering
Celyna Yu – Asper School of Business
Chauntel Dyck – Faculty of Arts
Chris Lansang – Faculty of Arts
Christopher Dyck – Faculty of Engineering
Claire Heidenreich – Clayton H. Riddell Faculty of Environment, Earth, and Resources
Cobi Wiwchar – Faculty of Science
Cole Janke – College of Pharmacy, Rady Faculty of Health Sciences
Daniel Patterson – Asper School of Business
Daniel Preun – Desautels Faculty of Music
Derek Ammeter – Faculty of Science
Diana Topolnitska – Faculty of Science
Elise Lowden – Faculty of Science
Ethan Wilcox – Faculty of Kinesiology and Recreation Management
Eva Kwok – Faculty of Engineering
Evan Kerr – Faculty of Science
Frank Yu – Faculty of Engineering
Hannah Keenes – Faculty of Agricultural & Food Sciences
Harley Bray – Faculty of Science
Henry Li – Max Rady College of Medicine, Rady Faculty of Health Sciences
JaeYeon Park – Faculty of Science
John De Marco Bodino – Faculty of Engineering
John Paul Aguilar – Faculty of Science
Jordan Perillo – Faculty of Science
Jules Perez – Faculty of Science
Kathleen Murphy – Desautels Faculty of Music
Kevin Jeffers – Faculty of Science
Larissa Campbell – Robson Hall, Faculty of Law
Liam Sparling – Faculty of Engineering
Madison Wong – Faculty of Science
Mateus Braga – Faculty of Engineering
Megan Jubenvill – Faculty of Kinesiology and Recreation Management
Micaela Lisogorsky – Faculty of Science
Michaela McKennitt – Clayton H. Riddell Faculty of Environment, Earth, and Resources
Mikayla Kozarchuk – Faculty of Engineering
Molly Smyth – Asper School of Business
Monica Warzel – Faculty of Kinesiology and Recreation Management
Nada El Tobgy – Max Rady College of Medicine, Rady Faculty of Health Sciences
Nathanael Plett – Desautels Faculty of Music
Nebojsa Oravec – Faculty of Science
Nicholas Aguiar – Faculty of Engineering
Nicholas Niebuhr – Desautels Faculty of Music
Nicole Balzer – Faculty of Kinesiology and Recreation Management
Nils Refvik – Faculty of Science
Oliver Ko – Faculty of Science
Onari Perera – Faculty of Engineering
Peirce Dickson – Asper School of Business
Raelene Engelberg – Faculty of Science
Riley Dirks – Asper School of Business
Robert Harris – Faculty of Science
Shira Brand – Faculty of Arts
Susan Song – College of Nursing, Rady Faculty of Health Sciences
Troy Eskilson – Faculty of Engineering
Yekaterina Yezhova – Clayton H. Riddell Faculty of Environment, Earth, and Resources
Yeyoung Won – Faculty of Science
Youstina Soliman – Max Rady College of Medicine, Rady Faculty of Health Sciences