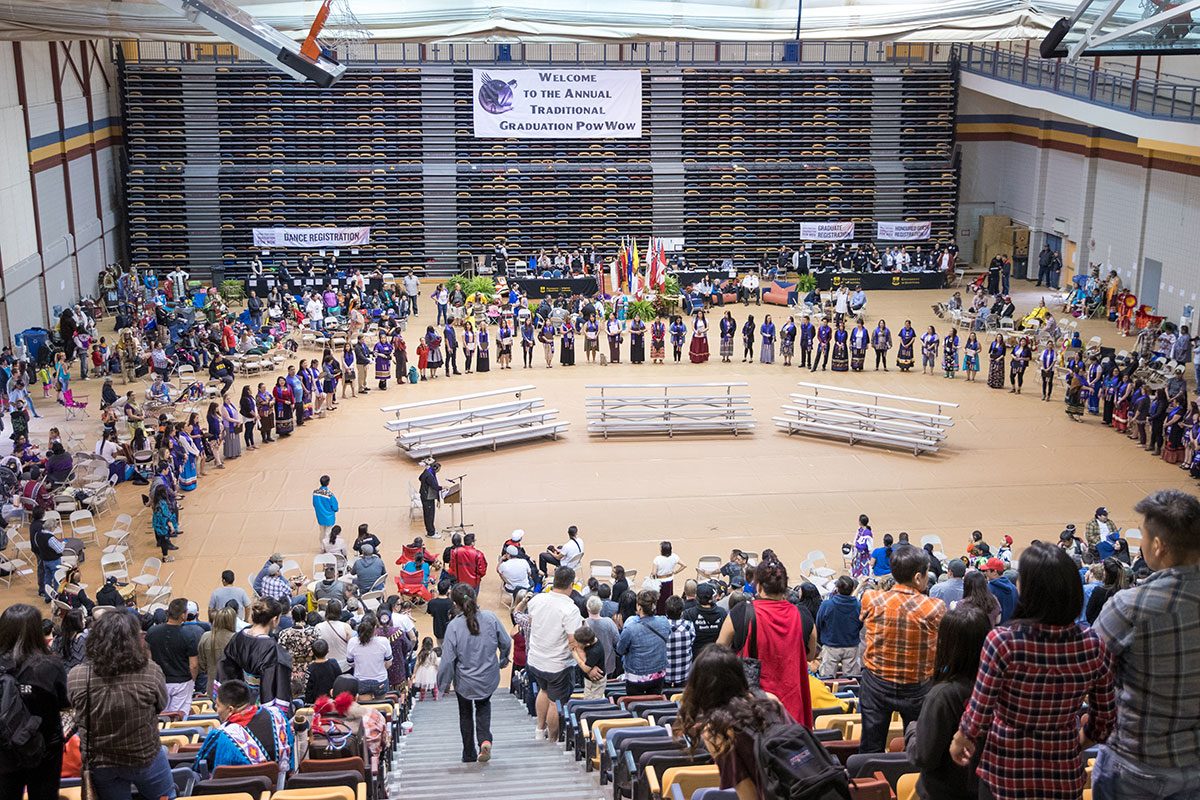 Celebrating Indigenous student success
July 10, 2017 —
The University of Manitoba is home to a dynamic community of more than 2,400 First Nations, Métis and Inuit students and thousands of Indigenous alumni. In fact, more and more Indigenous students are graduating at the U of M than ever before. The pinnacle of their success is celebrated annually at the Traditional Graduation Pow Wow, which saw over 430 Indigenous students – the largest cohort ever – honoured in the 28th annual event.
The success of these students is something to be proud of and the U of M would like to acknowledge the accomplishments of four new alumni, who are trailblazers, visionaries, and leaders in our community.
Mario Phaneuf
Mario Phaneuf is a Métis graduate originally from Île-des-Chênes, Manitoba. He received his Bachelor of Science in Engineering (Electrical) this year. His academic tenacity earned him the Governor General's Silver Medal for outstanding achievement at the undergraduate level. For the last two summers, Phaneuf held an NSERC student research position with the Natural Sciences and Engineering Research Council of Canada, first studying and researching computational electromagnetics, then in the domain of antennas which will help him prepare for his next phase in his academic career: a master's degree. Phaneuf was also a member of the Society of Automotive Engineers International, entering international design competitions on the UMSAE Formula Electric team. Phaneuf was part of the U of M's Engineering Access Program (ENGAP), which provides an opportunity for students of Indigenous ancestry who may not have had access to the resources to obtain the prerequisites required to get into, prepare for, and succeed in engineering.
Kristin Flattery
Kristin Flattery is a Dakota and Ojibwe activist from Long Plain First Nation. She is a contemporary and multimedia artist who graduated this spring with an honours degree in fine art. As a proud mother of two sons, Kristin's path to success took a winding road. In her first year at the U of M with her second child on the way, Kristin feared she would not be able to complete her degree. With perseverance and the communal support of her peers and advisors at the Indigenous Student Centre, she was able to achieve her goals. Kristin's academic career is also highlighted with serving in a number of leadership roles, including female co-president and fine arts representative of the Aboriginal Students' Association, the Indigenous representative to the School of Fine Art Students' Association, the student representative for the Access and Aboriginal Focus Group and lastly, the Aboriginal Teacher Education Task Force student representative. This fall she will continue her studies at the University of Manitoba in the Faculty of Education, with the ultimate objective of becoming a professor in the School of Art.
Mihskakwan James Harper
Mihskakwan James Harper is originally from Sturgeon Lake Cree Nation in Alberta. He graduated from the mechanical engineering program in the Faculty of Engineering. Mihskakwan, who was a member of the Indigenous Circle of Empowerment Student Leadership Development Program (ICE), excelled at his studies with the help of the Engineering Access Program (ENGAP). After finishing his third year, Mihskakwan took an eight-month long co-op work term at Shell Canada in Fort McMurray where he was embedded in the engineering industry and developed the foundation of his technical skills. Mihskakwan completed a second co-op work term, this time with Boeing in Winnipeg for four months. He returned to his final year of school with a passion to build an ultra-efficient battery-electric vehicle. With what began as somewhat of a dream, Mihskakwan made his vision come alive by inspiring others to join him as part of the ecoMotion team. Together they raised the necessary funds from sponsors and worked diligently to compete in the International Shell Eco-marathon in Detroit, MI. Spearheaded by Mihskakwan, the U of M was the only Canadian team to compete in this category. As a U of M alumnus, Mihskakwan aspires to engineer a more sustainable and environmentally conscious world.
Taylor Morriseau
Taylor Morriseau is a proud member of Peguis First Nation. She graduated this spring with a Bachelor of Science degree with double honours in microbiology and genetics. Her research tackles issues of clean drinking water in First Nations communities with the Natural Sciences and Engineering Research Council of Canada (NSERC) Create H2O Program for First Nations Water and Sanitation Security. From her hands-on research, she has become an advocate for change. Taylor continues to pursue a career in research as she starts her master of science degree in the department of pharmacology and therapeutics with a goal of combining innovation with tradition through the application of cutting-edge science to battle longstanding health disparities faced by Indigenous peoples. Under the supervision of Dr. Vernon Dolinksy, her research will focus on explaining the mechanisms of youth-onset Type 2 diabetes in Oji-Cree youth. Her dedication has not gone unnoticed: this year Taylor received the inaugural Indigenous Student Award of Excellence for Outstanding Achievement and an Emerging Leader Award. She also participated in the historic Daughters of the Vote conference in March, was a member of the Indigenous Circle of Empowerment Student Leadership Development Program (ICE), and was an active volunteer with Neechiwaken Indigenous Peer Mentor Program and the Children Rising Mentorship program.
Indigenous Achievement is designated as one of the key priorities for the Front and Centre campaign. Under this pillar the U of M is dedicated to providing scholarships and bursaries to Indigenous Students, establishing earlier connections with Indigenous youth through mentorship and outreach programs, and facilitating the transition from early years through to post-secondary education.