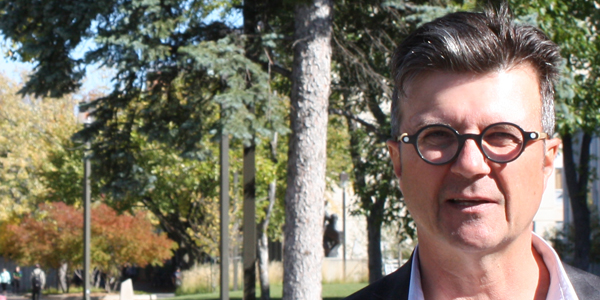 Career Mentor – Terry Danelley
25 successful years, 25 career mentors
October 30, 2015 —
Terry Danelley [BES/78, MArch/83] is one of 700+ Career Mentor volunteers who devote time to meeting University of Manitoba students. Each year, career mentors share their knowledge and advice to guide the career plans and contribute to the success of students. In celebration of 25 successful years, 25 career mentors have agreed to share their career stories and advice…
---
Briefly, tell us about your job. What do you find most rewarding? What are your greatest challenges within this profession?
I've always been passionate about what I do as an architect. I get to work with creative people every day on interesting projects that have impact on the daily lives of the people who come into contact with them. I get to physically shape our city and hopefully contribute in a positive way to the quality of life of all Winnipeggers and leave a legacy of thoughtful and well-designed buildings and places that future generations will enjoy and maybe think about.
There are many challenges to the profession, but I believe that our greatest challenge is to meet our responsibilities to the environment. Buildings are the greatest consumers of natural resources and the greatest contributors to green-house gas emissions. Architects must embrace sustainable design as the new paradigm.
While you were completing your degree, what experiences and activities helped bring you to your career decision or helped you succeed in your occupation?
Two things stand out in my mind. The first was the quality of the teaching staff in the faculty at that time. It was an interesting mix of architects, artists and academics, who each had their own unique perspectives on the profession and what constituted a well- rounded education for a burgeoning young mind interested in becoming an architect. They also instilled in me a strong work ethic and fear, which have served me well to this day. The second thing was the job experience that I was able to gain in the summers while going to school. Working in an architect's office and being exposed to what the job entailed really cemented for me that this is what I wanted to do.
Describe your career planning journey. Please include any highlights, bumps or roadblocks.
Upon graduating I was fortunate to land a job with a small, local architectural practice in the height of a recession. I was quickly exposed to all aspects of the delivery of a project that one doesn't always get in a larger firm as a recent graduate. An opportunity then came forward to join LM Architectural Group, where I've spent the remainder of my career. I was mentored by Mel Michener, a principal in the firm, who really helped me to sharpen my creative and critical thinking skills as a design architect. Firms evolve and opportunities arose over the years. That hard work ethic and fear that I mentioned, allowed me to make the most of those opportunities. I was fortunate to become a partner at the age of 39, which is relatively young for an architect.
What inspired you to be a Career Mentor?
I have been fortunate in my life to have been the benefactor of the generosity of other mentors, who for whatever reason, decided to help me. There have been several and I am grateful to them all. I know that I would not be where I am today without their assistance. This is just my way of thanking them and of passing on the gift that they gave to me.
What advice do you have for students who are interested in following in your footsteps?
Know yourself and what brings you joy and capitalizes on your inherent skills and abilities. There are many avenues to a successful career as an architect. Not everyone has the ability or inclination to be a design architect, which tends to be the focus while you're in school, but there are so many equally important skills that an office requires to be successful.
What career advice do you have for university students?
Find something that you enjoy and are passionate about and then work hard at it. When I was starting my career, it was nothing for me to work 60-70 hour weeks. I did it for years and in those days there was no overtime pay. I always looked at it as an investment in myself. Yes I was working stupid hours, but I enjoyed what I was doing and I was being given opportunities to work on really interesting and exciting projects. It wasn't work to me. I was also quickly developing and maturing as a person and as an architect. It's akin to what an intern in the medical profession goes through; this insanely focused and comprehensive experience to gain knowledge and experience, so that you can practice competently when you come out the other end. It's why I believe that I achieved the success that I did.
---
Stay tuned for more career mentor profiles! From September 25 to November 2 the Career Mentor Program will be profiling 25 dedicated and wonderful mentors from across several sectors. To view more career mentor profiles and learn about the anniversary event on November 2, 2015, please visit the CMP 25th Anniversary website.