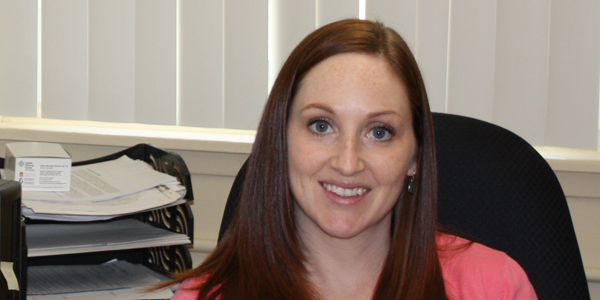 Career Mentor – Sherri Burnett
25 successful years, 25 career mentors
October 14, 2015 —
Sherri Burnett [BSc(Hons)/04] is one of 700+ Career Mentor volunteers who devote time to meeting and supporting University of Manitoba students. Each year, career mentors share their knowledge and advice to guide the career plans and contribute to the success of students. In celebration of 25 successful years, 25 career mentors have agreed to share their career stories and advice…
---
Briefly, tell us about your job. What do you find most rewarding? What are your greatest challenges within this profession?
Genetic counselling is the process of helping people understand and adapt to the medical, psychological and familial implications of genetic contributions to disease. Genetic counselling helps to promote informed choices and adaptation to genetic disease.
The most rewarding aspect of the job is being able to work with people. As a genetic counsellor you meet many wonderful people and families. Being able to spend time with patients and answer their questions, provide support and help them navigate a sometimes fast paced and confusing health care system is very rewarding.
The frequent changes and advances in technology in the field of genetics can make the job difficult. Learning new things and continuing education online and through conferences is essential.
While you were completing your degree, what experiences and activities helped bring you to your career decision or helped you succeed in your occupation?
I actually decided on my career path following a discussion with the Career Mentor Program. I always knew I wanted to work in health care but was uncertain which area and the Career Mentor Program helped to guide me in the right direction. Being able to spend some time with practicing genetic counsellors, asking them questions and seeing what a day at work looked like for them made me feel confident choosing genetic counselling for my career path.
Describe your career planning journey. Please include any highlights, bumps or roadblocks.
Genetic counselling is an extremely competitive field to get into. With only three training schools in Canada and class sizes no bigger than six to eight students per year; competition is fierce. A lot of volunteer hours and experiences are required to be competitive. Volunteering with the Health Sciences Centre and Klinic Community Health Centre were some of the most rewarding experiences I have ever had though.
What inspired you to be a career mentor?
I utilized the Career Mentor Program as a student. Being able to give back and provide the opportunity to others just felt right.
What advice do you have for students who are interested in following in your footsteps?
Don't give up! While acceptance to a training program can be difficult and may take a few years to achieve, it is worth it. I was rejected twice before being accepted and am thankful I never gave up and kept applying. Considering options such as writing the GRE and applying to programs in the United States, which opens up many more opportunities and increases your likelihood of acceptance to a program. I am a proud graduate of the University of Minnesota program.
What career advice do you have for university students?
Take your time. You have your whole life to work so taking the time to make sure you are choosing a field you truly love will be worth it in the end.
---
Stay tuned for more career mentor profiles! From September 25 to November 2 the Career Mentor Program will be profiling 25 dedicated and wonderful mentors from across several sectors. To view more career mentor profiles and learn about the anniversary event on November 2, 2015, please visit the CMP 25th Anniversary website.