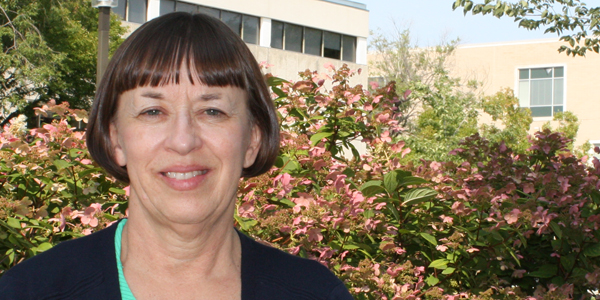 Career Mentor – Cathy Spack
25 successful years, 25 career mentors
October 9, 2015 —
Cathy Spack [BA/75] is one of 700+ Career Mentor volunteers who devote time to meeting University of Manitoba students. Each year, career mentors share their knowledge and advice to guide the career plans and contribute to the success of students. In celebration of 25 successful years, 25 career mentors have agreed to share their career stories and advice…
---
Briefly, tell us about your job. What do you find most rewarding? What are your greatest challenges within this profession?
I work as a speech-language pathologist (SLP) in the school setting. It is extremely rewarding to see students make gains with their communication skills and gain confidence as individuals. The greatest challenge is the large number of students on my caseload which limits the amount of time I can devote to them and help I can provide.
While you were completing your degree, what experiences and activities helped bring you to your career decision or helped you succeed in your occupation?
As an undergraduate student, I knew I wanted to work with children, so I involved myself in experiences with children of different ages. This helped me understand and learn how to interact with children, which assisted me during my graduate program when I was completing student practicums in different settings with different ages. I also observed students with a variety of disabilities in a school setting and this helped me make my career decision. Many of these students had difficulties communicating even basic wants and needs, as well as limited ability to use oral language to interact with others. I knew this was an important need for them and I made my career decision.
Describe your career planning journey. Please include any highlights, bumps or roadblocks.
As an undergraduate at University of Manitoba in the early 1970s, I realized that to work in Manitoba as a speech-language pathologist, a master's degree was required. I needed to find financial resources and research institutions which offered training. This meant, and still means, that I would have to leave Manitoba to study. I chose to work in the school system when I graduated to take advantage of salary and holiday benefits. At one point, I decreased my SLP school assignment to start a private practice as a speech-language pathologist in order to work more directly with children and adults. This variety of experiences as an SLP has been a highlight of my career.
What inspired you to be a career mentor?
I love my career as an SLP and wanted to share my passion and experience with interested individuals. I did not have the opportunity to talk with or observe an SLP during my undergraduate university program, so I felt this was an important role to play to inspire high school and university students.
What advice do you have for students who are interested in following in your footsteps?
When applying to graduate school in communication disorders, it is necessary to have volunteer experience with children and/or adults. Volunteering under the supervision of an SLP is crucial. Job shadowing is also an option to obtain an idea of other aspects of the profession.
What career advice do you have for university students?
Meeting with a speech-language pathologist and coming prepared with questions is advised. As an undergraduate student, it is necessary to research graduate programs very early in order to have the required prerequisites to apply for a graduate program in communication disorders.
---
Stay tuned for more career mentor profiles! From September 25 to November 2 the Career Mentor Program will be profiling 25 dedicated and wonderful mentors from across several sectors. To view more career mentor profiles and learn about the anniversary event on November 2, 2015, please visit the CMP 25th Anniversary website.