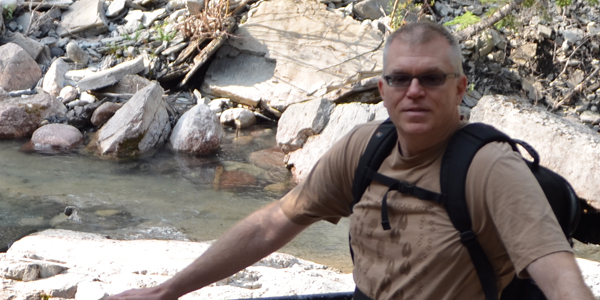 Career Mentor – Blair McMahon
25 successful years, 25 career mentors
October 8, 2015 —
Blair McMahon is one of 700+ Career Mentor volunteers who devote time to meeting and supporting University of Manitoba students. Each year, career mentors share their knowledge and advice to guide the career plans and contribute to the success of students. In celebration of 25 successful years, 25 career mentors have agreed to share their career stories and advice…
---
Briefly, tell us about your job.  What do you find most rewarding? What are your greatest challenges within this profession?
I am an associate, lead biologist and chair of both the project management and transportation business development teams within Stantec in Winnipeg. I typically work as a project manager or advisor on a wide range of environmental assessment projects. Currently, I am the terrestrial lead for the Lynn Lake Joint Venture Project which is for a potential new mine development in Lynn Lake Manitoba. The most rewarding and most challenging component of the work relates to people. Every day I lead, inspire, manage and ensure the safety of the biologists I work alongside. It is a responsibility I don't take lightly and one that brings personal satisfaction when I can help enable people to enjoy their work and grow in their profession.
While you were completing your degree, what experiences and activities helped bring you to your career decision or helped you succeed in your occupation?
I received my first degree in the 1980s at a time when it was very difficult to get a job as a biologist. One of the first and most helpful things I did was in my second year of university when I gave up a part-time job at SuperStore to work for less than half that salary as a field technician/maintenance support at Delta Marsh Research Station. This paved the way for other low-paying field technician jobs at the University of Manitoba, the Government of Manitoba and Ducks Unlimited; the pay didn't matter to me, as I was doing what I enjoyed most. This firmed up my decision that I was on the right track regarding my career.
Describe your career planning journey. Please include any highlights, bumps or roadblocks.
Difficulty struck after I completed my masters' degree and it seemed impossible to secure a full-time or summer field position. It was the month of May, past the time that fieldworkers are generally hired for summer positions, and my resume had been distributed many months earlier without expressed interest from any employer. I was considering going back to the University of Manitoba and securing a teaching degree (another field in which I had an interest), when I received unexpected calls from two different consulting firms: one, TetrES, offered me three days of mapping (something for which I had no training). For nearly six months I kept asking my supervisor at TetrES if I should show up for work the next day since my three days of work had long since been completed – to which I was told: "My boss hasn't said anything about it, so I guess you should come back tomorrow." What started in consulting as an uncertain and unknown field to me quickly became my career.
What inspired you to be a career mentor?
At my core, I am a teacher and have served as a paid and volunteer teacher since 1984. If my knowledge and experience can help someone from the university succeed, then it has been time well invested. What inspired me to serve as a mentor is my belief that it is essential to have a strong link between students and employers – as offered and encouraged by the Career Mentoring Program.
What advice do you have for students who are interested in following in your footsteps?
If you want to work in the environmental field as I have, first determine what type of environmental work you are most interested in before determining what is available. University research, government and private industry consulting are all different – some people are ideally suited to government and others thrive in private industry. If you are not sure which best suits you, try to secure summer positions in each of the different types of jobs. Your summer work and the connections you make are invaluable to you as you move along the pathway towards your career. The environmental field in Manitoba is very small and the people you meet might be future bosses, co-workers, friends or job references.
What career advice do you have for university students?
One of the most important aspects of your career journey is to decide where you are going – what is the end-goal? When you know that, or approximately what that is, then get informed as to what qualities are being sought by pertinent employers – be willing to seek advice of people you respect. Do you need more experience in a certain field and is it necessary to pursue additional post-graduate studies? Be persistent and don't quit – yet be willing to be adaptable knowing that reaching your end-goal may take time and several related steps. Your journey is largely in your hands.
---
Stay tuned for more career mentor profiles! From September 25 to November 2 the Career Mentor Program will be profiling 25 dedicated and wonderful mentors from across several sectors. To view more career mentor profiles and learn about the anniversary event on November 2, 2015, please visit the CMP 25th Anniversary website.