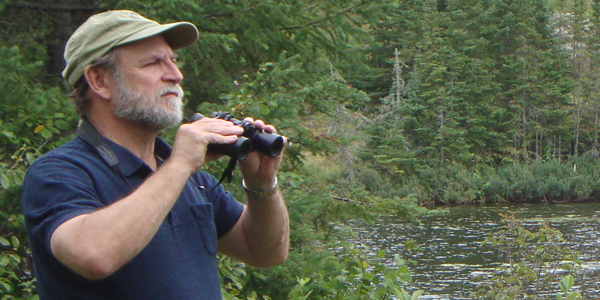 Career Mentor – Bill Watkins
25 successful years, 25 career mentors
October 27, 2015 —
Bill Watkins [BSc(Hons)/78, MSc/82] is one of 700+ Career Mentor volunteers who devote time to meeting and supporting University of Manitoba students. Each year, career mentors share their knowledge and advice to guide the career plans and contribute to the success of students. In celebration of 25 successful years, 25 career mentors have agreed to share their career stories and advice…
---
Briefly, tell us about your job. What do you find most rewarding? What are your greatest challenges within this profession?
I am a zoologist working for the Manitoba government in the Biodiversity, Habitat and Endangered Species section of the Wildlife and Fisheries branch. My activities focus on rare species and species at risk and include bio-inventory, population monitoring, conservation status assessment, recovery/management planning, and policy and legislation development.
I find working to preserve Manitoba's biodiversity for future generations personally rewarding and I particularly enjoy being part of a group of people that bring a high level of passion and dedication to their work.
One of the greatest challenges is to identify potential funding partners and build effective cooperative partnerships for the management or recovery of species.
While you were completing your degree, what experiences and activities helped bring you to your career decision or helped you succeed in your occupation?
My first career oriented summer job with the Canadian Wildlife Service was important in affirming my decision to become a biologist. Interacting with fellow students at university gave me an overview of the many different disciplines within the field of biology, and the opportunities and challenges within each one. That knowledge was helpful in choosing a discipline to pursue. Developing relationships with my professors in my senior year as an undergraduate and being mentored by one professor in particular were critically important in establishing my career path.
Describe your career planning journey. Please include any highlights, bumps or roadblocks.
I completed a BSc(Hons) in zoology and an MSc in animal nutrition and physiology at the University of Manitoba and started a PhD program in wildlife biology at the University of Alberta. I left my PhD program for an administrative position with the Manitoba government in the Department of Natural Resources. I worked in two other positions with government before finally moving into my current position focused on rare and endangered species. Although I was not working as a biologist for the first three years after leaving university, all of the positions I held provided an incredible learning experience in government structure and function, and natural resource management including working with First Nations, conducting public consultations and building effective partnerships.
What inspired you to be a career mentor?
I have benefited from mentoring at several points in my career, both as a student and in the workplace. As someone who has received help in achieving my career goals I would like to give something back and help others achieve their goals. I truly enjoy what I do for a living and I try to convey that enthusiasm to students who have yet to decide on a career path.
Mentoring also allows me to stay connected with the university, and to stay in touch with students and student culture. It's gratifying to see the young people I have mentored find success in their studies and careers, particularly when that includes a position in a government agency.
What advice do you have for students who are interested in following in your footsteps?
Life experience and practical skills are often as important as coursework and good grades for a career in wildlife biology. Skills in camping, canoeing, operating a motorboat or ATV, using a chainsaw, first aid, and handling a firearm, are often required for fieldwork. Some of these skills can be learned in workshops that provide a certificate of achievement or lead to a government license. Take the time while still a student to learn these skills.
Species identification is critically important to a biologist and it isn't usually taught in the classroom, so begin learning to identify the common birds, mammals, fish, plants and insects in your area and keep working at it until you feel confident in your identification skills. During the interview for my first career oriented summer job, I was asked to identify 50 bird specimens.
What career advice do you have for university students?
Read! Set aside half an hour every day to read material related in the broadest sense to your chosen career. This should be in addition to any reading required for school or your current position. After 10 years you will have over 1800 hours of additional study and a wealth of applicable information at your fingertips to use in your work or to impress potential employers. I find reading every morning over coffee to be enjoyable as well as informative.
Network! Join organizations related to your career and attend events to meet people. Foster genuine relationships by being interested and sincere. Make networking a life-long process and never forget to say thank you when someone has helped you.
Be open to new experiences and opportunities. Be a perpetual student. Important skills can be learned in unexpected ways by taking advantage of opportunities placed before you. Keep building your skills and your resume, and your "perfect" job should eventually be obtainable.
---
Stay tuned for more career mentor profiles! From September 25 to November 2 the Career Mentor Program will be profiling 25 dedicated and wonderful mentors from across several sectors. To view more career mentor profiles and learn about the anniversary event on November 2, 2015, please visit the CMP 25th Anniversary website.