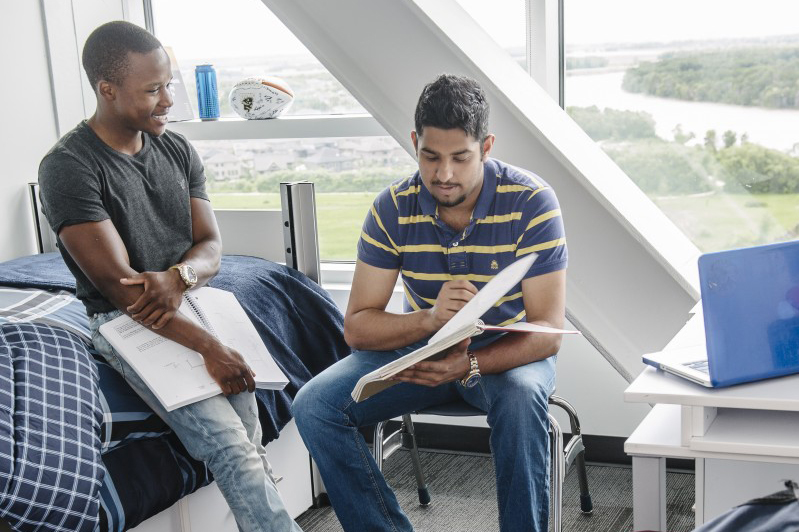 Building a Strong Foundation: Start in First Year
October 26, 2018 —
The following article is published as part of the Academic Integrity Initiative, featuring the writing of University of Manitoba faculty, staff and students.
October is Academic Integrity Month! Visit our website for more information on events, and follow us on Twitter.
As a first year student there is so much to learn and get used to in the first couple of weeks: Where do I study? Are my courses right for me? What job can I get with this degree?
In addition to these common questions, students have to get used to how university operates. Professors may speak fast during the lecture and by mid-class your hand is probably getting sore from taking notes. Then, there is the work you have to do when you get home: review your notes, do the reading for next class and finish reports. How can one manage all these tasks?
Time management is essential for academic success. Unfortunately, I did not have this skill in my first year of studies. Some students may find themselves forgetting about deadlines, rushing to complete assignments without putting their best work forward, creating unrealistic study schedules, or procrastinating.
This is why the first few weeks are extremely important, especially for first year students, as you set the foundation for your study habits.
Here are some tips to help you develop strong time management skills and prevent poor choices that could lead to academic misconduct:
Start early. Speak with your professors, ask questions and clarify expectations for the course and for your assignments. Knowing what is expected of you will help you stay on track and manage your time effectively.
Develop a realistic study schedule. To do this, you need to identify your goals. You've allocated three hours to study in the library, but have you made a list of what you want to accomplish? Being specific will help you maximize your time and accomplish your tasks. Also, make sure to take breaks during your study sessions. You deserve it!
Prioritize your assignments. Check your syllabus often to make sure you note the due dates and weight for each assignment. A 5% reflection paper might be due first, but you can't forget about your 20% essay due the following week. Knowing how much each assignment is worth is going to put things into perspective and help identify what you need to tackle first.
Ask for help. The University has an immense network of support to help students through their personal and academic difficulties. A great starting point is speaking with professors. They have designated office hours to meet with students to discuss course content and assignments, as well as make suggestions and referrals for areas in which you may be struggling. This could be a great opportunity to get to know your professor and get connected with campus resources such as Academic Advisors, Academic Learning Centre, Writing Tutor Program, Career Services and Student Counselling Centre.
Lastly, remember that your academic advisors are here to support you through your transition to university. As academic advisors, we often speak to students about academic success and student responsibilities and we recognize how stressful and overwhelming the first year can be.
The First Year Centre is dedicated to supporting students in clarifying their goals and making informed decisions to reach these goals. Stop by our office at 205 Tier to speak with an academic advisor, check in on your progress and ask for help if you are struggling.
Yelena Metrik is an academic advisor with University 1 First Year Centre.