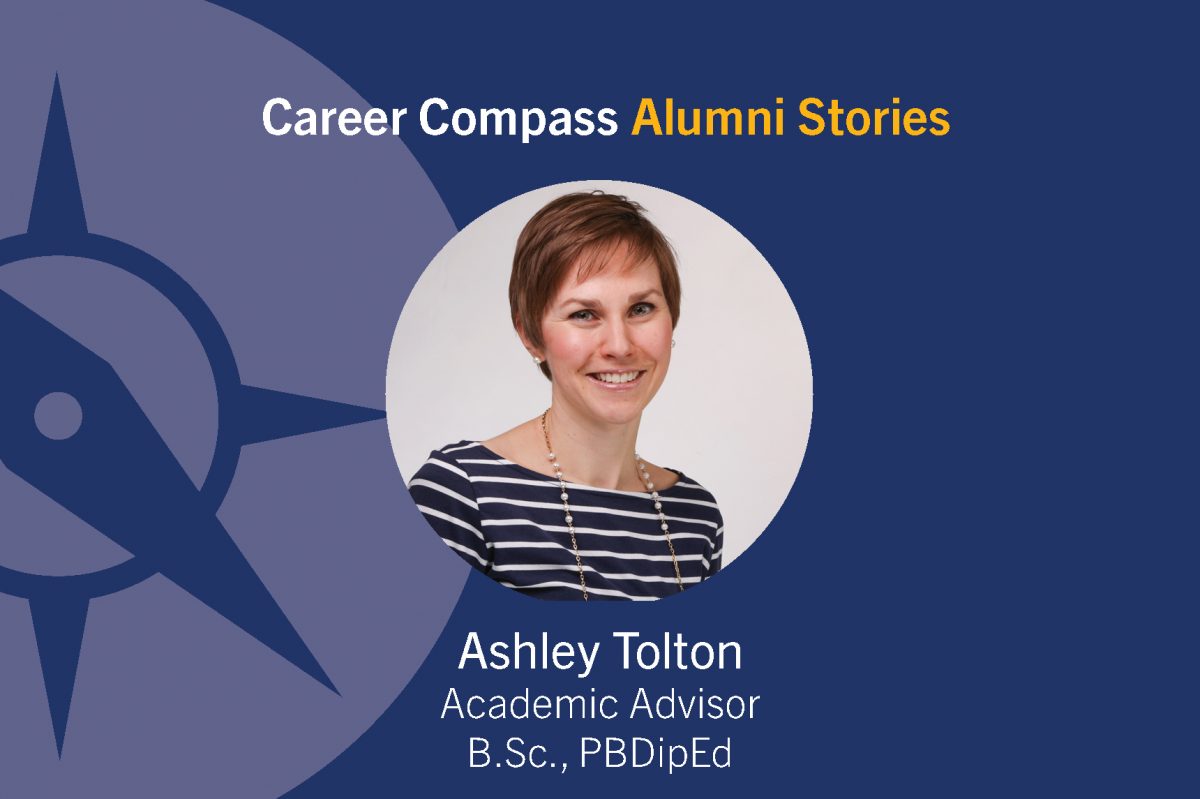 Ashley Tolton General Science Alumni
Briefly, tell us about your job. What do you find most rewarding? What are your greatest challenges within this profession?
I have been an academic advisor at the University of Manitoba for 10 years. I currently work in the Faculty of Science. Daily, I interact with students helping them to facilitate making connections between their career goals and academic plans; helping them get where they want to go. Sometimes this is developing course plans at other times it is looking at alternate options or supporting a student with resources in times of stress or academic difficulty. University is an exciting time of change and growth for students and it is rewarding to see students learn and grow as they navigate their future by developing and gaining practical skills and experiences.
What experiences and activities helped you to map out your career pathway?
My degree was one step in the direction of my current job. When I was a student I had the opportunity to volunteer on and off campus. It was these experiences and contacts that allowed me to take the skills I learned in the classroom and apply them to real life career settings, opening doors for job opportunities.
As a student, did you see yourself in your current career? What stayed the same and/or changed?
No, I don't think I was even aware that academic advising was a career option. As an advisor now, I see students looking for career options with limited knowledge of pathways available to them and how to get there. Resources like career compass are a great way for students to get to know themselves and the careers out there to help make informed decisions.
What advice do you have for students who are interested in pursuing a degree in general science?
The Bachelor of Science general degree offers students a breadth of science knowledge and I would encourage students to take opportunities both in and outside the classroom to enhance their university experience; volunteer, talk to your professors, join a student group, find a cause close to your heart and support it, ask questions and get to know yourself. These experiences will only add to your classroom learning and link classroom learning to real life.
What job search advice do you have for students and recent graduates?
Embrace planned happenstance; you don't know where connections you make and experiences you have in and outside the classroom will lead you!
Tell us a fun fact about your career path.
As a summer student I was able to work in a lab with honey bees. Testing bees for various diseases and mites has given me a lifelong appreciation of the little pollinators!