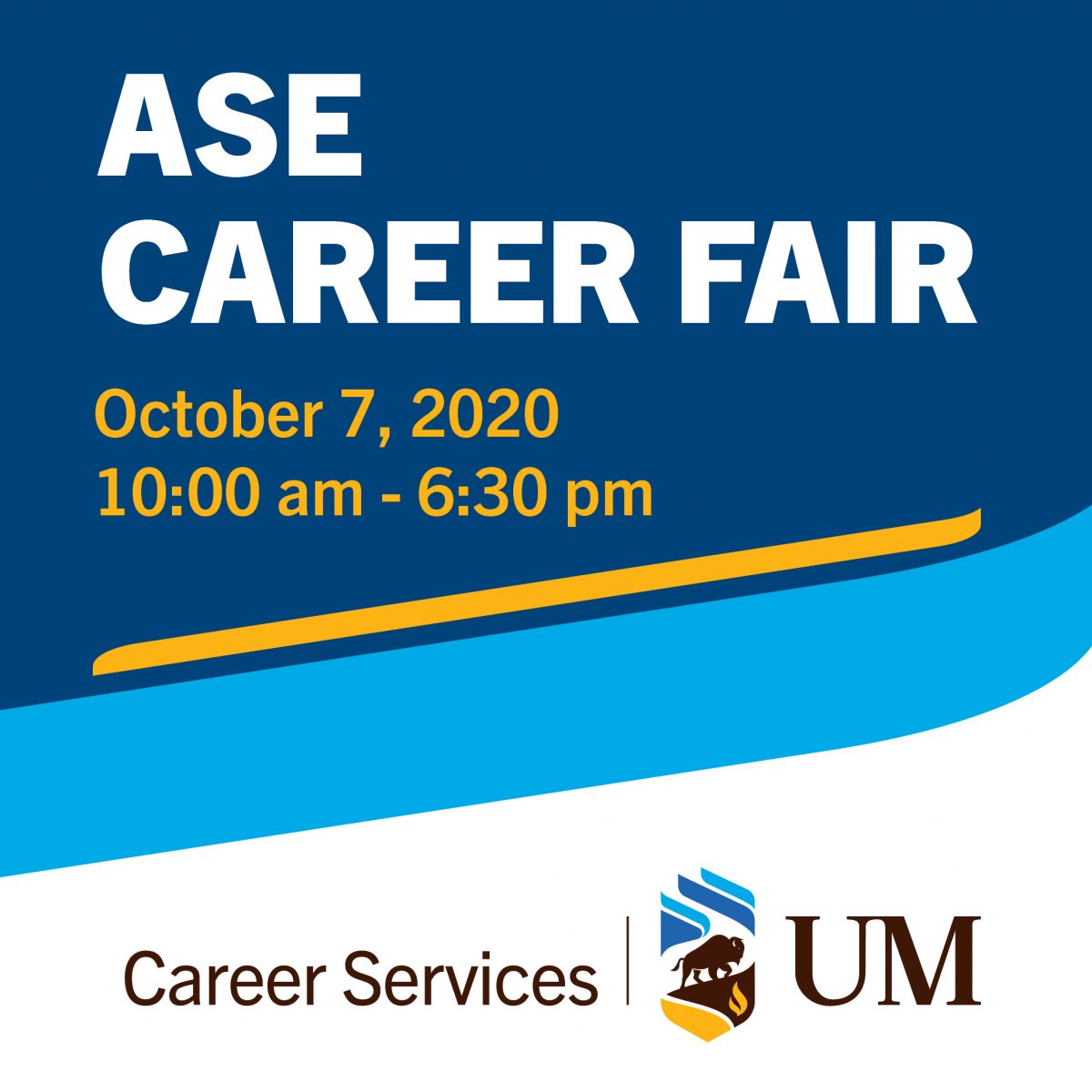 ASE Career Fair is Going Virtual! Top 3 Reasons you should attend
September 22, 2020 —
When: October 7 | 10:30 a.m. – 6:30 p.m.
Where: CareerEco Virtual Platform – careereco.com/Events/Manitoba
The 2020 ASE Career Fair is fast approaching. This year we are going virtual and have extended hours making it easier than ever for you to meet employers interested in hiring students from the University of Manitoba. Whether you are looking for part-time, summer, or full-time work or want to start networking to gain valuable career information, ASE Career Fair is a great place to start!
Close to fifty employers are attending the event looking to meet with UM students and gain access to a talented future workforce. Meet with representatives from our Platinum and Gold sponsor Organizations, Skip the Dishes and Richardson International and check out the full suite of employers attending the event. Start building the career you want by learning more about the world of work. Register on the platform today so you can create your profile and research the employers attending in advance of the fair. Discover key projects and priorities of each organization and browse through the many job postings on the career fair site.
Plan so you can decide who to talk to first. Keep your eye open for the times employers will be attending the fair so you don't miss out on a valuable information session or the opportunity for a one-on-one virtual chat.
Here are 3 reasons you don't want to miss out on ASE Career Fair!
Jobs, jobs, jobs!
The new virtual platform allows employers to post jobs right on the site. Set your profile up early so you can access the postings and have meaningful conversations regarding full-time, part-time, and summer opportunities. If you upload your resumé, employers will have access to it during and after the fair. Make a great impression by targeting your resumé and showcase how your skills relate to the position posted. Need help to tailor your resumé? Use Career Services resumé and cover letter resources to get started then access support from the Resumé Learning Centre.
Making Professional Connections
Connecting with industry professionals may seem like a daunting task given COVID-19. Take advantage of ASE Career Fair to start networking with employers committed to connecting with U of M students. No matter what year you are in, attending ASE is the right thing to do! First and 2nd year students meet industry professionals early in your degree. Learn about the knowledge, skills and attributes employers are looking for now and in the future. Equipped with this new knowledge you can seek out courses and experiential learning opportunities that will support your professional development and help you land that permanent position upon graduation.
Upper year students, initiate conversations about training opportunities you should take advantage of, associations you should become a part of and how the knowledge and skills you are developing in the classroom and through co-curricular activities link to various occupations. Start to focus in on jobs you are interested in. Many students are hired as yearly as January or February for full-time permanent positions following graduation, start making connections now to learn about early hiring.
Take the opportunity to learn about what's out there while getting some networking momentum going. People often say that networking gets easier the more you do it: so take this opportunity to practice.
Exploring Industries
Not sure exactly where you want to work or jobs you are interested in? The career fair is a great time to explore different employers and compare the organizations where you might work someday. Talk to an employer you hadn't considered before. When exploring, be sure to think of your career values and prepare thoughtful questions that can help you compare workplaces based on what is most important to you! You can find ideas for values-based questions here.
Already made some decisions about where you want to work and what you want from your career? Use the career fair to gain more information about your industry of choice by chatting with professionals about developments in the field and what they anticipate the future will hold. This can help you to make informed career decisions and it can also give you some interesting conversation starters to keep in your back pocket for your next networking event or even an interview. Be sure to take at least one step out of your comfort zone: look at a new industry you haven't considered before. You might just happen upon something that could take you in an exciting new direction.
Attending a Career Fair can boost your career prospects, give you career information, and help you make connections that will benefit your future significantly. Take some time to get prepared by registering for a Career Fair Prep Session on CareerCONNECT or check out these resources. This is your opportunity to impress!
The Career Services office is here to assist you in mapping out a plan to create the life you want and connect with work that inspires you. Whether you need support planning for the Career Fair or a plan to build your way forward, you can connect with a career consultant by calling 204-474-9456 or cs [dot] receptionist [at] umanitoba [dot] ca to make an appointment. You will also find us at the Career Services virtual booth at the Career Fair.