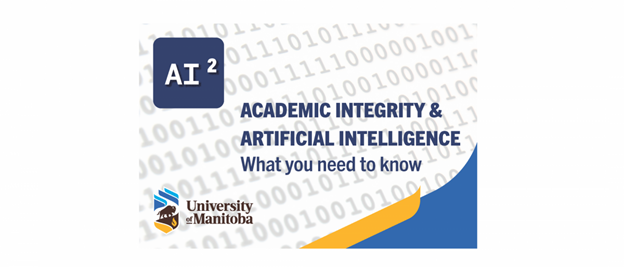 Academic Integrity in the era of Artificial Intelligence
October 16 - 20 is Academic Integrity Week
October 13, 2023 —
Fall term is well underway and the pressure is mounting as your to-do list fills with approaching deadlines. To work more efficiently, we've all used certain Artificial Intelligence (AI) technologies such as spellcheck, Google and automatic citation generators for years without much thought. As AI becomes more sophisticated and accessible, students are asking if it can be used, and where the line is for maintaining academic integrity.
The University of Manitoba is participating in the International Day of Action for Academic Integrity on October 18, and the focus is on championing academic integrity in the age of AI. How should we navigate increasingly sophisticated technological innovation that has a lot of potential, but can also have serious implications?
Here are some things to keep in mind when it comes to AI and coursework:
AI can only be used for coursework if your instructor explicitly permits it. If you have questions about tools, such as Grammarly or citation generators, ask your instructor – their response will depend on the learning outcome for that assignment.
AI does not replace your own thinking, analysis or judgment. Even if you are permitted to use it, you should review its output with a critical eye.
AI-generated content can be redundant, inaccurate and repetitive, at best, but can also be offensive or biased, at worst. Whatever you submit for a course assignment is your full and ultimate responsibility.
AI can be detected. Your instructors will assess your work based on their expertise, the learning objectives of the course, and compare it to your previous work and what they would expect from a typical student.
If you have used AI without your instructor's permission, you can face an allegation of academic misconduct, which has academic and personal consequences, including a failing grade in a course or suspension from a faculty.
If you are permitted to use AI, you must cite it.
Visit our booth outside of the Elizabeth Dafoe Library on October 18, 10 a.m. – 1 p.m., to learn more about AI, ask your questions and get free stuff. Tune into UMFM on Tuesday, October 24 at 11 a.m., as we answer your questions about AI and academic integrity.
This event is hosted as part of Student Success Month.