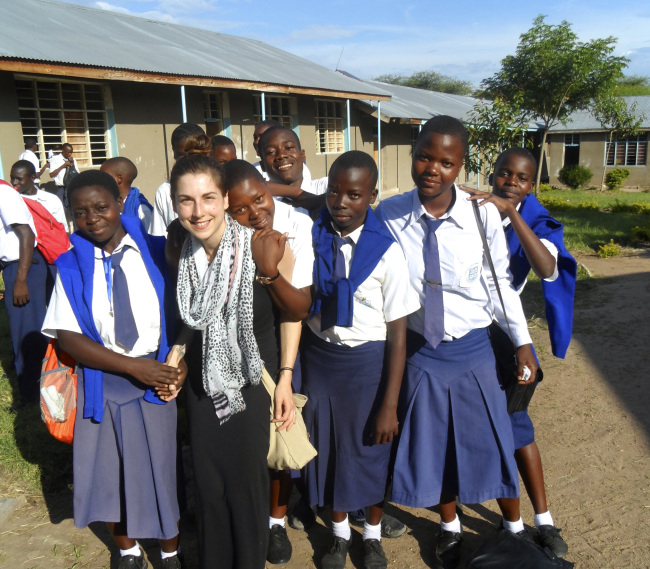 A journey to Tanzania 'changes the way you see things'
October 31, 2014 —
In May 2014, four U of M students traveled to Tanzania for an unforgettable service learning trip that changed how they see things.
Nikki Hwrylyshen, Faculty of Human Ecology, Virginia Robinson, Faculty of Education, Delaney Page, College of Nursing, Zachary Johnson, Faculty of Arts, worked with Badili Mtizamo – Gender Equality Now!, a jointly executed service learning program organized by Canadian Physicians for Aid and Relief (CPAR) and the International Centre for Students and its World Work, Internship, Study and Exchange (W.I.S.E.) program at the University of Manitoba. CPAR and the University of Manitoba have been working together since 2007 when students began to join CPAR's study tours.
Badili Mtizamo means 'change the way you see things' in Kiswahili. This year's Badili Mtizamo program participants further developed and adapted the 'Gender Relations' program delivered in 2013 and expanded it to two new secondary schools in Bunda District, Mara Region of northern Tanzania — Kuzungu Secondary School and Rubana Secondary School.
Service learning is a recognized methodology that differs from typical "voluntourism" because of the emphasis it places on genuine reciprocity and a demand-driven approach. Students are required to participate in guided and structured reflection throughout their trip and in intense pre-departure preparations. Each of the participants has been selected for their suitability and undertakes an online not-for-credit course called "Transformative Partnerships: An Introduction to Service Learning." To acknowledge their hard work and dedication, they receive a notation on their Co-Curricular Record.
UM Today brings you photos the students took in Tanzania and selected entries from the ongoing blogs the students maintained through the course of their journey earlier this year.
Nikki describes the four this way:
Zak: spider, gecko, and all around bug exterminator
Delaney: the go-to for everything you didn't bring/nurse
Ginny: the teacher and photographer
Nikki: the nutritionist/level head and calm vibes
And so it begins …
May 1, 2014
Delaney
It is less than 24 hours before we board that plane and head to Tanzania. I have been very busy working and studying for exams, but in the last few days it has started to sink in that I am leaving for another continent in a matter of hours! I am mostly excited but also a little nervous. I have never been farther than the United States and this will be a real adventure for me! I am going to miss my family, friends, and "easiness" of the lifestyle I'm used to here at home in Canada.
I am committed to putting my heart and soul into teaching and giving my all to the students and citizens of Bunda.
I am a partner. I am going to learn and work with.
I will try not to apply only North American solutions and strategies to our program.
I will be open to new experiences that challenge my perceptions of myself, my abilities, and the world around me.
I will be accommodating when working with others, helping to encourage and lift each other up when needed.
I will be reflective, thoughtful, and deliberate.
I will be flexible, and adapt to changing situations.
I will try new things and take risks.
I will have an open attitude to get the most out of this life-changing experience.
I want to leave with no regrets.
I am looking forward to working with an awesome group of fellow students, who I have only just begun to know!
It's real…
May 3, 2014
We're actually going to Tanzania. The feeling never really sunk in until we boarded the plane from Toronto…no turning back now.
Current time: 8:30am
Location: Amsterdam
We're currently taking in the morning sun through the ceiling high windows at the Amsterdam airport, which feels a little odd since it should just be creeping into the wee hours of Saturday morning and we should all be tucked into our beds. Despite the slight dazed and confused feeling, we couldn't be more excited to start our journey to Tanzania!! (Only 1 more 8.5 hour flight that stands in our way…)
Here's a peek at my mission statement for this trip:
Provide a positive and enriching experience for the youth participants in Bunda, which will impact current and future generations on the topics of gender equality, reproductive health, and general health studies. I will keep an open mind while seeking out new information and experiences. I will do my best to build lasting relationships and leave with a better understanding of Tanzania and the people that live there. I will go well prepared and maintain realistic expectations about my role and intentions in Bunda. I aim to commit to small, daily actions to benefit those around me as well as myself and find joy in a simplistic lifestyle.
Halfway there
May 3, 2014
Zak
Already almost 24 hours into our journey to Tanzania, we are all beat. We are all hanging out in Amsterdam's airport, and there are plenty of things to do (casinos, museums) but all I can focus on is getting to our next flight. This past day has really made this project real for me for the first time. We have been talking about cultural diversity and community development for several months, but the excitement of going to Tanzania and experiencing all of this first hand has not become a reality to me until now. This new revelation has also allowed me to reflect on my goals that I hope to achieve while overseas such as:
– Developing cross-cultural ties with the people of Bunda
– Being able to help enrich their education in a way that suits the needs of the community
– Creating a mutually beneficial relationship between the people of Bunda and myself by expanding both their knowledge and my own
– Establishing strong relationships with my teammates to help enhance everyone's experience
I already really enjoy the company of everyone that I'm going to Tanzania with, and I'm sure the CPAR staff and children that will be working with will be just as great.
On route
May 3, 2014
Virginia
It's hard to believe that it's already May – the time since I applied for this program last November has flown by. Thankfully, the journey to Tanzania has gone equally as fast. We just arrived at the KIA lodge outside Kilimanjaro airport after a very, very long day of travel. I think we are all excited to finally be setting off after months of planning and meetings in Winnipeg. It's started out well so far – all of the flights were on time, my bag was only slightly overweight, and all of our luggage made it here with us. After a positive, albeit somewhat teary-eyed goodbye to my dog and my family, I am very ready to see what Tanzania has in store for us.
When I think about my expectations for this program, I hesitate to set concrete goals. My past experience working overseas has taught me to expect the unexpected, and to lead with an open mind. So, rather than setting specific goals for this experience, I'd like to set a list of hopes. First, I hope to create an open, inclusive and safe environment for the students to learn. I hope to give exciting, relevant and engaging lessons, and that we are able to inform and encourage students to make healthy, positive decisions. I hope to learn — about the culture and traditions of the village that I'm in, about the wants and needs of the students, and about my own strengths and weaknesses as a teacher. I plan to take all of these hopes and set out on this journey ready to give all that I have to give, and take away all that I can take.
Our First Day of School
Virginia
May 9, 2014
Wednesday was our first day at Kuzungu Secondary School. We had rather large classes for what we expected. We had over 90 students in total, so we split into two groups, each with 40-50 students. They were respectful and eager to learn, though their knowledge of the English language was limited, which opened our eyes to just how challenging this experience would be. We focused the first class on introductions of each other and the program. One of our first activities was to have the students create a title page for their notebooks, however the concept of a decorative title page did not seem to be emphasized in their school. They did seem, though, to enjoy sharing three things about themselves, which was the later half of this activity. During the remainder of this class we overviewed the Badili program and introduced the yearbook that we will be providing them with at the conclusion of our four weeks. We ended the day by initiating a "Gender Role" activity, which was completed in groups and which proved to be effected in increasing participation and helping those who struggled with English comprehension. Consistent with previous years, we also introduced the concept of a "Suggestion Box" where students can anonymously ask questions that they may not be comfortable asking in front of the class. We will be addressing these questions throughout the program. There was a high volume of questions from this school concerning HIV/AIDS, so we will devote more time to this topic over the next few weeks.
Yesterday was a trying day at Rubana Secondary School. Again, our numbers were far greater than expected, totaling over 125 students. As we did not expect such high numbers, we were substantially short on school supplies and found it challenging to teach such large classes. Although the English language comprehension was better at this school, classroom management was difficult due to the numbers and attitudes of these students, which were less focused than students at our other school. As a student in Education, this experience was particularly challenging for me. I have not experienced class sizes this large in Winnipeg, and have noticed that I will need to be more assertive than I typically have been in classrooms at home.
It is great to see such an overwhelmingly high interest in the Badili program. Our next topic, which we will begin at Kuzungu School today, is gender equality and human rights. We hope that we can make some progress with the language barrier.
Afripoutine, Hospitalu Manyamayama, Celine Dion and other wonders
May 14, 2014
Delaney
Hey everybody! We are on our eleventh day here in Bunda, and are becoming quite settled. We have tried nearly everything on the menu and have discovered Chips Masala. We have named it Afripoutine. It is simply fries coated in this delicious African Masala sauce. We have also enjoyed fried plantains which taste like big fries! We tend to go between beef and fish for the best source of protein, and eggs are a must. In the dining room where we eat, they always have an old school soundtrack consisting of Celine Dion, Ashanti, Backstreet Boys, Ja Rule, and Nsync, and Mariah Carey. We have a lot of fun singing along to the music and playing cards while we wait for our Afripoutine.
Delfina (social worker at CPAR), visited both schools and let them know that the program would run much smoother and was intended for a much smaller group of students. Both schools had to narrow down the student groups to 15 boys and 15 girls from each school. We have had one day of 30 at each school and it was very nice, and felt like we connected with the students on a more personal level, which is our primary intention.
I was invited to join the nurses and Delphina to go to Manyamayama Hospital. I met with the department nursing officer, and she gave me a tour of the hospital. The labor wards are closed off with the windows open. The moms sleep in the same bed with the babies. Some have IV Pitocynon running (synthetic oxytocinon to help the uterus to contract). They rest and learn how to breastfeed before they go home. I saw brand new baby twins that were born that morning. I was also taken in to see the OR which was super exciting. They have autoclaves, a washing machine, and a septic and non septic OR. The nurses wear white, dresses for girls and pants and tee shirts.
We met with the department of health officer, and he told me that the HIV rate three years ago was 3.5%, and now it is at 5.8% which is an alarming increase. As a soon to be nurse, I forget the immense importance of primary health prevention which is education and teaching before disease. I tend to focus on the disease, symptoms and treatment. We are in a prime spot to make a serious difference in these kids by educating them about risks, and hopefully decreasing transmission rate. Our hope is that these students will be leaders and pass on what they've learned not only to the students that had to drop the class, but the rest of the school as well!
Flashback to Grade 6 Health
May 16, 2014
Zak
Hey everyone!
Yesterday was the last day of talking about Gender Equality, Human Rights, and Assertiveness in the face of abuse to both Kunzugu and Rubana Secondary Schools. In these lessons, we taught about the equality of men and women (even if sometimes they have different gender roles), the importance of human rights to individuals and their communities, about the existence and necessity of natural laws and rights that all people have regardless of its legal status in a community, and that abusiveness exists but can be challenged as a norm in our world today.
While doing extensive research on human rights and abuse, I had the opportunity to overview the Tanzanian Legal Code and its contents. I found this very fascinating, considering I am starting Law School at the University of Manitoba this September. I was able to teach the students a little bit about their legal rights within their country and community, and I found this extremely rewarding.
Today, we are holding our first class on puberty. It seems like a lifetime ago I was in Grade 6 health class learning about all the changes that boys and girls go through, so I needed a refresher in the material before I could go on to teach the class.After discussing the lesson with the Badili Team, it seems as though all of us (except Delaney the Nurse) had to go through a crash course in human anatomy. Being the only boy, it is a little intimidating taking on the responsibility of accurately portraying the lesson material to all of the boys, but now I am confident about today and am sure that all will go as planned. As a team I believe we have worked well together to prepare ourselves for this next phase in our lesson material. In about an hour, we will be teaching the Puberty Unit to Kunzugu Secondary School for the first time.
Kwa heri (Goodbye in Swahili)
Final Days
June 3, 2014
Ginny
The last few days of the program have flown by. It's hard to believe it's our last day in the schools today. Yesterday's final class at Kunzugu went very well. As their final project, the kids worked in small groups to develop presentations about one of the topics that we've covered over the past month. We started these last week, giving the groups time to make posters, come up with creative ways to teach the material, and practice their presentations. Yesterday they presented these in front of the 4 of us and another group of students from their school. They all did an amazing job, and we were so proud of them. Even the kids who had been more reserved and less talkative in class really knew their facts. They all seemed really excited to share what they'd learned with other students, which was so great for us to see. We left Kunzugu yesterday feeling like we'd really accomplished what the program set out to do, and that we had really made an impact with these students. We finished off the class yesterday by handing out yearbooks and certificates to all the kids, which they seemed very excited about. Today is our final day and Rubana, and we're hoping that the response is equally as positive.
>> Scroll down more photos and the students' bios. You can read more about their journey at their blog.
The students
Delaney Page, Faculty of Nursing
I am 22 and in my final year of Nursing at the University of Manitoba. Once I graduate in the Winter of 2015, I plan to work in Pediatric Oncology. Travelling to Africa has been a dream since I was a little girl and this will be my first trip outside of North America. I look forward to meeting the people of Bunda, exploring, and being part of this incredible experience.
Virginia Robinson, Faculty of Education
I am currently pursuing a Bachelor of Education with a focus on the middle years stream, and will be graduating in the spring of 2015. Prior to this, I completed a Bachelor of Arts in history, also from the University of Manitoba.  I have always been passionate about education, and have been involved in teaching, coaching and coordinating educational programs for children in Winnipeg for many years. I have travelled throughout Europe and to Thailand, volunteering in Western Thailand at a wildlife rehabilitation center and a community center for the children of Burmese refugees. This will be my first trip to Africa, and I cannot wait to discover life in Tanzania, to learn from the local community and to be a part of this amazing service-learning experience.
Zachary Johnson, Faculty of Arts
I was born and raised in Winnipeg, Manitoba. I come from Colombian and Syrian heritage. I went to Vincent Massey Collegiate for High School. I am currently a 3rd Year Political Studies Student at the University of Manitoba, and will be attending Law School here at the University of Manitoba in the fall of 2014. While in High School, a friend and I created the not-for-profit organization Fuze Thru Shoes'. The goal of the program was to deliver shoes from primary school children here in Winnipeg, and deliver them to the developing countries of the western hemisphere. Through the process, I would take a photo of the donating Canadian child, and deliver it to the Spanish speaking child who would receive the shoes. I would then take a picture of that child with their new shoes, and deliver that picture to their respective donor. The purpose was to create a connection between the children, which would help the children realize what a difference humanitarian work can do. Since the creation of Fuze, I have taken three full trips on my own delivering shoes to Spanish speaking nations.
Nikki Hwrylyshen, Faculty of Human Ecology
I am currently a 3rd year Human Ecology student majoring in Human Nutritional Sciences with a minor in Psychology. My most recent volunteer/work experiences have been with the Winnipeg Region Health Authority and the Heart and Stroke Foundation. At the WRHA, I facilitated nutrition classes as well as hands on cooking labs to new and existing hires. Similarly, with the Heart and Stroke Foundation, I give presentations to schoolchildren about heart healthy living. Outside of being a student, I enjoy cooking curling competitively, and being a "mom" to my black lab Alice. I find time to get outside as much as possible by going on hiking trips during the summer and ski trips in the winter. It should come as no surprise that I have a passion for traveling. I have spent some time traveling Western Canada, Western Europe, China, Thailand and some places in the United States. I look forward to adding Tanzania to that list!