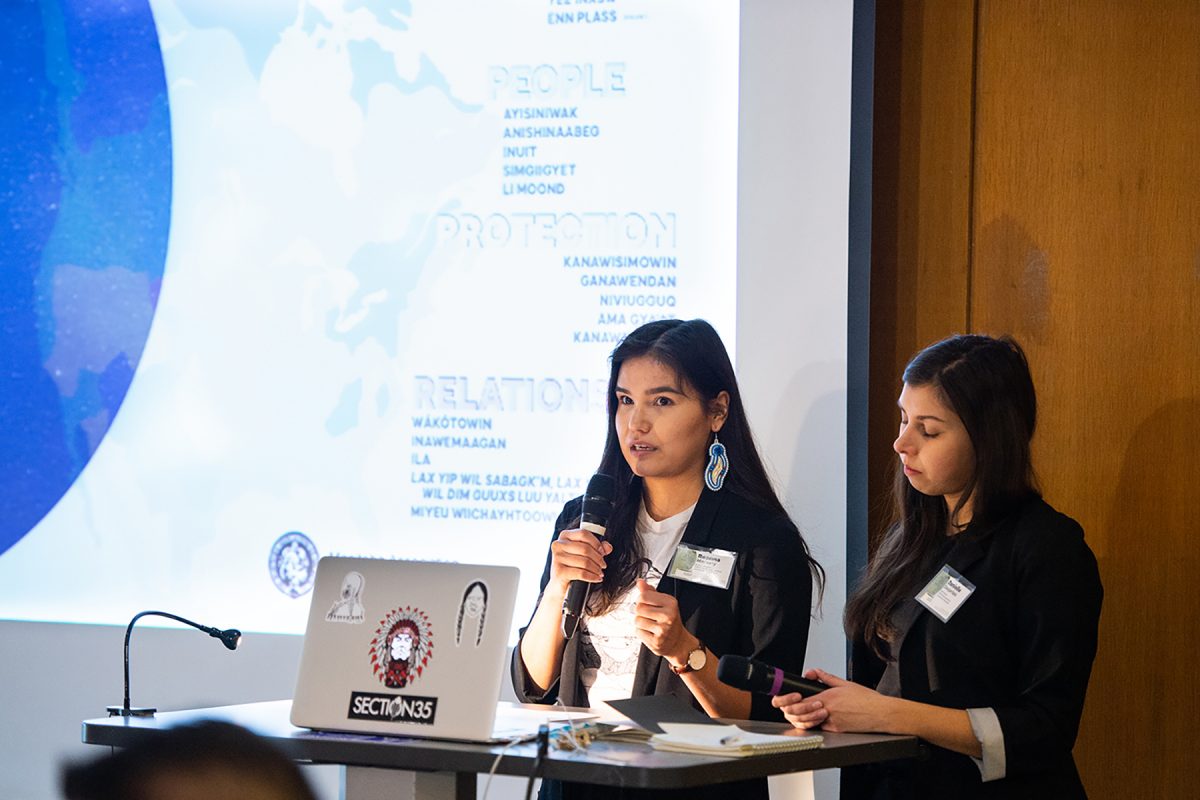 A glimpse into the work of Indigenous students receiving national funding
July 23, 2020 —
One hundred and ninety million dollars in funding awards were recently issued by Canada's three federal research agencies, including five Vanier recipients at UM. The Canadian Institutes of Health Research (CIHR), the Natural Sciences and Engineering Research Council (NSERC) and the Social Sciences and Humanities Research Council (SSHRC) announced that 4,500 scholarships and fellowships were awarded to scholarship and fellowship recipients across the country. The investment is to "enable talented emerging researchers to further develop research excellence and build global links under the mentorship of research leaders."
UM Today spoke with some of the Indigenous recipients on campus to better understand their research, their goals and what this award means for their future.
Sandra Hunter, Anishinaabe, master's student in clinical psychology (Faculty of Arts)
Recipient of SSHRC's Canada Graduate Scholarship – Master's
Sandra Hunter's goals are to contribute more Indigenous knowledge systems in research literature within her field. "My master's thesis will involve interviews with Knowledge Keepers to identify traditional Indigenous parenting practices and to seek guidance for reclaiming those practices," Hunter said. "I feel that it is important to recognize our resilience as a people by looking towards healing for our children, families and communities by focusing on intergenerational relationships and resurgence of traditional beliefs and ceremony."
Hunter said receiving the news of the award helped felt like an acknowledgement of the importance of her research. "This award will enable me to focus my efforts and honour the research as best I can," she said. "Hopefully it will increase the likelihood of more Indigenous scholars becoming involved in this work."
Sarah Hourie, Métis, master's student in Native studies (Faculty of Arts)
Recipient of SSHRC's Joseph Armand Bombardier Canada Graduate Scholarship – Master's (CGS M)
Sarah Hourie's work examines issues surrounding intersectionality within the Canadian context, with a focus on the lives of Indigenous women in colonial spaces. "I intend to work with Indigenous women directly to determine the extent and implications of intersectionality within their communities," she explained. "I would like to explore intersectionality through notions of capitalism and identity politics, as the systemic infringement of colonialism on the lives of Indigenous women works alongside these large-scale systems."
Hourie said she surprised to receive the news of the grant, and hopes it will assist her in further understanding of what it means to be an Indigenous woman, how state-imposed definitions challenge this and how to overcome these limitations when self-identifying.
Gabrielle Fontaine, Anishinaabe, master's student in physics (Faculty of Science)
Recipient of the Natural Sciences and Engineering Research Council (NSERC) grant
Gabrielle Fontaine's research focuses on breast cancer detection, particularly in low-income areas with limited access to early detection. "I am currently designing, developing and testing a portable microwave detection device that may be brought to rural populations and developing countries," she explained. "Receiving this grant will allow me to further develop the device and test the performance with breast phantoms."
Fontaine felt grateful to have an opportunity to further the work on this project. "Microwave imaging is a promising modality that I am very excited to contribute my thoughts and ideas to," she said.
Reanna Merasty, Cree, master's student in Faculty of Architecture
Recipient of SSHRC's Joseph Armand Bombardier Canada Graduate Scholarship – Master's
Reanna Merasty's research in architecture is based on the relationship between ecology and design. "[My research] is grounded in the principle that all elements on Mother Earth have a spirit and are our relatives," she said. "It is a priority to develop design solutions that respond to the community, land, climate and transportation in a way that sustains the next seven generations."
Merasty described the immense amount of gratitude for the support she has received when she was recognized with the award. "The award transcends individual recognition, and will assist in the advancement of community and livelihood of Indigenous people, especially the next generation of Indigenous youth who wish to pursue architecture and design."
Kaitlyn Kuryk, Métis, doctoral student in sociology (Faculty of Arts)
Recipient of SSHRC's Joseph Armand Bombardier Canada Graduate Scholarship – Doctoral
Kaitlyn Kuryk's research is based in further understanding home care. "Although the provision of home care is promoted as allowing individuals with health, cognitive or functional deficits to age with dignity in their own home, my personal experiences as a family recipient of home care led to critical, sociological interest in home-care services," she said. "My proposed research seeks to better understand how the regulated spaces of medical centres such as hospitals and personal care centres adapt their care to function in a private home setting, and in reverse, how private spaces are adapted to fit the rigid and regulated medical model of the public space." Kuryk's research will centre the experience of family caregivers and their perceptions of home-care services.
Kuryk said she was shocked when she received the funding news. "It was the confirmation I needed and it will now allow me the freedom to ensure that I can produce the most meaningful research to improve an understanding of informal caregivers in home care."

Laura Forsythe, Métis, doctoral student in Native studies (Faculty of Arts)
Recipient of SSHRC's Joseph Armand Bombardier Canada Graduate Scholarship – Doctoral
Laura Forsythe's research addresses Métis-specific experiences on campus. "This research is sorely needed as we enter a time with increased and historically high enrollments of Métis students," they said. "At UM in 2017, 60 per cent of Indigenous students self-identified as Métis; unfortunately, before 2017, Métis-specific programming made up less than five per cent of the school's Indigenous programming, even though the campus is home to nearly 1,400 self-identified Métis students."
Forsythe said they were in complete shock as they received the news of the scholarship, and is looking forward to diving deeper into their research. "Understanding the implications of Métis-specific programming decisions for a sense of belonging, empowerment, and the ability to graduate Métis students is crucial to increasing Métis success in the post-secondary context."