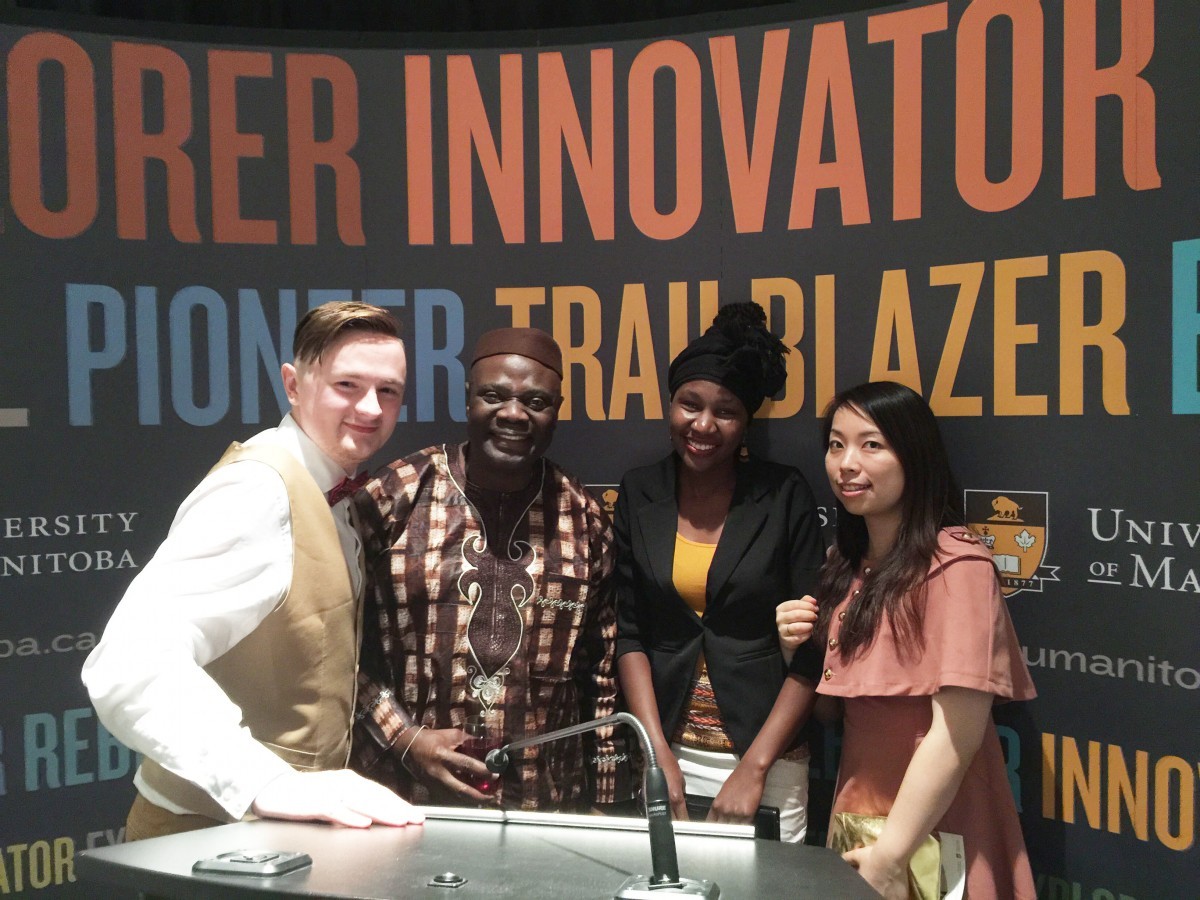 Welcome Dinner celebrates cultural richness
A personal journey is not just a series of locations on a map.  It is also personal transformation.
October 23, 2015 —
At the 4th annual Welcome Dinner, coordinated by the International Centre for Students, keynote speaker, 'Segun Olude [BFA(Hons)/94], sessional instructor in the School of Art, and designer with Indigo Ink Studios captivated the audience with the story of how he followed a 'fish' to Canada and unexpectedly found a new home. His message connected with many in the audience; while you may start your journey with a long list of destinations and accomplishments, the goal is to be able to look back and reflect on who you were along the way and how all of the experiences have helped shape who you are today.
The dinner, held on October 15, formally welcomes international students to the University of Manitoba and celebrates the cultural richness of our community and province. It is always a popular and inspirational highlight of the fall term, and this year over 130 students, alumni, staff, administration and government officials attended.
"The Welcome Dinner is a wonderful event that brings members of the university community together to celebrate the wealth of knowledge, experience and energy that international students bring to our classrooms, our campus community and our province," says Julia Osso, the MC for the evening, herself an international student from Brazil and PhD candidate in peace and conflict studies.
This year's theme, You Are Here: Explore Your Journey challenged attendees to embrace each twist and turn their personal path takes as an integral part of their journey, even if they are not exactly where they expected to be.
Jedidah Kalala, an undergraduate student from Zambia pursuing a BA(Hons) in psychology; Alexey Kondakov, a graduate student from Russia pursuing an MA in political studies; and Yunyi Chen [ExtEd/15, MEd/15], a recent graduate from China shared personal and inspirational experiences of transitioning to a new country and culture. They encouraged new students to dive into life in Canada, reassuring the audience that they can embrace new identities at each stage of their journey while staying connected with who they used to be.