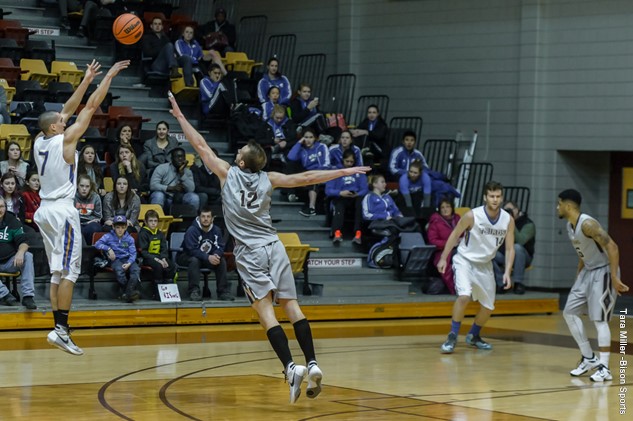 25th Duckworth Challenge this Friday
Cross-town rivals face-off for bragging rights
January 29, 2016 —
The 25th annual Duckworth Challenge wraps up at the University of Manitoba this Friday night. The Bison men and women's basketball teams take on city-rival, the University of Winnipeg Wesmen.
Manitoba won the first sport played in this year's Duckworth Challenge, 1-0 on the road in October in women's soccer.
With Winnipeg now fielding a women' s soccer team in conference play, the two universities have made the Duckworth Challenge into a competition of five games over three sports with the winner of the title in a best three out of five.
The women play at 6pm and the men at 8pm.
In the 2014-15 season, Manitoba won the Duckworth Challenge trophy with a 3-2 victory margin. Manitoba now holds a winning Duckworth Challenge overall record of 13-6-5 in the contest's 24 year history.
All the games during the 25th annual Duckworth Challenge will count in the Canada West standings as they are conference regular season matches.
Several of the Bisons will be taking over UofM Instagram accounts during Duckworth Challenge week February 1st-5th, for a behind-the-scenes look at life in the herd!
Watch for pics from Bison Basketball players Claire Harvey (Wednesday) and Amir Ali (Friday) on @umanitoba.
Bison Volleyball players Caleigh Dobie (Tuesday) and Kevin Falconer (Thursday) will be sharing their shots on the @umbisons. Follow all the action with #umanitoba and #umtakeover.
Several other activities will be part of the 25th anniversary celebrations at the University of Manitoba portion of the Challenge:
– Fans are encouraged to come to the Duckworth Challenge portion at U of Manitoba and enter for a chance to win a trip to Toronto during NBA All-Star Weekend. Included in prize package during All-Star weekend with be access into the NBA Centre Court – Pre-game clinic (all-day, hands-on instructional clinics conducted by current and former NBA, WNBA and NBA Development League players)
– It is the University of Manitoba Basketball Alumni Night! The Alumni Relations street team will be handing out thundersticks at the start of each game and other giveaways as needed through to end of first quarter of men's game
– Spirit Cup: U of M Residences will be participating and cheering on the herd!
– A DJ will be located on third floor foyer of Investor's Group Athletic Centre
– Pep band will be circulating throughout the Duckworth Challenge event
– Alumni Relations Street team to hand out giveaways (thundersticks) at start of each game and other giveaways as needed through to end of first quarter of men's game
For more information, visit GoBisons.ca.