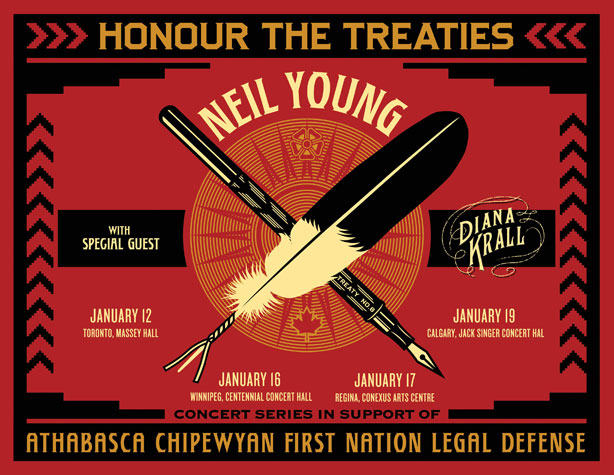 Young's 'Honour the Treaties' tour finds plenty of support in Winnipeg
January 16, 2014 —
Assistant professor of Native studies Niigaan Sinclair helped organize a Round Dance in support of Neil Young's "Honour The Treaties" tour, which rolled into town last evening. There are about 15 organizers who comprise the core of Idle No More Manitoba, all of whom helped with the rally.
The event took place at 7:00 p.m. last night outside of the Centennial Concert Hall, and was preceded by an Honour Song to bless the territory by the Dene Singers at 6:30 p.m.
Round dance to #honourthetreaties 7 pm centennial concert hall. Then mb indigenous writers fest opening – come!

— Niigaan Sinclair (@Niigaanwewidam) January 16, 2014
Sinclair explains the significance of the Round Dance this way: "It's dance of unity and community building – everybody is welcome and everybody has the responsibility to dance. When you choose to dance, you're becoming part of a larger community figuring out ways to live together in positive and effective ways."
It's probably the biggest dance since last winter, says Sinclair. The dance was planned to feature three or four large drums as opposed to the usual one or two, or a dozen or so hand drums.
Over 200 dancers joined the circle to show their support.
How did Sinclair feel about Neil Young's tour?
He's happy for the company. "For those of us who have been doing this work for decades, including my parents and many of the elders that I work with, we're very encouraged by a major mainstream Canadian coming and joining us on this important issue, which involves the health and safety and the well being of our environment."
Sinclair: "There is a real interest in change and choosing a different path."
Young's tour, which includes four benefit shows across Canada, raises money for the Athabasca Chipewyan First Nations (ACFN) Legal Defense Fund. The Fund has been set up "to support the ACFN's legal challenges against oil companies and government that are obstructing the lands and rights." (From the Neil Young website.)
Sinclair says that it's important to stand with the ACFN.
"In doing so, we are standing with ourselves. They are in a struggle, yes — but they are in a struggle for us. They are the most directly affected, but the [environmental effects of the] oil sands affects all of us."
With all of the events taking place over the past year and a half, suggests Sinclair, "it's invited people such as Neil Young into this circle that we have been working at for decades.
"Canadians are unsatisfied with the past 150 years of policies and mistreatment of other human beings in their country. I think that all Canadians feel regret and sadness about that and that they want that to change. And the second thing is that I think everyone is becoming more educated and aware about what has and is still happening to Indigenous people in this country.
"As a result, there is a real interest in change and choosing a different path," he says.
Though the fabric of the relationship has been negatively affected by this 150 year history, he adds,  "there's always an opportunity to make a new relationship."