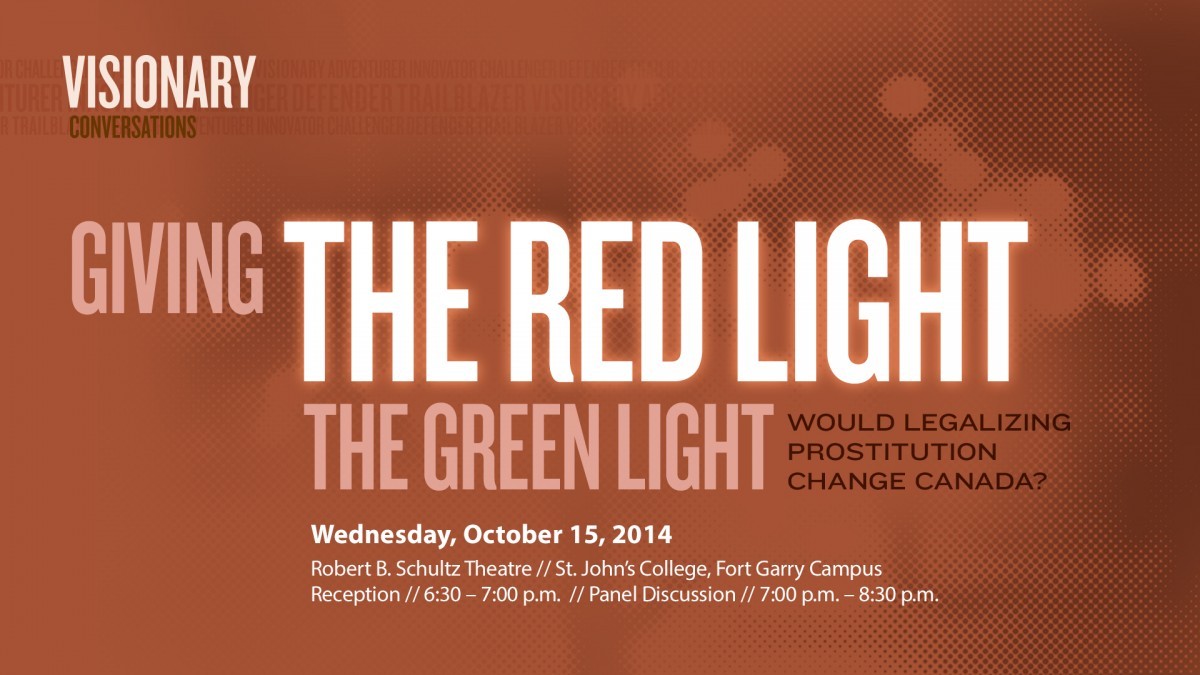 Would legalizing prostitution change Canada?
October 8, 2014 —
The award-winning Visionary Conversations speaker series continues October 15 with a thought-provoking discussion, Giving the Red Light the Green Light – Would Legalizing Prostitution Change Canada? UM Today caught up with our expert panelists this week and asked them, "Why is it important to talk about the implications of legalizing prostitution?"
Here are their answers:
Shawna Ferris – Assistant Professor, Women's and Gender Studies
"This topic is important to discuss because the violence is real, extreme, and ongoing. Moreover, the federal government has got it wrong. It is our responsibility, as citizens and fellow human beings, to hold our government to account, and to demand evidence-based laws."
James Blanchard (alumnus) – Director of the Centre for Global Public Health, Faculty of Health Sciences, Canada Research Chair in Epidemiology and Global Public Health
"As Canadians we share a social and ethical responsibility to address the diverse forms of vulnerability and structural violence faced by women in the sex trade. The very public topic of the legal status of prostitution in Canada should stimulate a wider critical conversation about how we can do better to improve their safety and wellbeing."
Nahanni Fontaine (alumna) – Special Advisor on Aboriginal Women's Issues, Government of Manitoba
"Bill C-36 is a good start in specific respect of decriminalizing the most marginalized and victimized of our society and placing punishment and blame squarely on the shoulders of the true perpetrators of this "crime" – the men/buyers/johns/predators/pedophiles. However, I understand "prostitution" from within a colonial context in Canada as the deliberate sexual exploitation of women and girls' bodies and more specifically, as violence against Indigenous women and girls as a continuation of the colonial project. As such, this discussion is imperative in ensuring Indigenous women and girls are guaranteed a safe, healthy and free space in which to live and flourish."
---
Join us on October 15 at 6:30 p.m. for a reception, with the panel discussion beginning at 7:00 p.m. in Robert B. Schultz Theatre, 92 Dysart Road, St. John's College, Fort Garry Campus, University of Manitoba.