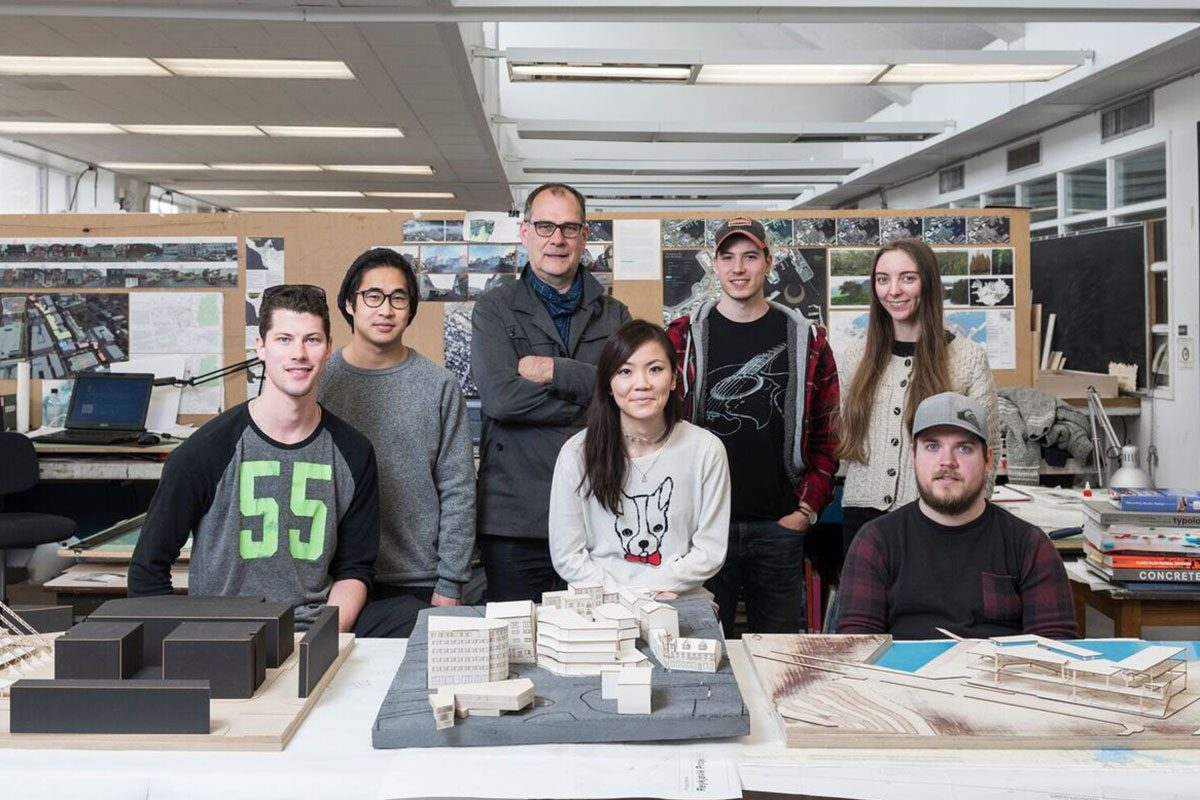 Whole new (3D) world
October 10, 2017 —
FOR HERB ENNS, PROFESSOR in the Faculty of Architecture, 3D printing technology represents a radical change in both the means of architectural production as well as what is produced.
"The tools have a transformative effect on the way in which we think and the things that we can do," he says. 3D printing technology has changed the way Enns prepares his students for a career as a professional architect.
There's still the need, he explains, "for architects to understand how heavy a concrete block is, how to assemble a brick wall and how to work with combinations of glass and steel—the real things. But in addition to that, there's this new layer that's so expressive and dynamic."
He says students are keen to gain proficiency with 3D technology when they join the faculty. "Students have a premonition that these skills are going to be important," he says.
Enns: "Students have a premonition that these skills are going to be important."
In fact, in 2015, Enns created a new course offering, called Future Studio, inspired by a request from environmental design architecture students who wanted to gain more experience with 3D software, technology and media.
Students' enthusiasm to understand and use this new technology has contributed greatly to the success of FABLab, the 3D fabrication lab at the U of M. It takes both institutional investment and an investment on the part of students, he notes.
"Everybody can come in there and experiment, everybody can come and take workshops on the software," he says. "In that way, this lab is phenomenal."
A shift in student focus to the possibilities of what they can create
A BIG PART OF ENGINEERING is using existing technology to solve new problems," says Nishant Balakrishnan, laboratory instructor and manager of the Computer Assisted Design (CAD) Lab at the U of M.
With 3D printing, "the ability for [students] to try out new solutions and prototype them is where the innovation lies."
All of this creates an immediate sense of ownership, motivating students to create early on, he explains.
Students want to do more than just what's assigned, he adds. Their focus has shifted to the possibilities of what they can create.
For example, second year mechanical engineering students "without a lot of background" are working with Manitoba Hydro to develop an automated tool to de-ice hydro wires. It's a complex process, but students are inspired by 3D technology to find innovative solutions.
It also means that engineering students gain advanced skills earlier in their education and graduate with a more applied skill set, he says.
Another project in the CAD Lab is by biosystems engineering students who are using 3D printing to create an automated lake algae skimmer to remove algae from northern Manitoba lakes or water bodies.
Students were challenged to build a small device that moves between two drones to remove algae blooms, he explains. They came up with a completely new approach. "Nobody has ever tried to approach lake algae skimming this way," says Balakrishnan.
"Students are being pushed to think outside of the box."
This is an excerpt from a story on the impact of 3D printing on architecture, medicine, fine art and engineering at the U of M; read the rest of the special feature in the Spring 2017 issue of Teaching Life online.