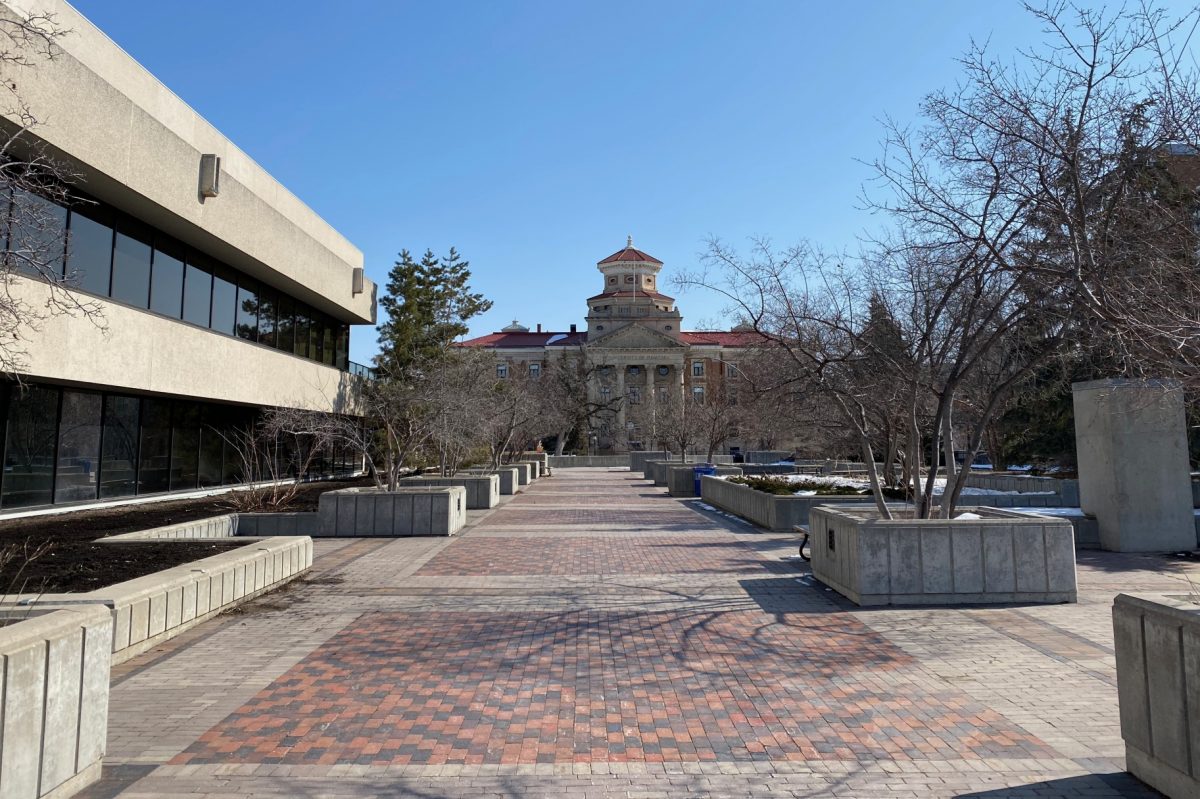 What's open on both campuses
Below find the status of campus services and businesses, including UMSU University Centre, updated April 7, 2021.
Stay safe on campus. With fewer people on campus, we want to increase awareness of personal safety and UM safety & security programs and resources, including special COVID safety measures. See more about campus safety.
See more current information about University services on campus. See information about mail and other essential onsite services during Covid buildings closure.
Also see: UM's COVID-19 updates webpage for information.
What's open, what's not
School of Art Gallery is now open by appointment. See details on protocol and how to book a visit.
UMSU Student Service Centre and G.P.A.'s campus convenience store have reopened. Hours are weekdays 10am-4pm.
Student supports: The Academic advising, Student Counselling Centre, Student Advocacy and Case Management, Student Services at Bannatyne Campus, Spiritual Care and other services are open for telephone or email appointments and online services on Jan. 5. Students may also access the alternative resources listed on the Student Counselling Centre's webpage.
Need Food? Contact Harvest Manitoba at 204-982-3660 (in Winnipeg) or 1-800-970-5559 (outside Winnipeg).
UC Pharmacy: Pharmacy in UMSU University Centre remains open as an essential service. Hours of operation: 8:30 a.m. to 4:30 p.m. Monday to Friday. To access, please use the East main doors off of Chancellor's Circle on the lower level of UMSU University Centre.
UC Postal Outlet: Located within the UC Pharmacy and as another essential service, open Monday to Friday 9:00 a.m. to 4:00 p.m. NOTE: Canada Post picks up mail from the UC Postal Outlet at 2:30 p.m.
University Health Services (UHS); see the UHS website for more information.
UM Galleries: All other UM galleries are closed.
Other University Centre businesses
The Focal Point Optician open at limited capacity. Hours are weekdays from 9 a.m. to 4 p.m. for customers/patients by appointment only. Call 204-474-7090 to book.
Cell Mechanics in University Centre is currently closed.
Most services and offices in UMSU University Centre are closed due to the COVID-19 closure, but you can also check current information on the University Centre website.
Fitness Facilities reopen
The Active Living Centre at Fort Garry campus and Joe Doupe Recreation Centre at Bannatyne campus re-opened on Tuesday, February 16 at 12:00 p.m.
Visit the Recreation Services website for details.
Two Libraries reopen for limited study space
Elizabeth Dafoe Library is open to students for individual study on a first-come, first-served basis, weekdays 9 a.m. to 5 p.m.
The Neil John Maclean Health Sciences Library is open to students of the Rady Faculty of Health Sciences for individual study spaces, weekdays noon to 8 p.m.
See full details on Libraries.
The Archives and Special Collections opened for researchers beginning March 2, by appointment only between 10:30 am – 3:30 pm, Tuesdays & Thursdays. Contact archives for an appointment at archives [at] umanitoba [dot] ca
UM Libraries also offers virtual help online, with many resources available for students and instructors. Reserve an appointment with one of our librarians. Subject guides can help with papers and other research. Or try Ask us chat service.
Check Libraries Covid-19 updates for detailed information.
UM Bookstores
The Fort Garry Bookstore is open for in-person and online shopping now selling all goods. Hours for shopping and online order pickups are Monday to Friday, 10-4.
At this time, FG Bookstore is not open Saturdays for online order pickups.
The Health Sciences Bookstore at the Bannatyne campus is open for online shopping with pick-up at Fort Garry Bookstore in University Centre. Hours are Monday to Friday, 10-4.
Depending on order volumes, there may be delays on orders. Please plan accordingly.
If picking up your order, please ensure you have received your Ready for Pick-up Confirmation Email.
To shop online at the Fort Garry Bookstore go to: https://umanitoba.ca/bookstore/
To shop online at the Health Sciences Bookstore go to: https://umanitoba.ca/campus/hsbookstore/
Food and Beverage Services
Pembina Hall / Fresh Food Company
Student Residences and Pembina Hall Dining Hall remain operational with reduced capacities.
Food can be ordered for pick-up through the Hey Chef app from 11 a.m. to 6 p.m. Monday to Friday. For more, see umanitoba.campusdish.com
University Centre & Campo
Closed due to COVID-19 University closure.
Colleges
Daily Bread Café (St. John's): Open to in-residence students and other for take-out only weekdays 8:00 a.m. to 4:00 p.m. Pizza Joe's is closed.
Belltower Cafe (St. Paul's): Open for take-out only 10:30 a.m. to 2:00 p.m. Monday through Thursday; Friday 9:30 to 2:00 p.m..
Bannatyne Campus
Tim Horton's Bannatyne has reopened. Hours of operation are weekdays between 8am and 1pm.
Most Bannatyne campus food services are closed. See more info here.
The Brodie Centre Atrium is a designated lunch space on Bannatyne campus, with space restrictions in place.
See current information about University services and UM's COVID-19 updates webpage.