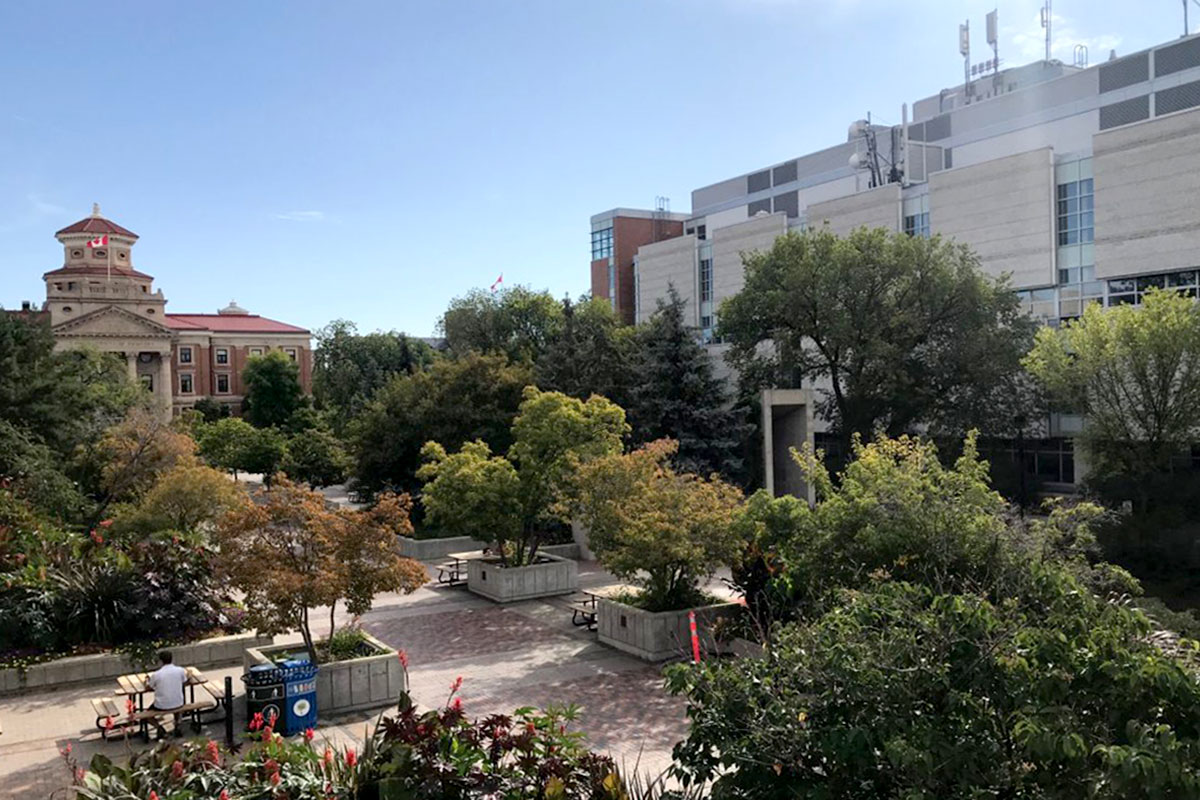 What's open on both campuses
Below find the status of campus services and businesses, updated Nov. 24, 2021.
Take time to review our UM Return-to-campus FAQs. Upload your proof o vaccination. Starting in fall 2021, vaccines are required for everyone on campus. Effective November 15, UM is monitoring to ensure that employees and students have either submitted proof of vaccination or are attending the UM's rapid testing program.
You can also see our COVID update story and UM's COVID website for more updates.
Additional resources
See more about University services on campus. See information about UM buildings access and hours (PDF).
Stay safe on campus: See UM safety resources. Also see: UM's COVID-19 webpage for safety protocols and general information.
What's open, what's not
Classes and approved research activities continue to be conducted on UM campuses.
Student supports: The Academic advising, Student Counselling Centre, Student Advocacy and Case Management, Student Services at Bannatyne Campus, Spiritual Care and other services are open for telephone or email appointments and online services. Students may also access the alternative resources listed on the Student Counselling Centre's webpage.
UMSU Student Service Centre and G.P.A.'s campus convenience store are open and following the current restrictions. Hours are weekdays 10am-4pm.
UM BOOKSTORES
Bookstore entry
As of Oct. 12, proof of vaccination plus a government-issued or UM staff/student ID are required to enter the UM Bookstore on the Fort Garry campus.
The Fort Garry Bookstore continues to operate for in-store shopping and online order pickups, following current public health orders. Delivery off-campus is also available. See store hours.
Orders can be placed online or by phone for delivery or pick-up at the Customer Service window. umanitoba.ca/bookstore or 204-474-8321
The Health Sciences Bookstore at the Bannatyne campus is closed to in-store shopping but open for online shopping with pick-up at Fort Garry Bookstore in University Centre.
If picking up your order, please ensure you have received your Ready for Pick-up Confirmation Email.
Shop online at the Fort Garry Bookstore.
Shop online at the Health Sciences Bookstore.
Student Residences
Remain open and operational in their current state.
Welcome Centre, Parking & Transportation Services
The Welcome Centre and Parking and Transportation Services are open to the public Monday to Friday 8 a.m. to 4 p.m.
Staff parking permit fees were reinstated Sept. 1, with parking options. Student permits went on sale starting in August.
See Parking & Transportation Services.
Fitness facilities
In accordance with public health restrictions, proof of full COVID-19 vaccination status and government-issued identification are required at entry to University of Manitoba sport and recreational facilities.
All sport and recreation facilities are now open at 75 percent capacity. Showers and lockers are available; member towel service has resumed.
Participants using indoor UM sport and recreation facilities can remove their face masks when engaging in physical activity and while in their individual workout spaces (i.e., at equipment). Movement in and between equipment/activities will require masking at all times.
See Rec Services website for hours of operation.
Libraries
Elizabeth Dafoe, Sciences & Technology, and Neil John Maclean Health Sciences Libraries are open only for students, faculty, and staff. Archives is currently closed. Visit our COVID-19 updates for service details and access the collections and other library services online.
University Centre Businesses
The Focal Point Optician is open weekdays from 9 a.m. to 4 p.m. Call 204-474-7090 to book an appointment.
UC Pharmacy: Pharmacy in UMSU University Centre remains open as an essential service, with limited capacity. Hours of operation: 8:30 a.m. to 4:30 p.m. Monday to Friday.
UC Postal Outlet: Located within the UC Pharmacy and as another essential service, open Monday to Friday 9:00 a.m. to 4:00 p.m.
University Health Services (UHS); see the UHS website for more information.
Cell Mechanics in University Centre is currently closed.
World Safari Travel Agency in University Centre is currently closed.
You can also check current information on the University Centre website.
Other places on campus
School of Art Gallery is open to the public Monday to Friday, 10:00 am to 4:00 pm by appointment. Please book by emailing gallery [at] umanitoba [dot] ca or calling 204-474-9322.
Food and Beverage Services
Pembina Hall Dining Hall (Fresh Food Co.) continues to operate for students, staff and faculty, and has limited dine-in seating for resident students only. Open from 11 a.m. to 6 p.m. Monday to Friday.
Find menus and campus dish information.
University Centre & Campo
Degrees has reopened. See hours and information.
CAMPO Food court (Subway, Grill, AFV Kitchen and Burrito Splendido) has reopened.
Other places to eat
Tim Hortons EITC re

opened

Food service in Armes, Drake, Education, and Fletcher Argue remain closed.
See campus services for more information on what's open.
Colleges
Daily Bread Café (St. John's) is open Monday to Friday, 8 a.m. to 4 p.m., in compliance with public health orders.
Pizza Joe's is closed.
Belltower Cafe (St. Paul's) is open Monday to Thursday, 10:30 a.m. to 3 p.m., and Fridays from 9:30 a.m. to 3 p.m.
Bannatyne Campus
Bannatyne Starbucks is open weekdays between 8 a.m. and 2 p.m..
Tim Horton's Bannatyne is open for take-out only. Hours of operation are weekdays between 7:30 a.m. and 3 p.m.
Most Bannatyne campus food services are closed. See more info here.
The Brodie Centre Atrium is a designated lunch space on Bannatyne campus, with space restrictions in place.
See current information about University services and UM's COVID-19 updates webpage.
See information about UM buildings access and hours (PDF).