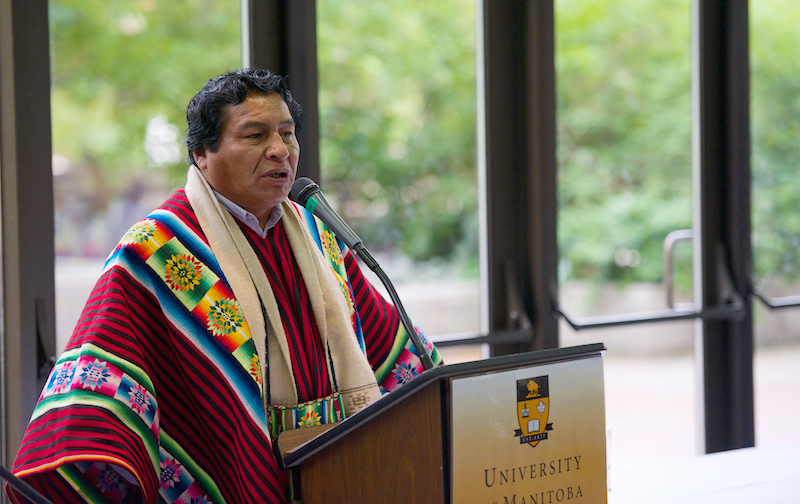 What genocide means for Indigenous peoples, scholars gather and discuss decolonization
Living the decolonizing dream
July 22, 2014 —
Academics toss around the term decolonization, but what does it actually mean in practice?
Bolivia's vice-minister of decolonization, Felix Cardenas Aguilar, is showing the world, as his country reinvents itself after placing Indigenous values at the heart of its new constitution.
Decolonization is not about returning to a romantic past, he explained to hundreds of genocide scholars gathered at the University of Manitoba July 16-19.
Building industry that does not endanger nature is part of the work, Aguilar said through a translator. "It's not ecological fundamentalism or messianic Indigenism."
The Aymara Indian said Roman Catholics introduced to his region 500 years ago the idea that Europeans and men are superior. "That country failed."
Part of his job description is to undo patriarchy. "In our world view, everything is balanced. Everything is male and female." In the cabinet where he serves, half the ministers must be women.
Daniel Feierstein, president of the International Association of Genocide Scholars, is excited about the path taken by what is now called the Plurinational State of Bolivia, in recognition of its many founding cultures.
He said most post-colonial states are trapped in the binary framework that defines one ethnic group as superior – they've just reversed roles. Either way, there's a risk of fostering the conditions for genocide.
But Bolivians like Aguilar reject the binary altogether, opening up more space for dialogue and building a society that combines the best of all cultures.
Genocide scholars used to be wary of any state, when states were the main perpetrators of genocide, but Feierstein said states are now sometimes the last barrier against genocide.
"When we use old paradigms to understand new realities, we could be very wrong."
The conference, organized by University of Manitoba sociologist Andrew Woolford, focused on what genocide means for Indigenous peoples.
University of Guelph political scientist David MacDonald believes Indian Residential Schools met the United Nations definition of genocide – including the intent to destroy a group. Canadian government records are rife with quotes demonstrating that intent.
"What I would like to see in the Canadian Museum for Human Rights would be a big, huge wall with a whole lot of these genocidal quotes on it," MacDonald said.
The UN clause about forcible transfer of children is recognized in Canada's immigration law, but not in the Criminal Code. The result is that foreigners can be denied entry into Canada if they participated in forcible transfer of children elsewhere, but no one can be prosecuted for having done the same here.
Adam Jones, the author of a leading textbook on genocide, chose to break the apparent academic taboo on discussing whether the term genocide can be applied to the Israeli-Palestinian conflict. He suggested a significant proportion of Israelis and Palestinians have genocidal intent. Jones is particularly worried that social media are helping spread that hateful message among Israeli youth. However, he thinks "crimes against humanity" might be more appropriate language to describe Israel's actions, including forcible transfer of Palestinians, widespread torture and arbitrary imprisonment and "the arguably apartheid character of the occupied territories."
An Israeli presenter called Palestinian rocket attacks genocidal terror.