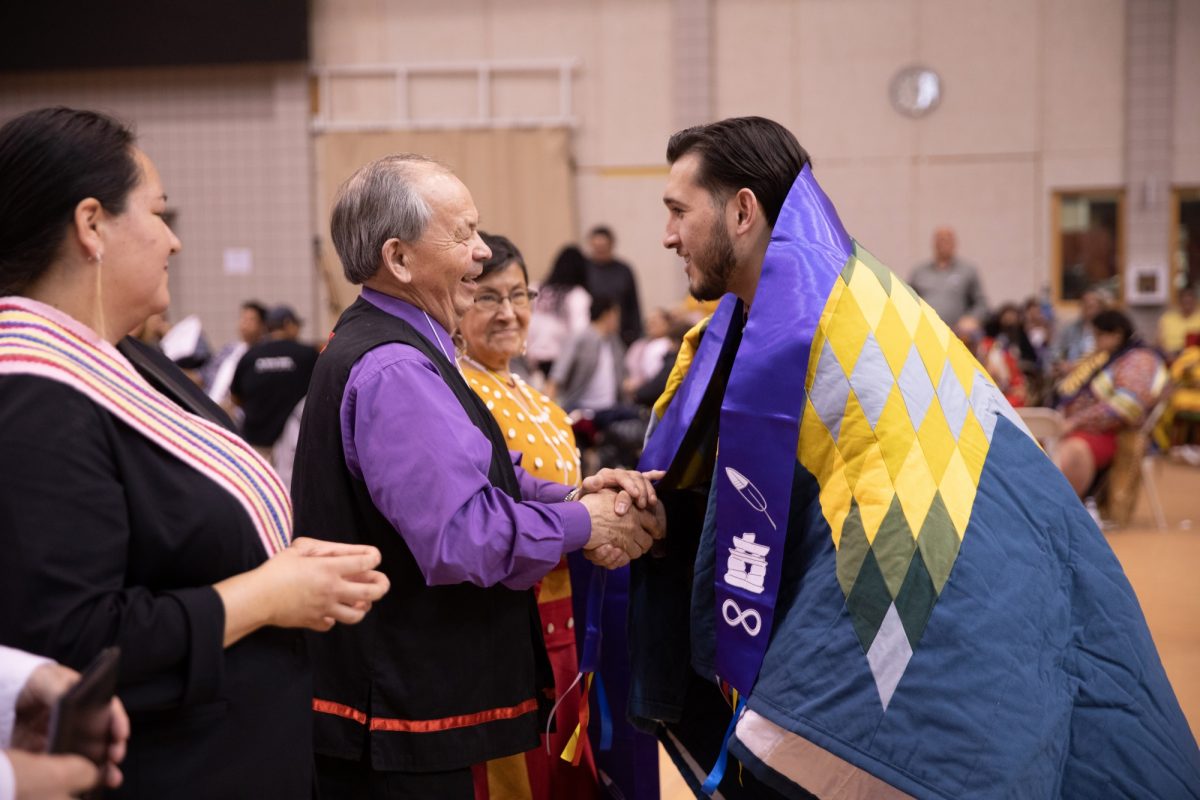 "We must continue to actively listen to Indigenous voices"
Message from President David Barnard on National Indigenous Peoples Day
June 17, 2020 —
June marks both National Indigenous History Month and National Indigenous Peoples Day on June 21. A virtual celebration organized by the Indigenous campus community will take place on June 22, and I encourage everyone to take part.
As my time as President and Vice-Chancellor nears its end, I am reminded of the many meaningful moments that I have been honoured to experience with the Indigenous community. Personal highlights include attending numerous Graduation Pow Wows and cultural events, and growing connections with Indigenous Elders, students, staff, faculty and community partners, from whom I have learned so much.
When I started in my role, I recognized I had much to learn about the Indigenous community – learning that has continued through my 12 years as President and will continue after I leave UM.
One of my most humbling lessons occurred in early 2019, when I had the opportunity to hear from Indigenous students on their experiences at UM, and the depth and extent of the racism they have experienced on our campuses. Their stories were deeply moving, and many were disturbing.
Through the years, as an institution and as a community, we have worked toward a stronger future. This includes knowing where we are. A land acknowledgement was developed by members of the UM community, recognizing the traditional territories on which UM campuses are situated. The Indigenous Scholars Fund brought new Indigenous faculty to UM, along with their unique knowledge(s), perspectives and histories, while the Indigenous Initiatives Fund has moved forward dozens of projects that support Indigenous achievement on campus and beyond. The University also built strong partnerships through initiatives like the Winnipeg Indigenous Accord and the Manitoba Collaborative Indigenous Education Blueprint, reinforcing UM's commitment to Indigenous education, research, languages and cultures.
While these initiatives demonstrate progress for an institution steeped in colonial history, there is still much work to be done. Hearing the stories of racism experienced by members of the UM community served as a stark reminder that there is work ahead of us, especially to address the systemic and interpersonal racism experienced by Indigenous Peoples.
I would like to recognize the Indigenous students, staff and faculty who are leading us, whether by identifying opportunities for UM to improve or addressing the root of the issues and helping to work through them. I remain grateful for their contributions, both personally and to the entire campus community. They have led initiatives that have changed the face of the University forever.
We must continue to actively listen to Indigenous voices; build connections with and learn from Indigenous partners and communities; and incorporate Indigenous perspectives and culture into programming, curriculum, research and spaces as we move forward in the spirit of reconciliation.
It is integral to the future of UM and to the future of our communities, nations and province.
Recognizing and celebrating Indigenous Peoples does not stop after June. Together, we must continue to learn, to listen, to engage in discussion, and to build respectful and collaborative relationships – while acknowledging harms of past and present.
Thank you to the Indigenous community for driving change; for sharing your stories, histories and culture; and for contributing to UM in innumerable ways. The University is a stronger place because of you.