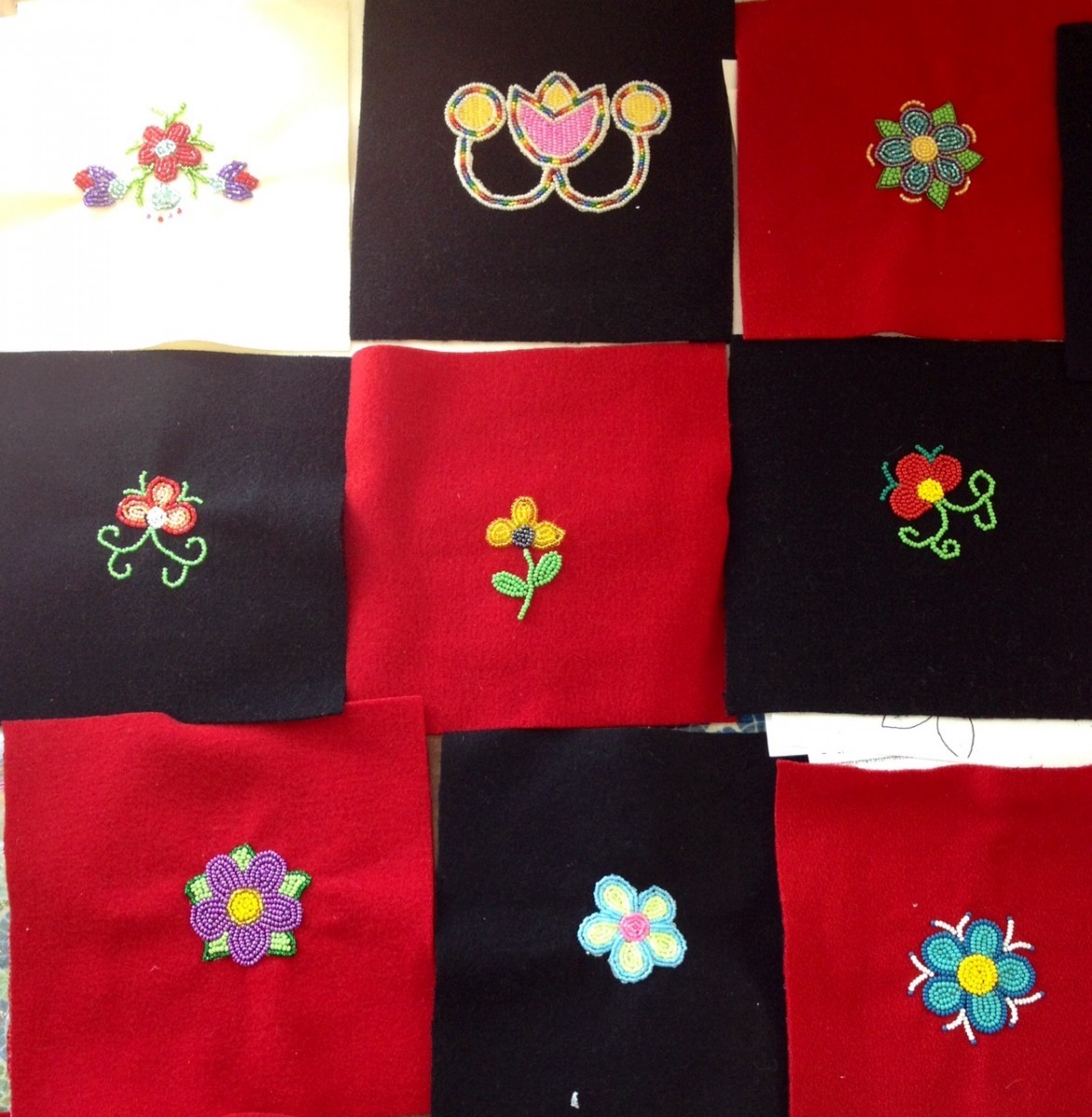 Walking With Our Sisters quilt unveiled
July 2, 2014 —
It's no secret that the numbers of missing and murdered Aboriginal Women in Canada keep going up. What used to sit at over 600 women is now closer to 1,000 — and that number only reflects those that have been reported. Chances are, the numbers are much higher. A sobering fact.
When you think of all the relationships that the loss of these women's lives has effected, the communities that have been changed, the families that will feel the consequences for generations. The sheer numbers of altered futures is staggering. The families of these women want to be heard. They would like the Canadian public to know the stories of their missing loved ones.
From 2012 to 2014, Christi Belcourt created Walking With Our Sisters, a travelling commemorative art installation comprised of 1,700 + moccasin vamps (tops) created and donated to draw attention to the Native women in Canada that have been reported missing or have been murdered.
These unfinished moccasins representing the unfinished lives of the women whose lives were cut short. The installation was brought to Winnipeg's Urban Shaman Gallery in March 2014.
Walking With Our Sisters proved to be a very healing installation where a sacred space was created to pay respect to the lives and existence of the sisters, mothers, aunties, daughters, cousins, grandmothers, wives and partners. The installation was created with such love and great force of nature that it inspired others in the community to reach out and participate and share the losses through love.
***
On July 3 at 130pm Neechi Niche is honoured to play host to two of those community groups who were encouraged to bring light to the darkness and use the power of creativity to heal.
The beading circles of Indigenous Achievement at the University of Manitoba and Neechi Niche will formally unveil the Commemorative Bead-In Quilt, which was inspired by WWOS.
The Commemorative Quilt is a result from a community Bead-in held at Neechi Commons on March 15, 2014, to support Walking with Our Sisters. Over 50 participants joined the full-day Bead-In where they beaded individual square patches. The completed beaded patches were later turned into a quilt to honour and remember missing and murdered Indigenous girls and women. It is being presented to Neechi Commons and will reside here for all of the community to witness and remember.
Walking Beyond was day of free arts-based workshops and ceremony at Ndinawe, which engaged youth in active violence prevention while honouring and reclaiming youth leadership. The workshops featured five local artists: musician Wanda Wilson; visual artist Becky Thiessen; filmmaker Jody Lee Pacey; Governor General's Literary Award-winning poet and Centre for Creative Writing and Oral Culture (CCWOC) affiliate Katherena Vermette; and dancer Josh Letander from the Aboriginal School of Dance.
Following the workshops, Indigenous artist Scott Benesiinaabandan collaborated with youth to create resistance with repetition, ten wheat-pasted 4'x4′ boards based off the pieces generated from the WALKING BEYOND workshops. It is those 10 creations that we welcome into the Neechi Niche space to hang on the walls for all to enjoy and feel the power of community through.
We want to the families to know they have been cared for, they have been loved, to those that are missing, they are not forgotten and they are part of our community. And maybe, just maybe we can bring about change. Miigwetch.
–Arlea Ashcroft
The Commemorative Quilt Dedication ceremony will take place at Neechi Commons on Thursday, July 3, from 1:30 pm to 2:00 PM, followed by a reception for the young artists who created these works of art from 2:00 to 4:00 PM.