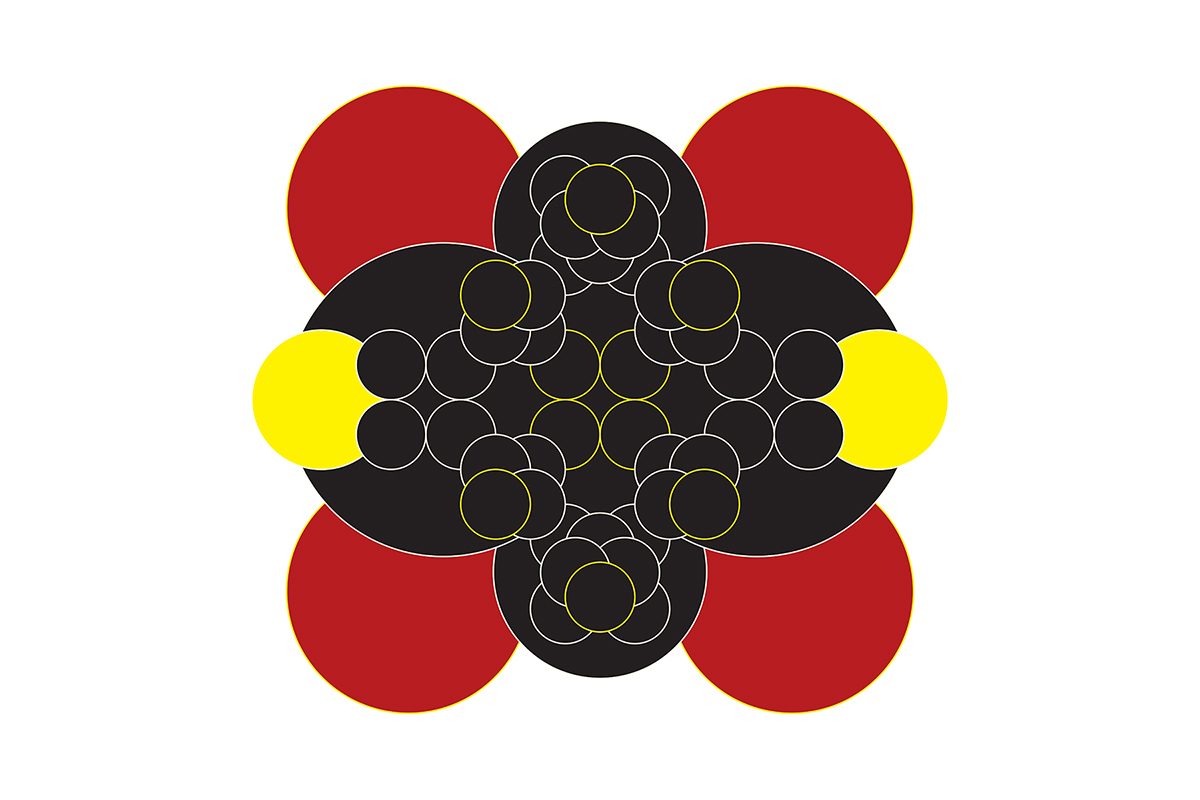 Walking together
Indigenous approaches to mentoring at the university
October 30, 2018 —
TeachingLIFE asked Indigenous members of the community for thoughts on Indigenous approaches to mentoring at the university, with an emphasis on teaching and learning.
The following is an excerpt from the larger feature. For more Indigenous approaches to mentoring, see the current issue of TeachingLIFE online.
About the commissioned illustration by Sébastien Aubin: According to the artist, its inspiration is flowers growing, the idea of growing together and getting information from different sources. Aubin served as the University of Manitoba's first Indigenous designer in residence at the School of Art from September 2017 to February 2018.
Walking alongside, walking those teachings through
As told by Elder Mary Wilson to TeachingLIFE. Mary Wilson is Resident Elder at the Indigenous Institute of Health and Healing in the Rady Faculty of Health Sciences.
Mentoring for me means that you have the spiritual direction to help guide and teach. Number one, by example. One of the issues we've had with our society is partly because of colonization and partly just because we are egotistical human beings and have that superficial brain—we have to work to get down to our heart. As a mentor, I open up my heart. I sit with the person, I sit in a circle of truth. So if people want to know something about me, I'm very open. I don't believe in a playing area where you are talked down to. We share, we grow, we guide. We do things together, hand in hand.
It's very important when we are dealing with people's lives and with futures, that they see what's available.
They also have the opportunity to know that it's not always easy, that we all have struggles. But that our struggles become our teachings and ways of learning and that we can overcome the obstacles that get put in our way.
We can still focus on the future and not be afraid to call for support.
Because of colonization, I believe that there's shame attached because of the suffering in the past. We weren't allowed to be open, we weren't allowed to be honest, we weren't allowed to follow any of those teachings that are so sacred to us.
In an attempt to break the sacred teachings, what happened I call the burying of the pipes. It's one of the things our ancestors did—they buried the pipes. Like in everything—a seed—once you bury it, those tears of the past, they can water the ground and it will rise. I've had those visions of the pipes rising out of the ground. But as we come out of this, the healing, those sacred teachings that are held in that pipe will come back into the heart if we openly share them without that ego or fear involved. We have to have the courage to let go of that fear and take that risk. To be transparent and open so we can heal those pieces of the past that keep us apart.
We weren't allowed to speak our truth, we weren't allowed to play, to speak our language, to walk and respect one another. Those sacred teachings were part of the breakdown, the cultural genocide.
But we're strong. And we're resilient. And our spirit, like that pipe, is rising.
To be a mentor means that you have to have the courage—which is one of the sacred teachings—to step out of that comfort zone of silence and 'it's not my problem' and go back to the teaching that we are related, we are family. So the acceptance of the differences becomes beautiful rather than ugly.
As a mentor, those are the kinds of things to support as people grow.
As they find out what they want to do and where they want to go and how they're going to get there.
I dress in a modern way, I don't fall into a box so easily. What I believe in is how I am, where I go, what I do, how I approach. I honour my gift. In doing that, you become an automatic mentor because you're safe. If you're safe with yourself, you're safe with others.
You have to honour your own spirit before you can honour anyone else's.
We're all different. Life is a family.
So if someone comes to me and they're heavy, we lighten their load. If someone comes to me and they're confused, we sort. We walk those teachings right through from morning to night.
What's my life like? I get up and as my feet hit the ground, I look at that light and say a prayer in gratitude for one more day, at being able to see the sun. I thank for the day. Then I talk to my dogs; they're very important to me.
My own personal life starts with loving thoughts and ends with gratitude. It's a circle for me. Love and gratitude for me are very connected and sometimes the same thing.
So when you are challenged, those things walk you through. Those simple things. Family, friends, school, the day, the sun.
If you don't have anything else, you find a sparrow in a tree. You go right back to nature. Nature will nurture you and provide you answers every time. Because our mother is alive and she will take care of us if we take care of her.
We talk about medicine and talk about what it means to work with medicine, to work with sciences that come from the earth, to work with your gift that is chosen for you…. It ends up being a spiritual quest and a calling, rather than a job to do and a way to make money.
Are those things important? Yes, but are they the most important? Absolutely not. Life is important, and honouring your life.
That's what a mentor does. They walk with you and learn with you. They do things with you. The first way of being a good mentor is to be a good human being.
Warren Cariou: Mentoring and Relations
Excerpt
There are many ways in which university research and teaching are different from traditional Indigenous modes of education, but one crucial thing they share is the importance of mentoring. The roots of the Western university arise from small groups of people who gathered together to share knowledge and to debate important questions. It was a personal gathering, a space in which learning occurred through the development of relationships. This is not so different from traditional Indigenous forms of education, which have always been directed toward building relationships between people and also with the land.
Mentoring is by its very nature a personal, relational and generous process. It cannot successfully be achieved within a rigid hierarchical system that treats people as numbers, or as clients. This is why I feel that it is a very important value to emphasize in our current drive to Indigenize the university.
Mentorship is all about giving back, and about acknowledging all of the relationships that have formed us. When Indigenous people say "all my relations," this is one meaning of that powerful and profound phrase.
A writer, editor, filmmaker and photographer and former Canada Research Chair in Narrative, Community and Indigenous Cultures, Warren Cariou teaches in the department of English, film and theatre and directs the Centre for Creative Writing and Oral Culture.
Read the rest of the article in the current issue of TeachingLIFE, now online and out in print. TeachingLIFE is an annual publication mailed to U of M teaching faculty and staff.