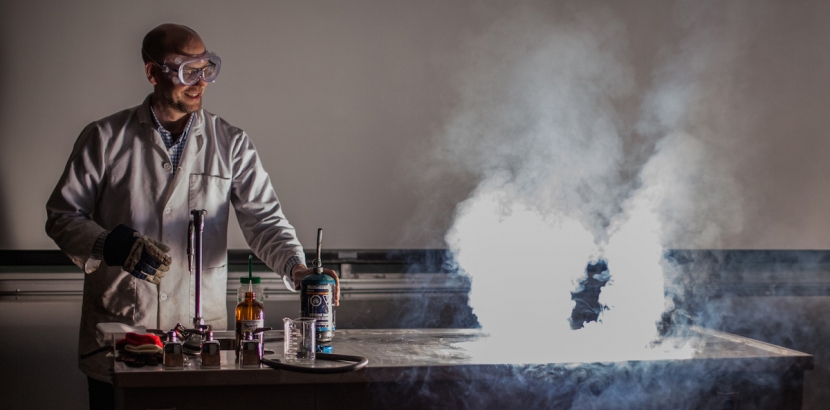 Volunteer for Science Rendezvous!
March 22, 2018 —
Want to have some fun, and share your passion and knowledge with the public? Connect with your peeps and gain some practical skills?
Consider volunteering for Science Rendezvous, the largest celebration of science and engineering in Canada! Where we invite kids, schools, and parents to campus to participate in hands-on fun, and spectacular activities.
Volunteers from a variety of disciplines are needed. Due to the success of U of M's STEAM takeover of previous Science Rendezvous, Arts is now included in a front and centre way. It is now an Art-Science-Engineering mash up! Participating UofM faculties include: Engineering, Clayton H. Riddell Faculty of Environment, Earth, and Resources, Agricultural and Food Sciences, Arts, Fine Arts, and Kinesiology and Recreation Management.
Last year 3000 people attended the public day! This year the University of Manitoba is the host site and the University of Winnipeg, Université de St. Boniface, and Red River College are joining us.
Why volunteer?
It's fun! It's also a great opportunity to gain leadership skills by developing activities, leading booths, and working with other students. Creativity is needed, previous years have included bits of whimsy such as a robotic painting snake, a musical keyboard made of fruit, Oobleck run, homemade slime, liquid nitrogen ice-cream, a musical theremin, potion classes offered by chemists, and feats of physics stunt show.
We offer CCR, swag, food, and fun for all of our volunteers. Graduate students also get a thank you letter from the Dean of Science. Science Rendezvous has 100% volunteer return for returning students. Above all, this is a chance to share your passion and delight in getting the public hooked on your passions too.
The deadline to sign up to volunteer is April 15, 2018. Volunteer opportunities include the public school (Discovery Days) May 3 & 4, and the main public event day, (Science Rendezvous), Saturday, May 12.
For more information check out the following links:
Booth Idea Form
Science Rendezvous Volunteer Form
www.sciencerendezvous.ca