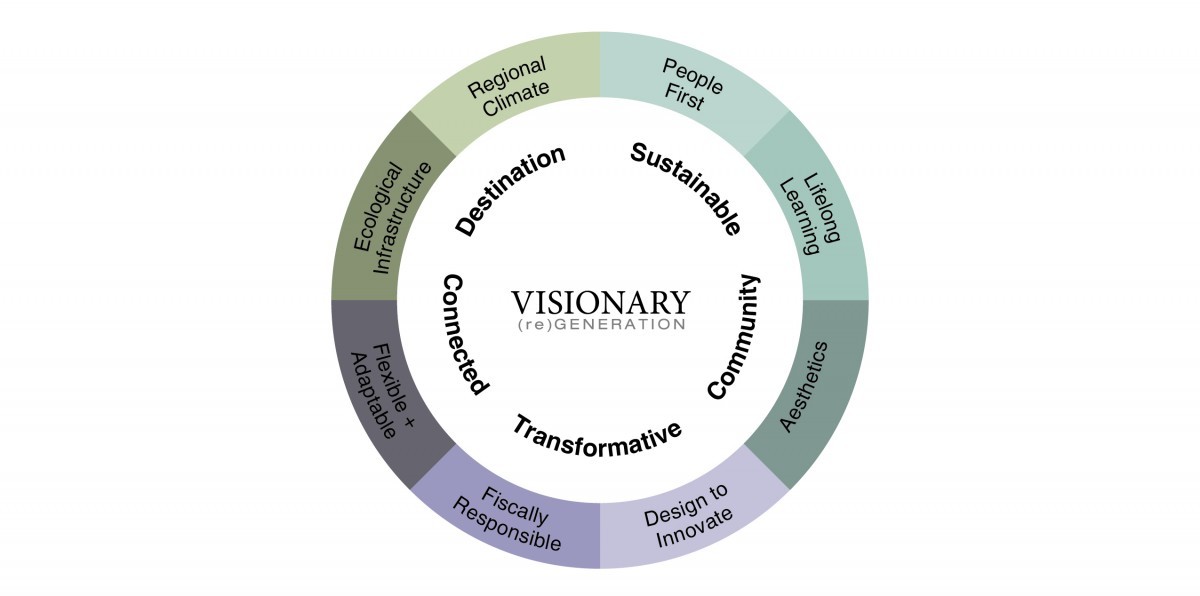 Visionary (re)Generation Open House
October 25, 2012 —
The informational open house for the Visionary (re)Generation Open International Design Competition took place on October 11 and drew a lot of interest, with attendees through the day-long event from across the university community spectrum, including faculty, staff and students. The event featured campus maps and information boards outlining competition principles, and invited visitors to put their own ideas for design considerations to paper on the easel boards provided.
The Bulletin spoke to several attendees about their thoughts. A group of civil engineering students with the student chapter of ITE plans to participate by gathering students' perspectives to submit as part of a report they will present to the design committee. They will also run their own industry event to brainstorm and design ideas for efficient transportation for the Southlands Precinct project.
For architect and faculty member Shauna Mallory-Hill, the key is sustainability. She would like to see the design incorporate the kind of new regenerative design ideas currently being explored in the field. She noted that it would also be great to see the design competition committed to finding someone who will engage with local community, rather than seeking a "star-chitect" approach. The landscape architecture student in attendance with her, Shawn Stankewich, who lived on campus for five years, said that the campus and this area of the city are "an important part of my daily life," and that revitalization is critical.
Agriculture students Jennifer Temmer and Julianna Klippenstein suggested that a more "walkable" neighbourhood and higher-density, mixed-income and subsidized housing and commercial development would meet the needs of students and better integrate students into the larger community as well. Temmer was also glad to see the university opening the input process for a variety of expertise and perspectives, rather than only industry or pure-profit bias.
Cory Fielding, Ilona Ring and Mike Pratt from the architectural division of physical plant were impressed with the amount of information available at the open house. Pratt suggested that a local process was perhaps most important, "one that takes account of our climate and culture." His concerns were that river bank green space would be kept and bike traffic options would be improved, while Fielding hoped that any development would be respectful to the surrounding residential neighbourhood.
Student residences facility coordinator Bruce Mahaffy found that the development "exciting" and was very enthusiastic that design process was being opened as a competition. He was also impressed by the "amount of thought that has already gone into the process."
GET THE FACTS
In 2008 the U of M purchased the Southwood Golf and Country Club, a 48 hectare (120 acre) site located adjacent to Fort Garry Campus. The Southwood Lands offer a unique opportunity to transform our campus into a destination community through the development of a new, sustainable, multi-use neighbourhood that provides a 24/7 live/work/learn/play environment.
PLANNING PROCESS – THREE PHASES: 1. Collection of ideas from all stakeholders to create the visioning framework for the competition brief; 2. the competition (begins January and ends October 2013); 3. the contract award to the winning design team. A multi-disciplinary team will develop the master plan with the university and community stakeholders. Stakeholder engagement will continue throughout each phase of the integrated master planning process.
FIVE GUIDING PRINCIPLES: 1.Connected; 2. Destination; 3. Sustainable; 4. Community; and 5. Transformative. Three areas of interest have been also been identified by stakeholder groups that are significant development opportunities, which are public riverbank access, redefinition of the Pembina Highway boundary and transit-oriented development as a catalyst for change.
This story first appeared in the October 25, 2012 edition of The Bulletin.