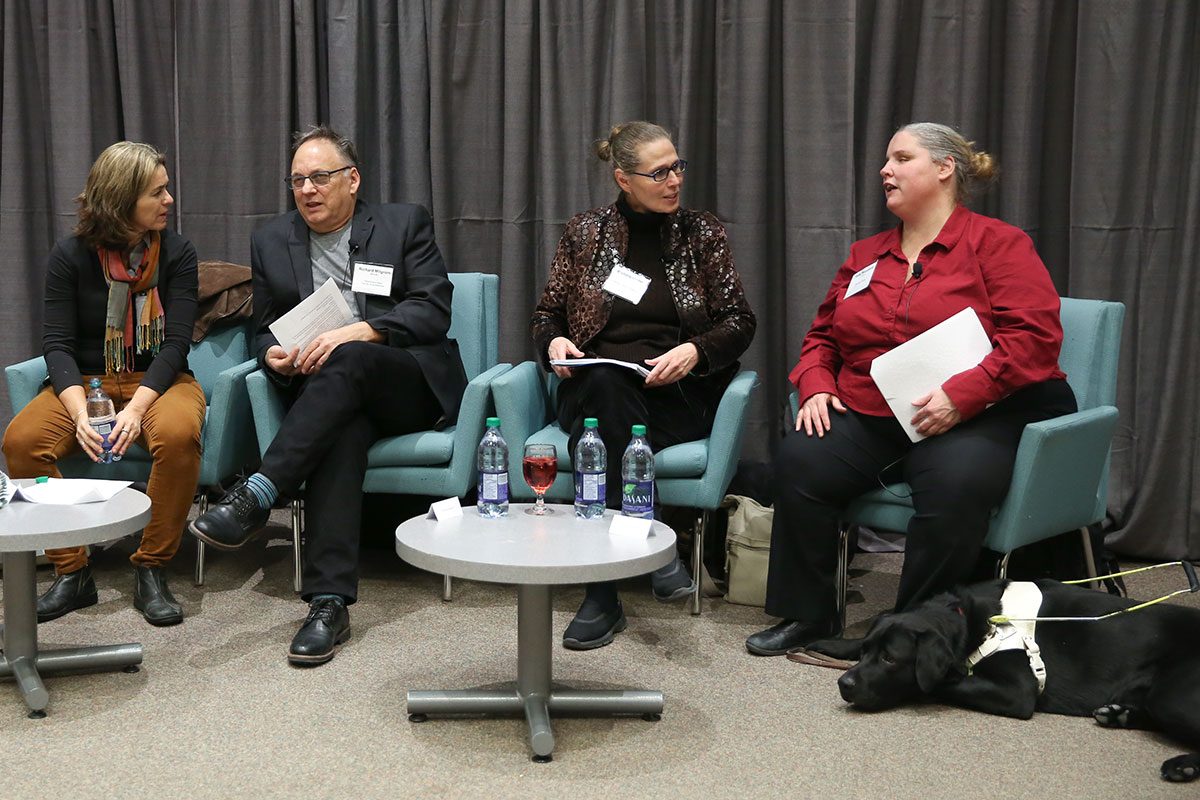 Visionary Conversations conveys insight into accessibility
December 12, 2016 —
The latest Visionary Conversations brought forward insight and discussion on accessibility in Manitoba, with the conversation held for an attentive audience inside the Robert B. Schultz Theatre at St. John's College at the U of M on Dec. 8.
Provincial numbers suggest one is six Manitobans is disabled by barriers where they live, work and play.
At Visionary Conversations, panelist Yutta Fricke, who is executive director of the provincial Manitoba Disabilities Issues Office, said that viewing accessibility as a key focus has widespread societal effects.
"When you design for the outlier, everyone benefits," she said.
Greg Juliano [LLB/98], University of Manitoba associate vice-president (human resources), moderated the discussion, which was presented with sign language and voice to text on a screen.
The panel also included Richard Milgrom [BES/80], head and associate professor for the department of city planning with the U of M's Faculty of Architecture; Michelle Porter, director of the Centre on Aging and professor with the U of M Faculty of Kinesiology and Recreation management; and Tanis Woodland [BA/92] from U of M disability studies.
The dialogue included discussion of The Accessibility for Manitobans Act, legislation that Fricke's office was involved in assembling. The Act aims to identify, prevent and eliminate barriers for people, in order to make Manitoba an inclusive society.
As part of Accessibility Act, public sector organizations, including the U of M, must have an accessibility plan unveiled this month.
"We're at a critical stage in implementation," said Juliano, adding that the university's accessibility plan will be released very shortly.
During the panel discussion, Richard Milgrom spoke on the vital need to include accessibility into the design of structures and cities, citing examples of neighbourhoods where a new house might have accessibility features—such as washrooms on a main floor—but the surrounding area lacks sidewalks for walking and wheelchairs.
Milgrom and the panel also delved into consideration for age-friendly designs.
Michelle Porter brought up the University of Manitoba becoming Canada's first age-friendly university earlier this year, as part of an international initiative to encourage communities to shape social and physical environments to support people of all ages, especially older citizens.
Porter addressed the need to counter ageism and to recognize the wisdom and experience of older citizens, offering barrier-free opportunities for them to engage in communities. On the issue of barriers, she pointed to the recent example of snow clearing operations in parts of the city focusing on roads, while sidewalks remained unplowed for longer periods.
The panel discussed the need to consult individuals on what they need to do their jobs, such as having accurate screen reader tools for people with visual impairment.
Tanis Woodland works as an office assistant at the U of M and also works with several organizations regarding access to websites for persons who are visually impaired.
While some organizations design public-facing websites with accessibility in mind, many more also need to consider making sure their content management systems, behind the scenes, can also be accessed by staff who may have a visual impairment and need to access the system for their work, she said.
On the question of whether Manitoba is prepared for accessibility, Woodland said there still is a ways to go.
"I think we have a lot of work to do and it's going to take cooperation…one of the biggest keys to this will be collaboration," she said.
On the Accessibility Act, Woodland said she believes it will help build crucial momentum.
"The Act is going to promote awareness and bring people together and it's going to allow for things to work," she said.
Watch the full conversation below:
The University of Manitoba is committed to creating an inclusive and accessible community for all faculty, students and staff. Feedback on any barriers to accessibility to the University of Manitoba's work and learning environments can be submitted here. All suggestions will be considered as we identify ways we can improve our organization, building upon goals identified in the U of M's strategic plan, of providing accessibility and reasonable accommodation.